Back to selection
Stunt Driving with the Biscuit Rig, Jr: Interview with Engineer and Driver Robert Nagle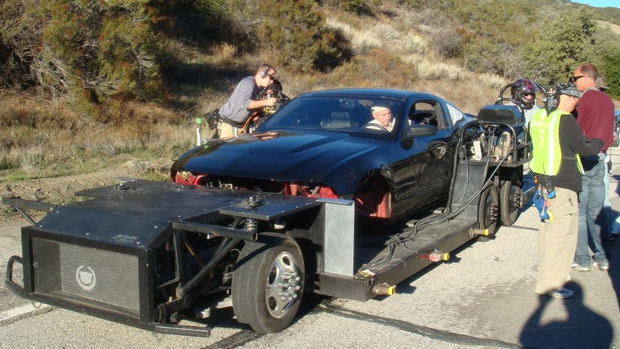 Robert Nagle studied mechanical engineering and racecar design before becoming a professional race driver. But when he found out that some of the other drivers were working in the film industry, it piqued his interest. Said Nagle, "What I found was that it fulfilled a creative side of me that I didn't really realize was there." He left the racing world and hasn't looked back, doing stunt driving for a number of films, including The Dark Knight Rises and Drive.
One piece of equipment he's been driving lately is the Biscuit Rig Jr., a driveable platform developed by Allan Padelford Camera Cars. In this interview he describes the origins of the vehicle and its operation and uses.
Filmmaker: What is the Biscuit Rig?
Nagle: Allen Padelford originally built a rig for the movie Sea Biscuit, and it was a giant driveable platform they put mechanical horses on to film the actors up close.
The vehicle was also used on Aviator, and they mounted an aircraft fuselage on it for Leo [DiCaprio] to sit in for a crash sequence. During that time there was a huge brush fire in Southern California and the rig was caught up in the brush fire and was lost.
Fast forward a few years later, Allen and I got together and started collaborating on some projects and we decided to build a different version of what he was calling the Biscuit Rig, and we came up with the Biscuit Jr.
We engineered this thing from the ground up; it's powered by a V8 Cadillac Northstar that's about 400 horsepower. It's front wheel drive and there's a pair of wheels at the back. Six wheels in total.
There's a pod that is the driver position that is moveable around the rig. If the cameras are looking towards the back it can sit toward the front of the rig, or if the cameras want to face forward we can move the driving pod to the rear of the vehicle to be out of frame. That's what makes this design unique.
Filmmaker: It can be modified?
Nagle: The whole thing is modular so we can really play around with what the bed looks like and how many axels we have. For Total Recall, we added another set of axels because of the amount of load that was on it.
Filmmaker: What's the advantage of this over a typical trailer?
Nagle: You can drive over 100 miles an hour with it, we can high-speed through traffic, we can slide it, we can spin it.  It's heavy. Not super responsive, but it handles extremely well. It's very fast.
Filmmaker: How do you slide it if it's not very responsive?
Nagle: Well when I say it's not very responsive, it's not like a sports car. It is heavy, but most people walk away quite amazed at how well it gets around.
Filmmaker: It must be a very odd feeling to be driving from the back?
Nagle: It really is because all the sensation and everything you feel is completely off from what you are used to. I acclimate to it pretty quickly because I have done it so much, but it's definitely an odd sensation.
Filmmaker: What's the most amazing bit of driving that you've done with this?
Nagle: One would be in Drive. Almost all of the sequences where Ryan Gosling is driving, he's on the Biscuit Rig. We did a chase sequence where I spin the car once 180 degrees, and in the movie Ryan is now driving backwards at high speed. So we took the car body, flipped it around so it's backwards, and then I continued driving the rig forward. In the scene it looks as if Ryan is driving the car in reverse.
At the end of that sequence he does what's called a reverse 180, meaning he spins the car 180 degrees while going backwards and continues to spin to make it into a 270 degree slide. I had to duplicate that with the rig, so I had to slide it 270 degrees to get it to match the sequence.
Vimeo: Biscuit "Drive"
With the Drive sequence demo [link above], it intercuts between the actual scene and my POV driving the rig. I'm mounted over the left rear tires, so the whole front of the rig is ahead of me, and if you look closely you'll see Ryan working the steering wheel a little bit from my POV.
Filmmaker: Is there just one rig?
Nagle: We have two. The second one is designed slightly differently; for Total Recall we designed it to carry a much heavier load. There was another set of rear axles that were added to it to be able to handle the load that they put on it. With that hover craft, there were hydraulic gimbals that made it move around and do different things almost like flying a plane in how it moved, and there were operators and hydraulics involved in that, so it got quite heavy. I think at the end of the day, with the techno crane and the crew and generators I think we were at close to 22,000 lbs.
Filmmaker: If someone wants to rent the vehicle do you come with it?
Nagle: I'm the primary driver for it. I wouldn't say I'm part of the package but I'm hired as a stunt driver to operate it, and we have one or two technicians that go along with it depending upon what we are doing. They maintain it, handle moving around what needs to be moved, helping the grip department rig what they need to rig, to direct them what they can attach to and what they can't attach to, what's safe and so on.
Filmmaker: How do you move it?
Nagle: We have a purpose built trailer to haul it around or it can go on what's called a Landoll, which is giant flatbed.
Filmmaker: How do you typically work with a director?
Nagle: There's a lot of back and forth. They'll try and tell us what they want to see story wise, and how we can accomplish it. Sometimes, obviously there are limitations, but we do try and make it as realistic and safe and be able to give them what they need to see visually, even if we have to do it in pieces sometimes. We may not be able to get the complete piece in one shot but we're able to break it up in a way that there's a cut point that we can continue the action sequence.
Allan Padelford Camera Cars: Biscuit Rig Jr.