Back to selection
Filmmaker Celebrates 20 Year Anniversary at MoMA, April 4 – 15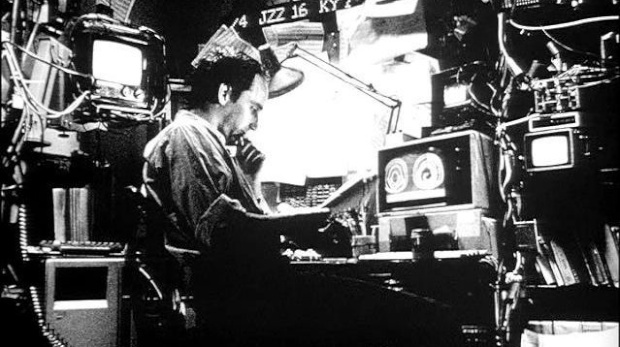 Pi
This is Filmmaker's 20th Anniversary Year, and I'm very honored to have curated a MoMA Carte Blanche series, opening tomorrow and running through April 15, of films from the magazine's history. I've posted the complete schedule below, and will be on hand tomorrow night to introduce the series and its first film, Darren Aronofsky's Pi. And each day for the duration of the series I'll be posting on the site old interviews and articles from the magazine featuring the films and filmmakers presented.
I'm showing 11 features in addition two programs highlighting short work from our "25 New Faces" series, and early on, when putting this program together, I realized that it was pretty impossible to summarize the history of the magazine, much less the last 20 years of American independent film, in 12 days. So, drawing mostly from the MoMA collection, I've curated a mix of seminal works, passions and idiosyncrasies — a blend of films that have been important to the magazine and its readers. I also got rid of huge, well-viewed titles that fit that criteria, like Pulp Fiction and The Blair Witch Project, in favor of some films that people might still be discovering throughout the series.
I'm sincerely grateful to Raj Roy, MoMA's Chief Curator of Film, for this opportunity, and I hope to see some of you at the screenings.
Pi. A no-budget sci-fi thriller exploring number theory, high-finance, religion and hermeneutics, Pi launched the career of Darren Aronofsky, who has gone on to make such acclaimed films as Requiem for a Dream, The Fighter, and Black Swan. The cover of Filmmaker's Summer, 1998 issue, Pi is simultaneously impossible-to-duplicate and a model for smart DIY filmmakers looking to replace Hollywood production-values with offbeat subject matter and unexpected plotting. Thursday, April 4, 7:00PM; Sunday, April 7, 5:00PM.
Me and You and Everyone We Know. The feature debut of celebrated performance artist, visual artist and author Miranda July, Me and You and Everyone We Know is a tremendously winning collection of interlocking stories dealing with love, longing, and the ways children and adults connect in our modern age, and it adeptly imports the concerns of July's visual art to the world of feature films. It stars July and John Hawkes (The Session, Winter's Bone). July was selected by Filmmaker as one its "25 New Faces of Independent Film" in 2004, and the film was the cover of the magazine's Spring, 2005 issue. Friday, April 5, 4:00PM; Wednesday, April 10, 4:00PM.
Laws of Gravity. The enormously influential 1992 debut of Nick Gomez, hailing from the NYC independent production company, The Shooting Gallery, Laws of Gravity stars Peter Green, Edie Falco and Adam Trese in a tale of small-time criminals during one violent 72 hours. The breathless, hand-held 16mm camerawork by Jean de Segonzac, which always seems to be racing to catch up with the characters, made its mark on generations of filmmakers following. Gomez discussed the film with Hal Hartley in Filmmaker's debut, Fall, 1992 issue, which also included Peter Broderick's seminal piece on no-budget filmmaking, where the movie's $38,000 production budget was posted in full. Friday, April 5, 7:00PM; Sunday, April 7, 2:00PM.
Frownland. Ronald Bronstein's 2007 film Frownland is like a bullet from an earlier-era of New York underground filmmaking, a sludgy, blackly comic piece of post-modern miserabilism with a protagonist worlds away from the 20-something hipsters found in so many other '00s independent film debuts. It depicts a few days in the life of a socially-challenged door-to-door coupon salesman and is both psychological character study as well as a penetrating look at life in the margins. Filmmaker Magazine sponsors an IFP Gotham Award, a collaboration with MoMA, and Frownland won this "Best Film Not Playing a a Theater New You" prize in 2007. Sunday, April 6, 1:30PM; Wednesday, April 10, 7:00PM; Thursday, April 11, 7:00PM.
Winter's Bone. Debra Granik's second feature, Winter's Bone, Filmmaker's Spring, 2010 cover and a Sundance Grand Jury Prize-winner, is a fierce frontier drama set in a contemporary Ozark mountain community. Starring, in her breakout, Oscar-nominated performance, Jennifer Lawrence, and John Hawkes, the film sets 17-year-old Rees Dolly (Lawrence) on the road searching for her lost father, a journey that takes her into a world of methamphetamine production as well as adult responsibility. With quiet grandeur, Granik and her team capture here a world of desolation and beauty. Saturday, April 6, 4:00 PM; Thursday, April 11, 4:00 PM.
Amateur. Hal Hartley's fourth feature, Amateur, found one bona fide European star — Isabelle Huppert — joining the directors' semi-regular performers Martin Donovan, Elina Lowensohn and Damien Young in a crazy-quilt thriller dealing with amnesia and international crime syndicates. Highly stylized and rigorously controlled, Amateur is, nonetheless, a film dealing with the randomness of city life, and it articulates Hartley's mission to remain an "amateur" — a lover of cinema who is always learning through his pictures. (Hartley once described the film as "a TV cop show by someone who doesn't know how to make TV cop shows.") Hartley's previous film, Simple Men, graced Filmmaker's first cover, and this picture was profiled in our Spring, 1995 issue. And, further, the subject of cinematic amateurism was discussed by Hartley and Jean-Luc Godard in the cover story of the magazine's Fall, 1994 issue. Saturday, April 6, 7:30 PM; Monday, April 8, 4:00 PM.
Chuck and Buck. Written by and starring Freaks and Geeks creator Mike White, who would go on to write Orange County, School of Rock, and create the TV series Enlightened, and directed by Miguel Arteta (Star Maps, The Good Girl), Chuck and Buck is a dark comedy that spins a queasy scenario of unrequited longing into a mordant yet oddly touching Hollywood fable. Twenty-something man-children have never been as deeply examined as in this complicated film. A production of early aughts digital video studio Blow-Up Pictures, Chuck and Buck's DV aesthetic is a vital part of its in-your-face charm. Chuck and Buck was Filmmaker's Spring, 2000 cover. Friday, April 12, 7:00 PM.
Medicine for Melancholy. Elegant, thoughtful and moving, Barry Jenkins' Medicine for Melancholy is a beautifully shot (by James Laxdun) two-hander starring Wyatt Cenac (The Daily Show) and Tracey Heggins as possible lovers mapping their lives on the economically stratified neighborhoods of San Francisco. When so many films use location as scenic backdrop, Medicine for Melancholy never presupposes that the romantic possibilities of its two illicit lovers are more important than the social reality Jenkins quite deftly embeds them in. Medicine for Melancholy was the cover of Filmmaker's Winter, 2009 issue. Saturday, April 13, 1:30 PM; Monday, April 15, 4:00 PM.
Fast, Cheap and Out of Control. Errol Morris's 1997 feature, the cover of Filmmaker's Fall issue, is one of the celebrated documentary maker's most formally inventive, a charming meditation on the drives and passions of four extraordinary individuals: a lion tamer, a topiary gardner, a mole rat expert, and a robotics engineer. Using direct-to-camera interviews, archival footage, and hypnotic score, Morris creates a love letter to idiosyncratic ambition, revealing in the process the values we all share. Saturday, April 13, 7:30 PM.
The Oath. The second in a series of documentaries dealing with the Iraq War, its aftermath, and the War on Terror, Laura Poitras' s astonishing and essential The Oath, featured in Filmmaker's Spring, 2010 issue, is a character-based mystery about a Yemeni cab driver — a former Al Quaeda member who was once one of Osama bin Laden's bodyguards — and his brother-in-law, a low-level driver who chaffeured bin Laden. But at the film's start, only one of them is in Guantanamo, while the other promotes jihad on the streets of Yemen. The reasons for their different paths is the puzzle Poitras solves, in the process revealing trenchant truths behind U.S. foreign policy. Sunday, April 14, 2:00 PM.
Safe. Todd Haynes' Safe, wrote Larry Gross, in Filmmaker's Summer, 1995 issue, is "a political film that almost never directly mentions political issues, a horror film without any monsters, special effects, or killings, and a relationship film without any regular psychological inflection." In an epochal performance, Julianne Moore stars as Carol White, a California housewife for whom the environment becomes toxic. Her illness becomes an existential dilemma even as the film itself interrogates the very definition of the "character" in narrative cinema. Safe is a film that was truly ahead of its time.
25 New Faces. Two special programs will feature short films culled from Filmmaker's annual "25 New Faces" series, which spotlights emerging independent film talents.
Friday, April 12, 4:00 PM
Cul de Sac, Garrett Scott. American media, military-industrial policy and madness collide in director Garrett Scott's trenchant and sorrowful documentary essay film about a man who steals a military tank and goes on a rampage in Clairemont, CA. In addition to the late director, editor Ian Olds was also selected for Filmmaker's 25 New Faces list.
Pioneer, David Lowery. A father/son bedtime story becomes high adventure and eerie confessional in David Lowery's beautiful Pioneer, starring Will Oldham.
Five Feet High and Rising, Peter Sollett. In Peter Sollett's indelible 2000 short, Five Feet High and Rising, Lower East Side teens discover something about love and themselves during one hot summer. The film stars Victor Rasuk, Judy Marte and Melonie Diaz, and both Sollett and producer/editor Eva Vives appeared on our "25" list.
Saturday, April 13 1:30 PM
Creative Nonfiction, Lena Dunham. Before Girls and Tiny Furniture there was Creative Nonfiction, a funny and formally ambitious metafictional account about writing and non-romance at a liberal arts school. Dunham, a 2009 25 New Face, stars.
#PostModem, Jillian Mayer and Lucas Leyva. The singularity, viral video and K-pop collide in Miami artist and filmmakers Mayer and Leyva's mind-expanding short.
Gowanus, Brookyn, Ryan Fleck and Anna Boden. The short the led to the film Half-Nelson, Gowanus, Brooklyn is a jewel of a film detailing a young girl's concerned investigation into her teacher's secret life.
The Black Balloon, Benny and Joshua Safdie. A lost black balloon purposefully bobs and weaves throughout New York City in this warm look at the idiosyncracies of New York life.