Back to selection
Bring on the Major Leagues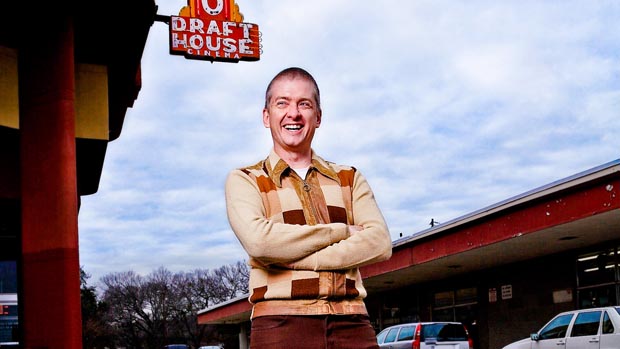 Tim League is not as much of an oddball as Alamo Drafthouse Cinema and its distribution arm, Drafthouse Films, might suggest. For all the cultish, film-geek quirkiness of those companies, the man behind them seems to know exactly what he's doing. Since 1997, League, who studied engineering and art history at Rice University, has been cultivating a highly profitable brand that's now proving scalable far beyond the confines of his hometown of Austin, Texas.
Alamo is in the middle of a massive expansion of both company-owned and franchise locations, with openings set for New York City (including a seven-screen complex in downtown Brooklyn in 2015); San Francisco; Washington, D.C.; Houston; Dallas; and Austin (which already has four Alamo theaters). These will join the 11 Alamo locations in Houston, San Antonio, Austin, Kansas City and Winchester, Va.
What's attractive to new franchise owners is the success of the Alamo model. The theaters gross more than twice the per-screen revenue of competitors Cinemark and Regal Cinemas. Conventional movie titles and food and drink sales make up the lion's share of income for the individual theaters — yes, as visitors to SXSW note upon attending Alamo screenings, food and drink is served during the movies, with waiters zipping down aisles carrying Maker's Mark Milk Punch Shakes, Crème Brûlée French Toast and Goat Cheese Goodseed Burgers. (The company recently hired a research and development chef to create "new, exciting and different food for the national chain.") In fact, three of Alamo's cinemas in Austin are the highest-volume restaurants in a city that boasts a thriving restaurant scene.
The current Alamo expansion is a successful outcome after legal conflicts between League, his wife Karrie and the owners of Alamo Drafthouse were settled in 2010. In 2004, the Leagues sold their Alamo Drafthouse company to new owners Terrell Braly, David Kennedy and John Martin, and then licensed back the Alamo name to continue to run the three Austin locations. Five years later, the Leagues filed suit, charging CEO Martin and the company with, as League told the Austin Chronicle, not "maintaining the strength of the brand." The lawsuit was happily averted, though, and League was reinstalled as Alamo Drafthouse CEO, with Martin becoming "an area developer" expanding the brand outside of Austin.
Drafthouse Films launched that same year, and, after a slow start, the company now boasts 15 titles, a half dozen of which will see theatrical release in 2013. "Our goal is to release one film per month in 2013, which we're close to doing," League says. "It's been a natural progression."
Drafthouse Films' roster is, much like the programming at Alamo theaters, cultish and a bit bizarre. Even titles such as The Act of Killing, a documentary about Indonesian war criminals executive produced by Errol Morris and Werner Herzog set for release this summer (see page 36), is a strange, surreal affair. League says the film stayed with him for days, and he and his staff stayed up late talking about it. Ultimately, it started a conversation, which is what League says he's really looking for in Drafthouse acquisitions: "Something that hits you in your gut and stays with you, that you want to talk about and think about afterwards."
With the growth of digital platforms like VOD, League believes the relationship between filmgoer and film distributor is changing. He sees the latter as a curator and tastemaker, not just a middleman. "We're trying to reduce the distance between the artist and consumer, and let creators take control of their art," he says. "Too often in the industry I hear people say, 'Oh, yeah, we bought that, it's a piece of crap, but it'll make money.' But those are words we're never going to utter because what we're trying to do is build up credibility in our brand. We make very few compromises in programming, and we want to do the same on the distribution side."
Although Drafthouse currently makes more profit on DVD and VOD sales than it does on theatrical releases, it's not embracing the VOD-only model of some other distributors with their genre arms. Says League, "We strongly believe that the more energy we put into the theatrical release, the more awareness we create, the more word of mouth that happens during the theatrical, then the more it helps downstream with home video revenue."
The success of the theater chain benefits Drafthouse titles, which have a built-in distribution network. "As the theater chain expands, we can control our marketing," League says. "At the Drafthouse, I know we'll be able to get trailers up on screen and posters up and start building an audience, whereas I don't always know that if we're booking a theater 2,000 miles away."
Drafthouse's recent releases include Michael R. Roskam's Belgian crime drama Bullhead, released in 2012 and subsequently nominated for an Academy Award for Best Foreign Language Film. It's the company's most critically acclaimed release to date, but its box office was modest. Although it screened at about 100 theaters nationwide, it grossed only about $150,000. Other titles have included The Ambassador and Wrong, a surreal comedy by Quentin Dupieux that premiered at last year's Sundance Film Festival and opened at U.S. theaters in March.
League says that the expanding Alamo empire, which includes September's Fantastic Fest (of which League is co-creator), is giving the distribution arm an edge when it comes to dealmaking. "Bullhead's director came to Fantastic Fest and saw the whole Alamo experience, and he helped push the licensor in our direction." Good artist relationships help, too. Mads Brügger, the director of The Ambassador, sat down with The Act of Killing director Joshua Oppenheimer and lobbied for Drafthouse, says League. "We actually almost lost Act of Killing, but we put together a last-minute Hail Mary pass that won them over. Every deal is different."
One of the company's most unusual acquisitions was last year's Miami Connection, a martial arts action thriller from 1987 about a synth-rock band, Dragon Sound, that goes to war with motorcycle ninja gangs in Miami (everyone in the band is a black belt in tae kwon do). The film, written and directed by Korean immigrant and 9th-degree black belt/inspirational speaker Grandmaster Y.K. Kim (who also stars), was completely forgotten after its 1987 release. Alamo programmer Zack Carlson found a 35mm version of Miami Connection on eBay and bought it for $50, sight unseen, only to realize later that he'd found something strange and special. Acquiring it, says League, was "a process of finding the rights holder and convincing them we were serious. As soon as we did that, it was easy to close the deal."
Despite a limited release, The Miami Connection has turned out to be one of Drafthouse's most successful titles to date. Only a handful of independent theaters picked up the film late last year, and a few more have for this year. But word-of-mouth popularity has been bolstered by Drafthouse's sales strategy of bundling DVDs with a package of extras, such as reprints of the original movie poster, replicas of Dragon Sound's red-and-black tank-tops and a 7-inch pink vinyl of the band's two songs featured in the film. Copies of the vinyl sold out soon after the film's release in December, as did the DVDs and movie posters.
In December, Drafthouse partnered with VHX to sell Miami Connection online via DRM-free digital download and multi-device streaming, starting at $6. Drafthouse has done this with most of its titles, either offering them in multiple formats (including digital download) through its website or, in the case of Miami Connection, through a new site created specifically for that film.
If the acquisition process has so far been inconsistent, it has been confined to League's tight-knit team, which seems to share a strong sense of what they like and what will play well to Alamo's demographic.
A series of text messages from this year's SXSW Film Festival between League and business associate Keith Calder capture the improvisational ethos behind the company's approach. After securing the rights to Cheap Thrills, a darkly comic debut from director E.L. Katz that won the festival's Midnighters Audience Favorite award (the film follows a cash-strapped man who agrees to do increasingly insane things in exchange for money from a rich couple), League tweeted the text exchange that led to the deal:
"Checking out Slaughter Lane right now! Doing Cheap Thrills."
"Like it?"
"Loved it! You?"
"Loved it. Putting in an offer. Talk later?"
"For sure. Could be a good test team up? Or you doing solo?"
"Happy to team up. James is checking the price."
"Cool."