Back to selection
Five Questions with Oxyana Director Sean Dunne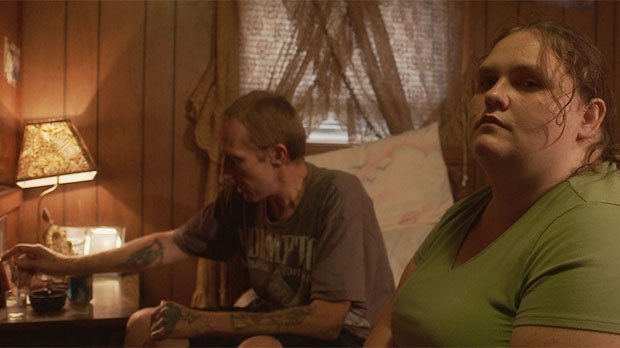 Oxyana
Between 2008 and 2011, Brooklyn-based documentary filmmaker Sean Dunne built a burgeoning reputation for himself with a series of short films that demonstrated both his strong visual sense and his ability to skilfully capture the world of his subjects. The standout films from this period were The Archive, a portrait of the largest collection of vinyl records in the U.S. and its owner, and American Juggalo, which featured devoted Insane Clown Posse fans at the annual Gathering of the Juggalos. Now Dunne has broadened his focus and made his debut feature, Oxyana, which zeroes in on the town of Oceana, West Virginia, a remote, economically hard-hit backwater where addiction to the prescription drug Oxycontin has become widespread. In advance of the film's world premiere at the Tribeca Film Festival, Dunne took the time to talk to Filmmaker about his new project.
Filmmaker: How did you become aware of the situation in West Virginia that you depict in Oxyana?
Dunne: The Oxycontin epidemic was somewhat on my radar from personal experiences, but I wasn't really aware of the full extent of the situation in West Virginia until we went there and saw it firsthand. We spent some time there before filming just getting a lay of the land, making friends and enjoying the outdoors. It was pretty shocking to see how embedded in the culture this drug had become. This is a place that was once flourishing because of the coal industry, yet has now been reduced to a shell of its former self due to the crippling effects of Oxycontin. To me, the decay of this one small town in West Virginia closely mimicked the decline an individual experiences when they become addicted.
Filmmaker: What were the biggest obstacles that you faced in making the film?
Dunne: Obviously when you're infiltrating and documenting a subject as sensitive as this you are going to be met with some resistance. We had some threats of violence that were very real and extremely nerve wracking; we even had two death threats. In a town as small as Oceana there is really nowhere to hide, especially with a film crew, so we had to face that stuff head on.
Filmmaker: How easy was it for you to gain the trust of the people that are the subjects of the film?
Dunne: It really depended on the individual we were shooting. For instance, certain people were aware of us before we got there and wanted to have their voices heard. Others took a bit more time to warm up to us. But once we got going and got a few interviews under our belt the tide started to shift in our favor, word spread that what we were doing was legit and people began to embrace us. Once our cameras were rolling I couldn't believe how candid everyone was. We treated them with respect and they did the same in return.
Filmmaker: What were the biggest differences for you, making the leap from shorts to a feature? How much of your approach and work methods stayed constant?
Dunne: I feel like my short films were sort of a training ground for making Oxyana. We used the same approach to shooting that we did with the shorts, so despite the markedly more challenging landscape we chose to document, it still felt like second nature.
The edit was another story entirely. The subject matter was so fucking heavy, really dark stuff. My editor Kathy Gatto and I realized it had started to take its toll so we had to take breaks from the editing, long stretches where we could regain our mental health and re-approach it each time with fresh eyes. With my short films we tended towards editing the entire films over the course of a week or two and put them out on the internet the night we finished them. Oxyana was edited over the course of four or five months, spending almost as much time away from it as we did with it, but keeping the discourse between Kathy and I going throughout.
We had to learn to be patient with this one and let it come to life in the edit the same way it did during the shoot, in as natural a way as possible, never forced.
Filmmaker: You ran a Kickstarter campaign for this film about a year ago. What did you learn from that process?
Dunne: Honestly, Kickstarter was something I was a little resistant to before this film. I always felt it would expose us to too much scrutiny at too early and vulnerable a time in our process, which was true for my short films. But by the time we needed the money for Oxyana, I felt we had our vision fleshed out enough to move ahead with a Kickstarter campaign. It proved to be PR for the film that we would have never otherwise gotten. What I took away from the whole thing was a renewed sense of how important it is these days to keep your audience engaged from concept to completion.