Back to selection
Amazon Storyteller: A Sort-of-Free Storyboard Tool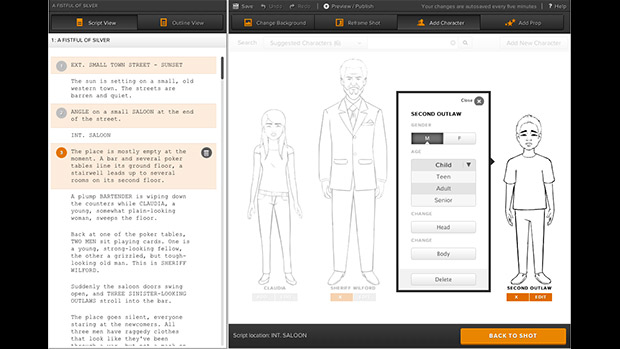 Last week, Amazon added a new tool to Amazon Studios called Amazon Storyteller. Storyteller is a free, easy to use storyboarding tool, but before you rush out to try it, you might want to know a little more about Amazon Studios.
A little history
Not content with creating a distribution mechanism for films and videos, Amazon began dabbling in the world of production with the launch of Amazon Studios in latter 2010. Amazon Studios invited screenwriters to submit movie and television scripts with the prospect of prizes and production deals. During the first few months the incentive was primarily cash prizes for the best script submitted, but now Amazon has turned to actual production. According to Amazon, there are currently 26 projects under development. These range from full-length motion pictures to television series. They have announced that they will be posting the pilots for 14 series they are developing, and customer reaction to the pilots will determine which of these will be produced as full-seasons and "aired" on Amazon's Prime Instant Videos.
Collaboration Options and bad Options
One of the interesting things about the original launch of Amazon Studios was that it encouraged collaboration; a script you submitted might be rewritten by others and if a script 'rewrite" was chosen, the original author also received credit and money.
The announcement of Amazon Studios was met with very mixed reactions, particularly the fact that by uploading a script you were giving Amazon an 18-month free option on your script.
Things have changed since then. You don't have to make a script public, and if you do, you don't have to allow others to rewrite your script. The option window is now much smaller; only 45 days, though this is extended if you make a change — for example if you make a storyboard.
Amazon Storyteller
The Amazon Studios site is, in many ways, a place for pitching scripts in a more public way than traditional studios work. It has also added several tools and options to help with the script/pitch process. In 2011 they made available a library of music tracks that could be used in making preview movies for the site.
The just announced Storyteller tool is currently in beta, though it already has a fairly large number of features. One limitation is that it only works with a script that was uploaded in RTF format. (Amazon Studios also accepts PDF format.)
For any public script, anyone can go and create a Storyboard. However, if you didn't write the script you actually need the author's permission before you can publish the storyboard. So you'll want to check with the author before getting too carried away with a storyboard for someone else's script! (Authors, remember that granting this permission effectively extends your option with Amazon by 45 days.)
Also, there's no way to export a storyboard — you can only view it in Amazon's site — and publishing a storyboard extends the option on the original script by another 45 days from the date of publication of the storyboard.
Creating a Storyboard
On the face of it, it's surprisingly easy to get started. The tool displays the script in a panel on the left-hand side. Click on a line of the script and the tool creates a new storyboard frame. It also adds the text from the script as the caption, though you can edit that later, and it also parses the text and tries to guess at an appropriate background and the characters in the scene. If the line mentions a town, a picture of a town is chosen. You can switch to another background image from a large library, or even upload your own image. You can also add and subtract props and characters, choosing their sex, size, basic outfit, their size in the panel, and event the direction they are facing in the panel.
I've encountered other tools that offer some of these features, including Cinemek's Storyboard Composer for iPhone and iPad, but this is the most complete, free tool I've seen yet.
Amazon Storyteller is brand new, and is limited in the kinds of scripts it can visualize. For example, we don't have robots and spaceships, but maybe we should. We need help from storytellers like you to make it better.
–Amazon Storyteller FAQ
It's free, it's reasonably featured, but what are the downsides? Well, you have to upload your script to Amazon Studios, which gives them a 45 day option, so if your script is already optioned, you won't want to make use of this tool. There are some other limitations. Most notably, you can't work with anyone else on a storyboard, and there's currently no export function. You could, of course, share a log-in so that multiple people could work on a project, and you could export by taking a screen capture of the storyboard.
Amazon Storyteller FAQ
Some other free storyboarding tools:
StoryBoardThat
UScreen Storyboarding Tool