Back to selection
The Cinematography of A Field in England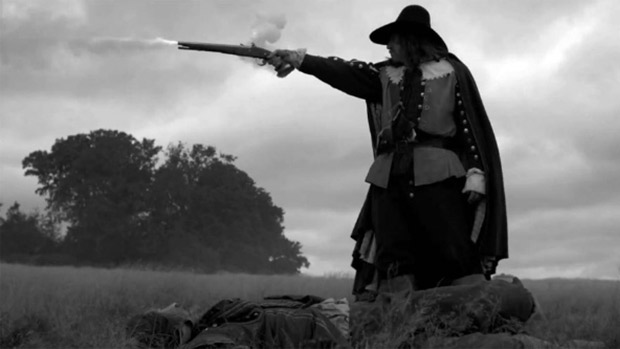 English director Ben Wheatley's [Kill List, Sightseers] latest project, A Field in England was shot in black and white and follows a group of deserters in the English Civil War. But this isn't your standard historical period piece, being variously described by reviewers as a  "monochrome-psychedelic breakdown" and a "17th-century head trip." Shot in 12 days on a micro-budget, it was also, rather unusually, released on the same day to cinemas, on DVD and Blu-ray, and it also aired on Film4 (a free digital television channel).
For those interested in the movie's production, the filmmakers have created a very informative sub-site that covers its making: A Field in England: A Film4 Digital Masterclass.
This site includes short videos on development, pre-production, shooting and post-production. There are sections devoted to prosthetics, costumes, shot lists, cinematography and much more. The section on Cinematography explores with some depth the cameras and lenses used. The movie was shot on the Red Epic and the Canon C300, the latter with a variety of unusual lenses.
Wheatley explains how he came across some very low-cost (less than $30) lenses for his still camera and thought they'd be "worth a punt."
"It's flarey, and they're… bad lenses," says Laurie Rose, director of photography, "basically they're all the things that people have been trying to avoid for 150 years really"
"But they look beautiful, very soft and kind of ethereal," adds Wheatley.
Their success with these lenses prompted them to try to make their own lenses by taking a Canon body cap, drilling a hole in it and then gluing different bits of glass into it until they came up with something that worked. The resulting "lens," which Rose dub's 'The Mesmerizer," uses part of a kid's telescope as the lens.
"And that's been our main lens on that camera [the C300]. It cost me 4.49(GBP) It's fantastic. It is so good. It has a focus of about a foot and it's super sharp, but everything that falls off behind it is utterly out of focus," says Rose.
You can read about all of the gear that Rose used to shoot A Field in England here: DoP Laurie Rose's kit list.
See also:
The Guardian: Ben Wheatley: 'I don't think I'll ever be a Hollywood guy'
The Independent: Ben Wheatley and Film4 go where no British film has gone: A Field in England' to be shown on TV on the same day as its cinema release