Back to selection
A Business of Ignorance?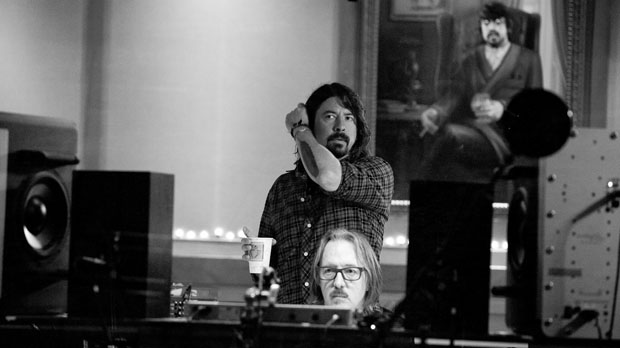 Sound City
The impact of digital distribution on the indie film landscape has been vast. First, film titles began to inch up the alphabet toward the letter "A" to get noticed at the top of VOD listings. The latest development: Find a young TV star with a solid online fan base and you're gold.
"I'm seeing more and more films leveraging up-and-coming TV actors that have social media profiles," says Erick Opeka, senior vice president of digital distribution at Cinedigm Entertainment. "Those audiences can't wait to consume more product that features their favorite actors. The films come out of nowhere and storm the charts."
As an example, Opeka cites the indie drama Consent, which stars Troian Bellisario from the ABC Family show Pretty Little Liars. For evidence, just see what iTunes commenter Willo801 has to say about Consent, "My favorite actress is Troian Bellisario<3 i love her soooo much she is brilliant at her job:)"
If such developments are supposed to save independent film, call me cynical.
Even self-distribution booster Ted Hope, the indie film maven who launched his A2E (Artist to Entrepreneur) Direct Distribution Lab at the San Francisco Film Society this year, called the new digital platforms "an emerging market." Films are being "licensed without full understanding of future worth," he wrote on his blog. "We are doing a business of ignorance."
Independent film's rush to embrace digital platforms has led to digital glut: Too much content floods the VOD/iTunes/Xbox/VHX/Netflix cyberwaves. According to Opeka, Cinedigm alone handles 6,000 feature films and 16,000 hours of TV programming.
Amidst all this content, discovery mechanisms, particularly on antiquated set-top box interfaces, are lacking. "It's something I talk about all the time," says indie film consultant Brian Newman. "It's harder and harder for people to find stuff. Yes, you get the sense that some people are succeeding — certain docs, Eddie Burns, Kevin Smith — but very few will target a niche that can be served, and very few have that direct relationship with the audience."
There are real successes on the digital platforms, but they're predictable ones: horror films (the V/H/S series), starry Hollywood-imitation indies (Margin Call, Arbitrage, Bachelorette) and narrowly focused docs, whether those aimed at young, tech-savvy millennials (Indie Game: The Movie, Bones Brigade: An Autobiography, Jedi Junkies), music fans (Dave Grohl's Sound City, the Journey doc Don't Stop Believin') or health and wellness acolytes (Hungry for Change; Fat, Sick and Nearly Dead).
According to Gravitas Ventures' CEO Nolan Gallagher, Fat, Sick, a film about juicing, has been watched by more viewers on Gravitas' temporary free YouTube channel than its other four offerings combined. And even though it was released in April 2011, it still remains popular on both Hulu and iTunes.
Such examples are indicative of the potential growth of docs in the new digital markets. As Newman says, "If it's a niche doc, you can make money on it. But if you're Kelly Reichardt"—director of arthouse faves Old Joy and Wendy and Lucy—"it doesn't help."
Indeed, movies that don't fit into those aforementioned categories, particularly nuanced dramas, find it far trickier to navigate the digital universe. That's when titles beginning with the letter "A" or casting TV hunks and starlets comes in. Or lowering price points. Or launching a limited theatrical release to raise awareness, as Gravitas did with Sound City and Cinedigm did with its Docurama film series. (It's worth noting that Opeka suggests the next iteration of their series will likely revolve around a coherent theme. Every marketable niche helps.)
If producers can come up with about $100,000 for small theatrical runs, Gravitas' Gallagher believes it's a cost-effective strategy to achieve the necessary reviews and social media awareness to eventually be profitable. "If you have a great film," he adds.
Gallagher encourages American independents to anticipate growing potential in the international VOD market. For example, Sound City made a third of its business abroad, through digital retailers such as iTunes Germany, iTunes Australia and iTunes UK. In fact, iTunes is simplifying the onerous process of international delivery. In many cases, a territory can be launched by the aggregator's flick of a switch. "This is the future, where film distribution will go," Gallagher says, also citing recent licensing deals in Latin America and elsewhere.But what about the present?
"What's important for the creative community to understand is you have to look at revenue from innumerable sources, and [digital platforms] amount to a modest, dependable amount of revenue that filmmakers would not have received previously," says the Sundance Institute's digital director Joseph Beyer, who also co-manages the Artists Services distribution initiative. "It's not huge, and it's growing, but it's legitimate."
According to Beyers, nearly 50 percent of the total revenue earned since Artist Services launched in 2012 was seen in the first quarter of 2013, driven by top-earners such as Upstream Color and the docs Indie Game: The Movie, Detropia and 5 Broken Cameras.
And although Sundance Artists Services has had its breakouts, even smaller films are welcoming the returns, however paltry they may be. According to Chris Horton, associate director of Artist Services, Anne Makepeace's 2001 doc Coming to Light: Edward S. Curtis and the North American Indians was recently made available during Native American heritage month and performed well. "It's the perfect example of the possibilities because of digital: A film is always new to someone. As long as the titles are available, audiences and affinity groups can discover them."
Low-budget narrative indie filmmakers aren't getting rich — two recent indie projects launched through Artists Services saw about 10,000-11,000 paid downloads — but they still welcome the platforms.
"I think some filmmakers might be disappointed with that result," says Adam Bowers, writer/director/star of the comedy New Low. "But I feel lucky to have this. For me, these digital platforms seem to be the best option for dealing with that huge amount of movies [being made and released]."
Then again, the digital landscape could prove more forbidding for indie films in the future. "I think there's going to be a big VOD apocalypse coming soon," says Newman. "I think Comcast and iTunes and all those big players are realizing these indie movies aren't making much money. As soon as Hollywood starts messing more with windows and doing day and date, imagine viewers sitting at home on the weekend and they have the option to see the latest Hollywood movie over an indie? Then screw it. Indies are dead."