Back to selection
8 Rules on Being a Locavore Filmmaker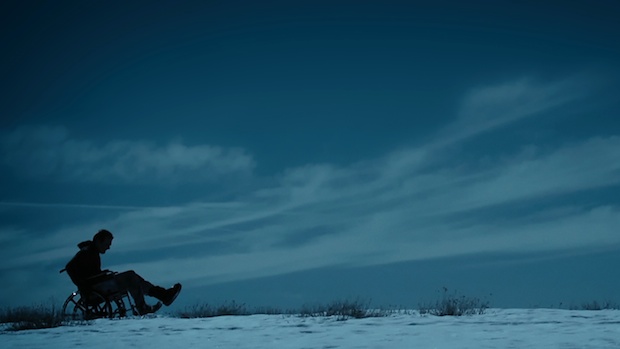 Between Us
Plenty of us independent filmmakers claim to be as environmentally friendly as can be, but beyond a few minor lifestyle tweaks (like claiming we just watched Gasland 2 while bemoaning Hollywood's reliance on sequels), are we really as green as we'd like to think we are? Sadly, probably not. But one way we can help make a small difference to our planet is to take a page from the food movement and become locavore filmmakers — making movies close to home, in order to reduce our carbon footprints. I tried this strategy on my new film (Between Us, starring Julia Stiles & Taye Diggs — out now on VOD/DVD/digital) and here are some lessons I've learned from my somewhat mixed results:
1. Keeping Your Homebase at Home. My movie, Between Us, is set half in New York, and half in Omaha. So naturally, I decided to shoot it in L.A.! Of course, for practical reasons, this was largely so I could still take the kids to school during weeks of pre-production, and even occasionally see them while filming. My wife certainly appreciated that I stuck around town, despite the fact that our garage had been turned into a production office overrun by interns in cargo pants (who inevitably gravitated towards our kitchen looking for leftovers in the fridge). L.A. has a huge number of eager, talented young filmmakers, who for various immigration, unemployment or witness protection reasons can't be legally employed, but who want to live out the Hollywood dream and work on movies for free. Sure, some are homeless, but eventually, my family got used to the odd Nebraska or Icelandic interns sleeping in the garage.
Living in L.A., there was also a righteous commitment to stem runaway production and hire an all-local crew (using the term "hire" in the strictly metaphorical sense, since most were the aforementioned "interns"). We even did a week of rehearsals in my kitchen, and I enlisted IndieWire co-founder Mark Rabinowitz as our official "rehearsal chef," largely because he was crashing in our guest room at the time. And if the local police asked if I was running an illegal business or hotel out of my residentially-zoned house, I could always claim Mark was my live-in butler. As for the Icelandic intern in the garage, the less said, the better.
2. Cast Locally (sort of). I made a commitment early on to my casting director and producers: We're only going to cast American actors, and they need to work as locals in L.A. This made pragmatic sense: Most actors like to sleep in their own beds, and actually see their families on the occasional day off. So in theory, you should be able to attract a higher calibre of actors if you shoot in L.A. and cast locally. And casting Americans wasn't just a form of cultural protectionism (damn you, Helen Mirren!), but rather because we couldn't afford to deal with travel visas and I was nervous about shaky accents. But due to the vagaries of casting, the local requirement lost its primacy the closer we got to shooting: two of our actors came from New York, one Australian flew in from Argentina, and even the one guy from Studio City wound up staying in the hotel with the rest of the cast, so he could get a break from a colicky baby at home.
3. Find Locations Close to Home. We had one scene in Between Us that required one of our actors to go through a field of snow on a wheelchair while looking at a rustic church. So we scoured the country looking for a classic old church in a location that still had plenty of snow on the ground. Now, I'd already scouted a perfect church in Nebraska, but by the time we were shooting, it was April and there was not a patch of snow to be found in Nebraska, much less most of the continental U.S.
Fortunately, I go sledding frequently near the summit of Mt. Piños, barely an hour's drive north on the 5 Freeway. I knew from a scouting trip with my son the week before (that ended inevitably with a minor case of frostbite, an overheated minivan, and a build-your-own-sundae at a truckstop Denny's) that at 8,800 feet, the summit still had just enough snow to shoot our scene. So I gathered a crew of eight, plus our actor David Harbour, and we drove out to the mountain. We parked near the summit, and hiked for an hour in the snow, all carrying close to 400 pounds of equipment plus a wheelchair. David borrowed a pair of my boots, which split open after less than a 100 yards into the hike. Wrapping his feet in gaffer's tape, we continued to the summit along the unmarked trail, with no maps or GPS, and with the crew following me on blind faith alone. I felt like Werner Herzog making Fitzcarraldo, but with a wheelchair instead of a boat. But just as I noticed a camera assistant glaring at my meaty legs, mumbling something about a "Donner party for Mirvish," a clearing at the summit opened up: No trees, a horizon line clear for hundred of miles and just enough snow to sell the scene. Oh, and for the church, we just digitally composited in the one I'd seen in Nebraska.
4. Drag Your Actors out of Bed. We found a terrific new hotel in Hollywood called The Redbury that gave us a great rate for our actors (they aspire to be the new Chateau Marmont, but without all the pesky overdoses). Luckily, we found our interior "Omaha" house less than a mile away in Los Feliz. Better still, we realized the Redbury hotel rooms themselves looked more like New York apartments than any other place we'd scouted in L.A.. Even more shocking, the hotel actually WANTED us to shoot there, and barely charged us for it. In addition to the apartment scenes, we also used the hotel for two wedding scenes, a restaurant, a bar, and even the church interior confessional. In total, we shot two-thirds of the movie there. For the actors, this was a dream: they could roll out of bed, do makeup in one room, snack on craft service in another, and cross the hall to the set. For them, this truly was locavore filmmaking.
5. No, Seriously, Keep it Really Close to Home. For a couple short scenes, we needed a guest room that was under construction, and we had to be able to use bright yellow and green paint on the walls for a particularly wild love scene. In a fit of mad extreme locavorism, I offered up my own garage for this purpose. It took a full day to clear out our pre-production desks, chairs, and dirty Icelandic underwear, dumping everything in the backyard. We then put my kids to work painting the garage walls, and I instructed my team to bring just a skeleton crew and limited lights, so as not to alert the neighbors. Of course, the entire crew and all our lights showed up en masse. Thankfully it was a Friday night, and the neighbors just assumed it was a raucas, but very well-lit, baccanal in the garage.
6. If You Travel, Hire Local. Three weeks after wrapping principal photography in L.A., I still needed to get exterior shots of both Nebraska and New York. So while on a family trip back to Omaha to visit my parents, I teamed up with my long-time producing partner who's based there, Dana Altman. Thankfully, one of my cargo-clad interns in LA who was a film student at LMU, was spending the summer with his folks in Omaha. Since he knew our Los Feliz location, he scouted an almost perfect match for the exterior in Omaha. Despite protestations from my beloved cinematographer, Nancy Schreiber, ASC, (who begged to come with my wife and children on our Omaha vacation), we used a local DP and literally phoned in our RED settings to Nancy.
Instead of using fancy product placement connections to get matching cars for driving scenes in Nebraska (difficult, particularly since we'd run out of production insurance by then), Dana had the clever idea to call a local dealership and offer them the "opportunity" to loan us cars and have their own employees be our stunt drivers (since they were already insured for test drives). Thankfully, Anthony Caputo, the General Manager at Markel BMW, had gone to high school with Dennis Leary in Massachusetts: "If Dennis can be a friggin' movie star, then so can I!" So we suited up Anthony in Taye Diggs clothes and he became a stunt driver for the day.
From Omaha, I flew to New York, and crashed with my Slamdance colleagues Paul Rachman and Karin Hayes, and met up with my New York-based producer Mike Ryan. Nancy met us in New York (she's got an apartment there, and was chomping at the bit to get back behind the camera!), but otherwise we mostly hired my pal Larry Fessenden's Glass Eye Pix crew for what turned out to be an incredibly efficient one-day shoot with Julia Stiles. Talk about a good locavore example: Julia even walked to set from her apartment!
7. Editing, One Pant Leg at a Time. In the digital age of indie film, it's axiomatic that post-production has the greatest potential for locavorism: In theory, you can finish a whole film without leaving your bedroom. Sure enough, for a while, my terrific editor Dean Gonzalez cut the movie at his house on his Mac. When I realized Dean wasn't wearing pants (and probably neither was I), I made him drive over to my house, and we cut the film together in my kitchen while I force-fed him frozen Costco pizza topped with figs and capers. Later, what once had been our pre-production office (my garage), transformed easily into a glorious post-production "suite" for finishing touches. We were lucky enough to get Terilyn Shropshire, ACE, to come in for a couple weeks before she had to start working on Whitney Houston's last movie, Sparkle. But even then, Terry wasn't off the hook: She was editing at Sony, which is less than two blocks from my house. So I'd frequently walk over with my laptop, sneak onto the lot and show her new tweaks I was making. We even recorded her doing some off-screen lines (as the mother-in-law on the phone) while Whitney Houston was paused in the background.
8. Screw the Environment, Do It for Yourself. If you have any kind of regular exercise regime, it will go by the wayside while making a film (see: Smith, Kevin; Coppola, Francis; Welles, Orson). But even in L.A., you can still make some healthy lifestyle choices with your post-production vendors and colleagues! My composer, our dialogue cutter, color correction, and foley and mix stages were all within a two-mile radius of my house, and all conveniently located just off of the Ballona Creek Bike Trail that cuts through Culver City. Though a bit unnerving to carry the entire film in a backpack filled with hard drives (don't tell my producers), it was worth it for the extra aerobic workout alone. Some clever post supervisor should post a conversion chart of Minutes-of-Raw-Footage, to Gigabytes, to Calories-Burned-While-Biking.
Trust me, if you're lucky, you will gain 20 pounds on the festival circuit (five at the Napa Valley Film Festival alone). So if you have any faith in the success of your film at all, you'd better get in shape during post. And if you stand half a chance of getting laid on said festival circuit (even from your own spouse), this post-production exercise is a moral imperative.
So, I'm sure this whole locavore filmmaker thing is easier to pull off if you live and work in New York. Any grungy filmmaker with a Metrocard can do that! The real trick is pulling off locavore filmmaking in freeway-packed L.A. And not just for indie films: We should be demanding that Hollywood pay more than lip-service to the environmental cause, too. For starters, they should only hire directors who live in a two block radius of their studios. And to my Culver City neighbors at Sony, I'll walk over in five minutes – open the gate, please!
Dan Mirvish's new film, Between Us, starring Julia Stiles, Taye Diggs, Melissa George and David Harbour, is currently in limited theatrical release and comes out nationally on VOD, digital and DVD platforms on July 30.
"Between Us" Behind the Scenes – "The Snow Shoot" from dmirvish on Vimeo.