Back to selection
TIFF Announces Bumper Initial Slate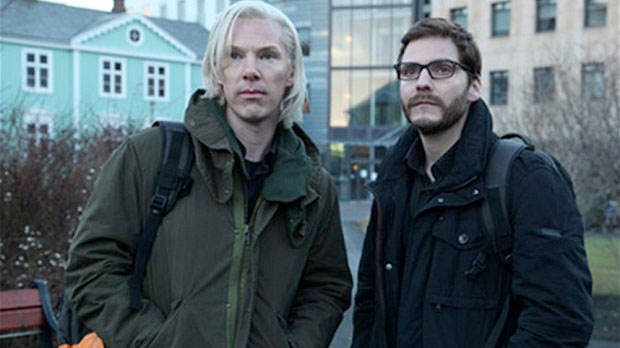 The Fifth Estate
The first sections of the 2013 slate at the Toronto International Film Festival were announced today, and there's a lot to dig into here. Just skimming the surface, the major points to note are that the fest will open with Bill Condon's WikiLeaks movie, The Fifth Estate (starring Benedict Cumberbatch as Julian Assange), and close with Dan Schechter's Elmore Leonard adaptation Life of Crime, which I have heard some strong buzz about already. In the Galas section, the standouts are world premieres of awards hopefuls Mandela: Long Walk to Freedom and August: Osage Count, but it's the Special Presentations section that is most stacked.
That strand boasts world premieres of Steve McQueen's historical drama 12 Years a Slave, Atom Egoyan's West Memphis Three biopic Devil's Knot, the latest picaresque crime film from Richard Shepard, Dom Hemingway, Nicole Holofcener's new ensemble dramedy Enough Said and Jason Reitman's Labor Day. There are also first bows for Ralph Fiennes' sophomore feature The Invisible Woman, Canadian auteur Denis Villeneuve's first American feature Prisoners and Paul Haggis' intercontinental, multi-narrative Third Person. Elsewhere in Special Presentations there are also a handful of North American premieres for some much anticipated fall films which have their premieres at Venice: Alfonso Cuarón's space opera Gravity, David Gordon Green's Nicolas Cage-starring drama Joe, Kelly Reichardt's environmentalist drama Night Moves and Jonathan Glazer's adaptation of Michel Faber's ingenious sci-fi novel Under the Skin, starring Scarlett Johansson.
The full list of films is below:
GALAS
American Dreams in China Peter Ho-Sun Chan, Hong Kong/China North American Premiere
1985. In the midst of China's economic reform period, three college students — an overzealous hillbilly who refuses to accept his destiny of being a farmer; a cynical intellectual with a superiority complex; and a romantic idealist who wants to be a movie star — bond through a shared fascination with Western literature, music and movies, and an ambition to live the American dream. This sets the three on a roundabout course toward the foundation of a wildly successful English-language tutorial institute — but sudden fame and fortune could tear the friends and their vision apart.
The Art of the Steal Jonathan Sobol, Canada World Premiere
Crunch Calhoun, a third-rate motorcycle daredevil and part-time art thief, teams up with his snaky brother to steal one of the most valuable books in the world. But it's not just about the book for Crunch — he's keen to rewrite some chapters of his own past as well. Starring Jay Baruchel, Matt Dillon, Kurt Russell, Terence Stamp, Katheryn Winnick, Chris Diamantopoulos, Kenneth Welsh and Jason Jones.
August: Osage County John Wells, USA World Premiere
August: Osage County tells the dark, hilarious and deeply touching story of the strong-willed women of the Weston family, whose lives have diverged until a family crisis brings them back to the Midwest house they grew up in, and to the dysfunctional woman who raised them. Based on Tracy Letts' Pulitzer Prize– and Tony Award–winning 2007 play of the same name. Starring Meryl Streep, Julia Roberts, Ewan McGregor, Benedict Cumberbatch, Abigail Breslin, Sam Shepard and Chris Cooper.
Cold Eyes Cho Ui-seok and Kim Byung-seo, South Korea North American Premiere
A veteran leader of the Special Crime Department Surveillance Team, and a rookie female detective with gifted powers of reasoning, keep a close watch over a vicious criminal organization. After continuous surveillance and pursuit, they come close to arresting the organization but commit a fatal mistake. Starring Seol Kyung-gu, Jung Woo-sung, Han Hyo-joo, Lee Jun-ho and Jin Gyeong.
Opening Night Film
The Fifth Estate Bill Condon, USA World Premiere
Triggering an age of high-stakes secrecy, explosive news leaks and the trafficking of classified information, WikiLeaks forever changed the game. This dramatic thriller based on real events reveals the quest to expose the deceptions and corruptions of power that turned an Internet upstart into the 21st century's most fiercely debated organization. The story begins as WikiLeaks founder Julian Assange (Benedict Cumberbatch) and his colleague Daniel Domscheit-Berg (Daniel Bru?hl) team up to become underground watchdogs of the privileged and powerful. On a shoestring, they create a platform that allows whistleblowers to anonymously leak covert data, shining a light on the dark recesses of government secrets and corporate crimes. Soon, they are breaking more hard news than the world's most legendary media organizations combined. But when Assange and Berg gain access to the biggest trove of confidential intelligence documents in U.S. history, they battle each other and a defining question of modern time: what are the costs of keeping secrets in a free society — and what are the costs of exposing them? The film also stars David Thewlis, Stanley Tucci, Laura Linney, Anthony Mackie and Dan Stevens.
The Grand Seduction Don McKellar, Canada World Premiere
The tiny Newfoundland outport of Tickle Head is set for financial salvation if they can secure a petrochemical plant. Their odds are slim, as a town doctor is needed to land the contract. When one candidate, Dr. Paul Lewis, lands in their lap, the town rallies to seduce him to stay beyond his one-month trial. Paul's fondness for the village grows as the month passes — though he's clueless to the fact that everything he has grown to love is an elaborate web of lies. Starring Brendan Gleeson, Taylor Kitsch, Gordon Pinsent, Liane Balaban and Mark Critch.
Kill Your Darlings John Krokidas, USA International Premiere
Kill Your Darlings is the true story of friendship and murder that led to the birth of an entire generation. This is the previously untold story of murder that brought together a young Allen Ginsberg (Daniel Radcliffe), Jack Kerouac (Jack Huston), and William Burroughs (Ben Foster) at Columbia University in 1944, providing the spark that would lead to their Beat Revolution. Also stars Dane DeHaan, Michael C. Hall, David Cross, Jennifer Jason Leigh, Elizabeth Olsen, Kyra Sedgwick and John Cullum.
Closing Night Film
Life of Crime Daniel Schechter, USA World Premiere
Based on the novel The Switch, by Elmore Leonard, Louis (John Hawkes) and Ordell (yasiin bey, a.k.a. Mos Def) — two common criminals in 1970s Detroit — kidnap the housewife (Jennifer Aniston) of a corrupt real estate developer (Tim Robbins) and hold her for ransom. Also stars Isla Fisher, Will Forte, and Mark Boone Jr.
The Love Punch Joel Hopkins, France World Premiere
Retirement at last! Middle-aged and divorced, company owner Richard Jones is looking forward to a worry-free existence as he arrives at his office on his last day of work. Much to his dismay, he discovers that the management buyout of his company was fraudulent. The company is now bankrupt and the employee pension fund — including his own — has been embezzled. Enlisting the help of his ex-wife Kate, Richard sets out to track down the shady businessman behind the fraud. Before they know it, Richard and Kate are caught up in a cat-and-mouse caper across Europe in a whirlwind of intrigue, mad chases and jewellery theft that could restore Richard's future — and might just rekindle the couple's romance. Starring Emma Thompson and Pierce Brosnan.
The Lunchbox Ritesh Batra, India/France/Germany North American Premiere
Middle class housewife Ila is trying once again to add some spice to her marriage, this time through her cooking. She desperately hopes this new recipe will finally arouse some kind of reaction from her neglectful husband. Unbeknownst to her, the special lunchbox she prepared is mistakenly delivered to miserable office worker Saajan, a lonely man on the verge of retirement. Curious about the lack of reaction from her husband, Ila puts a little note in the following day's lunchbox which sparks a series of exchanged notes between Saajan and Ila. Evolving into an unexpected friendship between anonymous strangers, they become lost in a virtual relationship that could jeopardize both of their realities.
Mandela: Long Walk to Freedom Justin Chadwick, South Africa World Premiere
Mandela: Long Walk to Freedom is based on South African President Nelson Mandela's autobiography of the same name, which chronicles his early life, coming of age, education, and 27 years in prison before working to rebuild his country's once-segregated society. Starring Idris Elba as Nelson Mandela, and Naomie Harris as Winnie Mandela.
Parkland Peter Landesman, USA North American Premiere
November 22nd, 1963 was a day that changed the world forever — when young American President John F. Kennedy was assassinated in Dallas, Texas. This film follows, almost in real time, a handful of individuals forced to make split-second decisions after an event that would change their lives and forever alter the world's landscape: the young doctors and nurses at Parkland Hospital, the chief of the Dallas Secret Service, the unwitting cameraman who captured what has become the most watched and examined film in history, the FBI Agents who had gunman Lee Harvey Oswald within their grasp and Vice President Lyndon Johnson who had to take control of a country in a moment's notice. Thrust into a scenario of unprecedented drama with unimaginable consequences, these key characters respond with shock, outrage, determination and courage. Woven together, their seemingly disparate perspectives make one of the most thrilling and powerful stories never told. Starring Paul Giamatti, Colin Hanks, Zac Efron, Billy Bob Thornton, Jacki Weaver and Marcia Gay Harden.
The Railway Man Jonathan Teplitzky, Australia/United Kingdom World Premiere
Based on the bestselling novel, The Railway Man tells the extraordinary and epic true story of Eric Lomax, a British Army officer who is tormented as a prisoner of war at a Japanese labour camp during World War II. Decades later, Lomax discovers that the Japanese interpreter he holds responsible for much of his treatment is still alive and sets out to confront him, and his haunting past. Starring Academy Award–winner Colin Firth, Jeremy Irvine, and Academy Award–winner Nicole Kidman, the film is a powerful tale of survival, love and redemption.
The Right Kind of Wrong Jeremiah Chechik, Canada World Premiere
The Right Kind of Wrong is a romantic comedy about a failed-writer-turned-dishwasher and fearless dreamer who risks everything to show the girl of his dreams all that is right with the wrong guy. Starring Ryan Kwanten, Sara Canning and Catherine O'Hara.
Rush Ron Howard, United Kingdom/Germany International Premiere
Two-time Academy Award winner Ron Howard (A Beautiful Mind, Frost/Nixon) teams up once again with two-time Academy Award–nominated writer Peter Morgan (Frost/Nixon, The Queen) on Rush — a spectacular big-screen re-creation of the merciless 1970s rivalry between James Hunt (Chris Hemsworth) and Niki Lauda (Daniel Bru?hl). Also features Olivia Wilde, Alexandra Maria Lara and Pierfrancesco Favino.
Shuddh Desi Romance Maneesh Sharma, India Canadian Premiere
Shuddh Desi Romance follows a fresh and very real love story about the hair-raising minefield between love, attraction and commitment. A romantic comedy that tells it like it is, providing a candid look at the affairs of the heart in today's desi heartland. Starring Rishi Kapoor, Sushant Singh Rajput, Parineeti Chopra and Vaani Kapoor.
Supermensch The Legend of Shep Gordon Mike Myers, USA World Premiere
In 1991, music manager Shep Gordon held Mike Myers over a barrel a few weeks before shooting Wayne's World regarding an Alice Cooper song Myers wanted to use in the film. They have been close friends ever since. Twenty-two years later, the story of Gordon's legendary life in the u?ber-fast lane is now told in Myers' directorial debut. And this time it's Myers who has Gordon over a barrel. Shep Gordon: capitalist, protector, hedonist, pioneer, showman, shaman… Supermensch!
SPECIAL PRESENTATIONS
12 Years a Slave Steve McQueen, USA World Premiere
12 Years a Slave tells the incredible true story of Solomon Northup, a free black man from upstate New York who was kidnapped and sold into slavery in 1841 and finally freed in 1853. The story is a triumphant tale of one man's courage and perseverance to reunite with his family that serves as an important historical and cultural marker in American history. Starring Chiwetel Ejiofor, Michael Fassbender, Benedict Cumberbatch, Paul Dano, Garret Dillahunt, Paul Giamatti, Scoot McNairy, Lupita Nyong'o, Adepero Oduye, Sarah Paulson, Brad Pitt, Michael Kenneth Williams and Alfre Woodard.
All Is By My Side John Ridley, United Kingdom World Premiere
Jimmy James, an unknown backup guitarist, left New York City for London, England in 1966. A year later he returned — as Jimi Hendrix. All Is By My Side brings authenticity and poignancy to the story of the man behind the legend, and of the people who loved and inspired him. Starring Imogen Poots, Hayley Atwell, André Benjamin, Ruth Negga and Adrian Lester.
Attila Marcel Sylvain Chomet, France World Premiere
Paul is in his 30s. An orphan since the age of two, he lives with his aunts in a Parisian apartment and leads a reclusive existence as a pianist. That is, until the day he meets Madame Proust.
Bad Words Jason Bateman, USA World Premiere
After discovering a loophole in the rules of the National Spelling Bee, a disruptive 40-year-old, Guy Trilby, dominates the pre-pubescent competition. An unlikely friendship occurs, however, when an awkward Indian boy is taken with Guy's rough edges. Meanwhile, a female reporter uncovers Guy's true motivation for competing. Starring Jason Bateman, Allison Janney, Phillip Baker Hall, Kathryn Hahn and Rohan Chand.
Belle Amma Asante, United Kingdom World Premiere
Belle is inspired by the true story of Dido Elizabeth Belle, the illegitimate bi-racial daughter of an aristocratic Royal Navy Admiral. Belle's lineage affords her certain privileges, yet also prevents her from fully participating in the traditions of her social standing. Against the ridged boundaries of proper society, Belle finds both her true self and true romance — and influences her uncle to take a role in bringing an end to slavery. Starring Gugu Mbatha Raw, Tom Wilkinson, Sam Reid, Sarah Gadon, Miranda Richardson, Penelope Wilton, Tom Felton, James Norton, Matthew Goode and Emily Watson.
Blue Is the Warmest Color
Adèle: Chapters 1 & 2 Abdellatif Kechiche, France North American Premiere
At 15, Adèle doesn't question it: girls go out with boys. Her life is changed forever when she meets Emma, a young woman with blue hair, who will allow her to discover desire, to assert herself as a woman and as an adult. In front of others, Adèle grows, seeks herself, loses herself, and finds herself. Starring Léa Seydoux and Adèle Exarchopoulos.
Burning Bush Agnieszka Holland, Czech Republic North American Premiere
This epic, long-form docudrama chronicles the political, legal, and moral fallout that followed after Czech student protester Jan Palach set himself on fire in protest against government repression in 1969.
Can a Song Save Your Life? John Carney, USA World Premiere
Can a Song Save Your Life? finds Gretta (Keira Knightley) alone in New York City after being heartbroken by her musician boyfriend (Adam Levine). She finds laughter and rejuvenation with a down-on-his-luck record producer (Mark Ruffalo) who recognizes her musical talent and opens up an entire city of possibility for both of them.
Cannibal (Caníbal) Manuel Martín Cuenca, Spain/Romania/Russia/France World Premiere
Carlos is the most prestigious tailor in Granada, but he's also a murderer in the shadows. He feels no remorse, no guilt, until Nina appears in his life. She will make him realize the true nature of his actions and, for the first time, love awakens. Carlos is evil incarnate. Nina is pure innocence. And Cannibal is a demon's love story.
Dallas Buyers Club Jean-Marc Vallée, USA World Premiere
In this fact-based drama, Matthew McConaughey portrays real-life Texas electrician Ron Woodroof, an ordinary man who found himself in a life-or-death battle with the medical establishment and pharmaceutical companies. In 1985, Ron was blindsided with an HIV diagnosis and given 30 days to live. With medications still restricted in the US and the country still divided over how to combat the virus, Ron procured non-toxic alternative treatments from all over the world through both legal and illegal means. To avoid government sanctions against selling non-approved medicines and supplements, Ron established a "buyers club" for fellow HIV-positive people, giving them access to his supplies. Also stars Jennifer Garner and Jared Leto.
Devil's Knot Atom Egoyan, USA World Premiere
A haunting true mystery about the infamous killing of three children in a small Arkansas town. The police charge and convict three teens, aka the West Memphis Three, for committing the murders during an alleged satanic ritual, but a mother and investigator suspect that the truth may be even worse. Starring Reese Witherspoon, Colin Firth, Kevin Durand, Bruce Greenwood, Mireille Enos, Dane DeHaan and Stephen Moyer.
The Disappearance of Eleanor Rigby: Him and Her Ned Benson, USA
The Disappearance of Eleanor Rigby: Him and Her is a two-part love story seen through the eyes of a New York couple trying to understand each other as they cope with personal hardship. The different perspectives of "Him" and "Her" result in two films with a unique look into one couple's attempt to reclaim the life and love they once had. Starring Jessica Chastain, James McAvoy, Nina Arianda, Viola Davis, Bill Hader, Ciarán Hinds, Isabelle Huppert, William Hurt, and Jess Weixler.
Dom Hemingway Richard Shepard, United Kingdom World Premiere
Dom Hemingway is a larger-than-life safecracker with a loose fuse who is funny, profane, and dangerous. After 12 years in prison, looking to collect what he's owed for keeping his mouth shut for protecting his rich mobster boss, he finds himself drawn back to the perils and pleasures of his criminal lifestyle — while trying to reconnect with his estranged daughter. Starring Jude Law, Richard E. Grant, Demian Bichir, Emilia Clarke, Kerry Condon, Jumayn Hunter, Madalina Ghenea and Nathan Stewart-Jarrett.
Don Jon Joseph Gordon-Levitt, USA Canadian Premiere
Jon Martello (Joseph Gordon-Levitt) is a strong, handsome, good old fashioned guy. His buddies call him Don Jon due to his ability to "pull" a different woman every weekend, but even the finest fling doesn't compare to the bliss he finds alone in front of the computer watching pornography. Barbara Sugarman (Scarlett Johansson) is a bright, beautiful, good old fashioned girl. Raised on romantic Hollywood movies, she's determined to find her Prince Charming and ride off into the sunset. Wrestling with good old fashioned expectations of the opposite sex, Jon and Barbara struggle against a media culture full of false fantasies to try and find true intimacy in this unexpected comedy.
The Double Richard Ayoade, United Kingdom World Premiere
Simon is a timid man, scratching out an isolated existence in an indifferent world. He is overlooked at work, scorned by his mother, and ignored by the woman of his dreams. The arrival of a new co-worker, James, serves to upset the balance. James is both Simon's exact physical double and his opposite — confident, charismatic and good with women. To Simon's horror, James slowly starts taking over his life. Starring Jesse Eisenberg, Mia Wasikowska, Wallace Shawn and Noah Taylor.
Enough Said Nicole Holofcener, USA World Premiere
Eva (Julia Louis-Dreyfus) is a divorced soon-to-be empty-nester wondering about her next act. Then she meets Marianne (Catherine Keener), the embodiment of her perfect self. Armed with a restored outlook on being middle-aged and single, Eva decides to take a chance on her new love interest Albert (James Gandolfini) — a sweet, funny and like-minded man. Things get complicated when Eva discovers that Albert is in fact the dreaded ex–husband of Marianne. This sharp insightful comedy follows Eva as she humorously tries to secretly juggle both relationships and wonders whether her new favourite friend's disastrous ex can be her cue for happiness. Also stars Toni Collette, Ben Falcone, Eve Hewson and Tavi Gevinson.
Exit Marrakech Caroline Link, Germany International Premiere
When 17-year-old Ben visits his father Heinrich in Marrakech, it is the start of an adventurous journey through a foreign country with a picturesque charm and a rough beauty where everything appears possible — including the chance that father and son will lose each other for good, or find one another again.
Felony Matthew Saville, Australia World Premiere
Three detectives become embroiled in a tense struggle after a tragic accident that leaves a child in critical condition. One is guilty of a crime, one will try to cover it up, and the other attempts to expose it. How far will these men go to disguise and unravel the truth?
For Those Who Can Tell No Tales Jasmila Žbani?, Bosnia and Herzegovina World Premiere
Kym, an Australian tourist, decides to travel to Bosnia. Her guidebook leads her to Višegrad, a small town steeped in history, on the border of Bosnia and Serbia. After a night of insomnia in the 'romantic' Hotel Vilina Vlas, Kym discovers what happened there during the war. She can no longer be an ordinary tourist and her life will never be the same again.
Gloria Sebastián Lelio, Chile/Spain North American Premiere
Gloria is 58 years old and still feels young. Making a party out of her loneliness, she fills her nights seeking love in ballrooms for singles. This fragile happiness changes the day she meets Rodolfo. Their intense passion — to which Gloria gives everything, as she feels it may well be her last — leaves her dancing between hope and despair. Gloria will have to pull herself together and find a new strength to realize that in the last act of her life, she could burn brighter than ever.
Going Away (Il est parti dimanche) Nicole Garcia, France World Premiere
Two unlikely friends — a supply teacher and a lonely young boy suspended between two estranged parents — embark on a weekend motorcycle voyage full of surprises and unforeseen consequences in this surprisingly tough, unsentimental drama.
Gravity Alfonso Cuarón, USA/United Kingdom North American Premiere
Gravity is a heart-pounding thriller that pulls its audience into the infinite and unforgiving realm of deep space. Sandra Bullock plays Dr. Ryan Stone, a brilliant medical engineer accompanied on her first shuttle mission by veteran astronaut Matt Kowalsky (George Clooney). On a seemingly routine spacewalk, disaster strikes. The shuttle is destroyed, leaving Stone and Kowalsky completely alone — tethered to nothing but each other and spiraling out into the blackness. The deafening silence tells them they have lost any link to Earth… and any chance for rescue. As fear turns to panic, every gulp of air eats away at what little oxygen is left. But their only way home may be to go further out into the terrifying expanse of space.
The Great Beauty (La Grande Bellezza) Paolo Sorrentino, Italy North American Premiere
Rome, in the splendour of summer. Jep Gambardella — a handsome man with irresistible charm despite his advancing age — enjoys the city's social life to the fullest. He attends chic dinners and parties where his sparkling wit is always welcome. A successful journalist, in his youth he wrote a novel that earned him a literary award and a reputation as a frustrated writer. Weary of his lifestyle, Jep sometimes dreams of taking up his pen again, haunted by memories of a youthful love which he still hangs on to. But can he overcome his profound disgust for himself and others in a city whose dazzling beauty sometimes leads to creative paralysis?
Half of a Yellow Sun Biyi Bandele, Nigeria/United Kingdom World Premiere
An epic love story: Olanna and Kainene are glamorous twins, living a privileged city life in newly independent 1960s Nigeria. The two women make very different choices of lovers, but rivalry and betrayal must be set aside as their lives are swept up in the turbulence of war.
Hateship Loveship Liza Johnson, USA World Premiere
Johanna Parry moves to a new town to work for Mr. McCauley and his granddaughter, Sabitha. Sabitha and her friend trick Johanna into a one-way epistolary romance with Sabitha's father Ken. Johanna lights on fire, and commits a criminal act to get to her lover, who barely knows she exists. Starring Kristen Wiig, Guy Pearce, Christine Lahti, Nick Nolte, Hailee Steinfeld, Jennifer Jason Leigh and Sami Gayle.
Ida Pawel Pawlikowski, Poland World Premiere
Poland, 1962. Anna is a novice, an orphan brought up by nuns in a convent. Before she takes her vows, she is determined to see Wanda, her only living relative. Wanda tells Anna that Anna is Jewish. Both women embark on a journey not only to discover their tragic family story, but who they really are and where they belong, questioning their religions and beliefs.
L'intrepido Gianni Amelio, Italy North American Premiere
This film is an affecting and timely story about a middle-aged, precariously employed jack-of-all-trades in Milan who doggedly tries to get by in an unfeeling city while trying to retain his dignity and his passions.
The Invisible Woman Ralph Fiennes, United Kingdom World Premiere
Nelly (Felicity Jones), a happily-married mother and schoolteacher, is haunted by her past. Her memories, provoked by remorse and guilt, go back in time to follow the story of her relationship with Charles Dickens (Ralph Fiennes), with whom she discovered an exciting but fragile complicity. Dickens — famous, controlling and emotionally isolated within his success — falls for Nelly, who comes from a family of actors. The theatre is a vital arena for Dickens, a brilliant amateur actor and a man more emotionally coherent on the page and on stage than in life. As Nelly becomes Dickens' muse and the focus of his passion, for both of them secrecy is the price — and for Nelly a life of "invisibility". Also stars Kristin Scott Thomas, Tom Hollander, Joanna Scanlan, Perdita Weeks, Amanda Hale, Tom Burke, John Kavanagh and Michael Marcus.
Joe David Gordon Green, USA North American Premiere
A gripping mix of friendship, violence and redemption erupts in the contemporary backwoods South in this adaptation of Larry Brown's novel, celebrated at once for its grit and its deeply moving core. Academy Award winner Nicolas Cage comes back to his indie roots in the title role as the hard-living, hot-tempered ex-con Joe Ransom, who is just trying to dodge his own instinct for trouble until he meets a hard-luck kid (Tye Sheridan) who awakens in him a fierce and tender-hearted protector. Based on the novel Big Bad Love by the late Larry Brown.
Labor Day Jason Reitman, USA World Premiere
Labor Day centres on 13-year-old Henry Wheeler as he confronts the pangs of adolescence while struggling to be the man of the house and care for his reclusive mother, Adele. On a back-to-school shopping trip, Henry and his mother encounter Frank Chambers, a man both intimidating and clearly in need of help, who convinces them to take him into their home and later is revealed to be an escaped convict. The events of this long Labor Day weekend will shape all of them for the rest of their lives. Starring Kate Winslet, Josh Brolin, Gattlin Griffith, Tobey Maguire, Clark Gregg, JK Simmons, Brooke Smith and James Van Der Beek.
Like Father, Like Son Hirokazu Kore-eda, Japan North American Premiere
Two families are forced to choose between nature and nurture — between their natural sons and the sons they have raised.
Man of Tai Chi Keanu Reeves, USA/China North American Premiere
A young martial artist's unparalleled Tai Chi skills land him in a highly lucrative underworld fight club. Starring Keanu Reeves and Tiger Chen.
MARY Queen of Scots Thomas Imbach, France/Switzerland North American Premiere
A queen who lost three kingdoms. A wife who lost three husbands. A woman who lost her head.
Mystery Road Ivan Sen, Australia International Premiere
Detective Jay Swan returns to his outback hometown to investigate the brutal murder of a teenage girl found in a drain under a highway outside of town. Starring Aaron Pedersen, Ryan Kwanten and Hugo Weaving.
Night Moves Kelly Reichardt, USA North American Premiere
When do legitimate convictions demand illegal behaviors? What happens to a person's political principles when they find their back against the wall? Night Moves is the story of three radical environmentalists coming together to execute the most spectacular direct action event of their lives: the explosion of a hydroelectric dam. Starring Jesse Eisenberg, Dakota Fanning and Peter Sarsgaard.
Omar Hany Abu-Assad, Palestine North American Premiere
Trust and identity are stretched like wire in an impossible West Bank love story. Desires for individual and collective freedom collide. Mere sacrifice isn't enough; betrayal is the only way to survive.
One Chance David Frankel, USA World Premiere
This film follows the remarkable and inspirational true story of Paul Potts, a shy, bullied shop assistant by day and an amateur opera singer by night. Paul became an instant YouTube phenomenon after being chosen by Simon Cowell for Britain's Got Talent. Wowing audiences worldwide with his phenomenal voice, Paul went on to win the competition and the hearts of millions. BAFTA winner James Corden stars as Paul Potts and is supported by an ensemble cast that includes Julie Walters, Mackenzie Crook, Colm Meaney, Jemima Rooper and Alexandra Roach.
Only Lovers Left Alive Jim Jarmusch, USA North American Premiere
Set against the romantic desolation of Detroit and Tangier, an underground musician, deeply depressed by the direction of human activities, reunites with his resilient and enigmatic lover. Their love story has already endured several centuries at least, but their debauched idyll is soon disrupted by her wild and uncontrollable younger sister. Can these wise but fragile outsiders continue to survive as the modern world collapses around them? Starring Tom Hiddleston, Tilda Swinton, Mia Wasikowska, John Hurt and Anton Yelchin.
The Past (Le Passé) Asghar Farhadi, France/Italy North American Premiere
Following a four year separation, Ahmad returns to Paris from Tehran, upon his French wife Marie's request, in order to finalize their divorce proceedings. During his brief stay, Ahmad discovers the conflicting nature of Marie's relationship with her daughter Lucie. Ahmad's efforts to improve this relationship soon unveil a secret from their past.
Philomena Stephen Frears, United Kingdom North American Premiere
Based on the 2009 investigative book by BBC correspondent Martin Sixsmith, The Lost Child of Philomena Lee, this film focuses on the efforts of Philomena Lee (Judi Dench), mother to a boy conceived out of wedlock — something Philomena's Irish-Catholic community didn't have the highest opinion of — and given away for adoption in the United States. Following church doctrine, she was forced to sign a contract that wouldn't allow for any sort of inquiry into her son's whereabouts. After starting a family years later in England and, for the most part, moving on with her life, Philomena meets Sixsmith (Steve Coogan), a BBC reporter with whom she decides to track down her long-lost son.
Pioneer (Pionér) Erik Skjoldbjærg, Norway/Germany/Sweden/France/Finland International Premiere
Pioneer is set in the early 80s, at the beginning of the Norwegian oil boom. Enormous oil and gas deposits are discovered in the North Sea and the authorities aim to bring the oil ashore through a pipeline from depths of 500 meters. A professional diver, Petter is obsessed with reaching the bottom of the Norwegian Sea. Along with his brother Knut he has the discipline, strength and courage to take on the world's most dangerous mission. But a sudden, tragic accident changes everything. Petter is sent on a perilous journey where he loses sight of who's pulling the strings. Gradually he realizes that he is in way over his head and that his life is at stake.
Prisoners Denis Villeneuve, USA World Premiere
How far would you go to protect your family? Keller Dover (Hugh Jackman) is facing every parent's worst nightmare. His six-year-old daughter, Anna, is missing, together with her young friend, Joy, and as minutes turn to hours, panic sets in. The only lead is a dilapidated RV that had earlier been parked on their street. Heading the investigation, Detective Loki (Jake Gyllenhaal) arrests its driver, Alex Jones (Paul Dano), but a lack of evidence forces his release. As the police pursue multiple leads and pressure mounts, knowing his child's life is at stake the frantic Dover decides he has no choice but to take matters into his own hands. But just how far will this desperate father go to protect his family? Also features Melissa Leo, Maria Bello, Viola Davis and Terrence Howard.
Quai d'Orsay Bertrand Tavernier, France World Premiere
Alexandre Taillard de Vorms is a force to be reckoned with. With his silver mane and tanned, athletic body, he stalks the world stage as Minister of Foreign Affairs for France, waging his own war backed up by the holy trinity of diplomatic concepts: legitimacy, lucidity, and efficacy. Enter Arthur Vlaminck. Hired to write the minister's speeches, Arthur must contend with the sensibilities of his boss and the dirty dealings within the Quai d'Orsay, the ministry's home.
REAL Kiyoshi Kurosawa, Japan North American Premiere
Koichi and Atsumi are lovers who have known each other all their lives. A year ago, Atsumi apparently tried to commit suicide and has been in a coma since then. Through 'sensing', a type of neurological treatment allowing communication with a comatose patient, Koichi tries to find out why she tried to kill herself. Starring Takeru Satoh and Haruka Ayase.
Starred Up David Mackenzie, United Kingdom World Premiere
When troubled teenager Eric is transferred to an adult prison, the new environment serves only to amplify his ultra-violent behavior. He soon comes to the attention of the prison kingpin, who assigns his lieutenant Nev to keep the boy under control. The problem however is that Nev is Eric's father. They have not seen each other for 12 years, and an uncomfortable stand-off begins as father and son battle to gain some kind of understanding after a decade of mistrust and separation.
Third Person Paul Haggis, Belgium World Premiere
Love, passion, mystery, betrayal and hope infuse Paul Haggis' new feature, which follows the interrelated stories of three couples in three cities, Rome, New York and Paris — each with its own secrets. Starring Liam Neeson, Mila Kunis, Adrien Brody, James Franco, Olivia Wilde, Maria Bello, Kim Basinger and Moran Atias.
Those Happy Years (Anni Felici) Daniele Luchetti, Italy World Premiere
Rome, 1974. Wannabe artist Guido feels trapped by his conventional life and beautiful, bourgeois wife, Serena. Their young sons, Dario and Paolo, are caught between their parents' passion for each other, their rows and their infidelities. The film tells of those happy years, which seemed so unhappy at the time…
Tracks John Curran, United Kingdom/Australia North American Premiere
Tracks is the true story of Robyn Davidson who trekked from Alice Springs in Central Australia through almost 2,000 miles of sprawling desert to the Indian Ocean, accompanied only by her loyal dog and four unpredictable camels. This epic and remarkable journey into Australia's last great frontier was captured by charismatic National Geographic photographer Rick Smolan. These challenging and emotional nine months in the desert marked a new beginning for Robyn that would change the rest of her life. Starring Mia Wasikowska and Adam Driver.
Under the Skin Jonathan Glazer, USA/United Kingdom North American Premiere
The story of an alien in human form on a journey through Scotland. Part road movie, part science fiction, part real, it's a film about seeing the world through alien eyes. Starring Scarlett Johansson.
Violette Martin Provost, France/Belgium World Premiere
Born out of wedlock early in the last century, Violette Leduc meets Simone de Beauvoir in postwar Saint-Germain-des-Près. An intense lifelong relationship develops between the two women authors, based on Violette's quest for freedom through writing and on Simone's conviction that she holds in her hands the destiny of an extraordinary writer.
Visitors Godfrey Reggio, USA World Premiere
Thirty years after Koyaanisqatsi, with support from Philip Glass and Jon Kane, Godfrey Reggio's portrayal of modern life in Visitors leapfrogs beyond earth-bound filmmakers. Presented by Steven Soderbergh, Visitors offers an experience of technology and transcendental emotionality, taking viewers to the moon and back to confront them with themselves.
Walesa. Man of Hope. (Walesa. Czlowiek z nadziei.) Andrzej Wajda, Poland North American Premiere
How was it possible that a single man influenced contemporary world so significantly? This film is an attempt to capture the phenomenon of a common man's metamorphosis into a charismatic leader — an attempt to see how a Gdansk shipyard electrician fighting for workers' rights awakened a hidden desire for freedom in millions of people.
We are the Best! (Vi är bäst!) Lukas Moodysson, Sweden North American Premiere
Stockholm 1982. Bobo, Klara and Hedvig are three 13-year-old girls who roam the streets. Girls who are brave and tough and strong and weak and confused and weird. Girls who have to take care of themselves way too early. Girls who heat fish fingers in the toaster when mom is at the pub. Girls who start a punk band without any instruments, even though everybody says that punk is dead.
Le Week-End Roger Michell, United Kingdom World Premiere
Nick and Meg Burrows return to Paris, the city where they honeymooned, to celebrate their 30th wedding anniversary and rediscover some romance in their long-lived marriage. The film follows the couple as long-established tensions in their marriage break out in humorous and often painful ways. Starring Jeff Goldblum, Jim Broadbent and Lindsay Duncan.
You Are Here Matthew Weiner, USA World Premiere
When Steve Dallas (Owen Wilson), a womanizing local weatherman, hears that his off-the-grid best friend Ben Baker (Zach Galifianakis) has lost his estranged father, the two return to Ben's childhood home. Once there, they discover Ben has inherited the family fortune, and the ill-equipped duo must battle Ben's formidable sister (Amy Poehler) and deal with his father's gorgeous 25-year old widow (Laura Ramsey). You Are Here is a contemporary adult comedy about family, friendship, money, and the people who keep it all afloat.
Young and Beautiful (Jeune & jolie) François Ozon, France/Belgium North American Premiere
A coming-of-age portrait of a 17-year-old French girl over four seasons and four songs — from her sexual awakening to her first time; from her exploration of love to her search for her identity.