Back to selection
IFP Announces 2013 Independent Film Week Selected Projects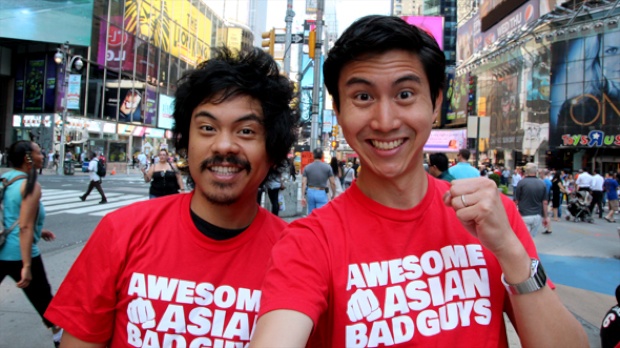 Patrick Epino and Stephen Dypiangco.
IFP, publisher of Filmmaker Magazine, announced today 163 projects in development selected for its Independent Film Week Project Forum. Projects include documentaries by such directors as Academy Award Winners Louis Psihoyos and Cynthia Wade; fiction features by documentarians Jennifer Fox and Jeremiah Zagar; fiction features by web creators Mesh Flinders and Thom Woodley; and an original web series, Awesome Asian Bad Guys, by Patrick Epino and Stephen Dypiangco. In addition, a number of projects from Filmmaker Magazine 25 New Faces have been selected, including new work from Carlen Altman, Sophia Takal, the Zellner Brothers, Alex Jablonski, Pete Ohs & Andrea Sisson, Kim Sherman, Marshall Curry, Kimberly Reed, Jody Lee Lipes, Ian Harnarine, Lauren Wolkstein, Jillian Mayer & Lucas Leyva, and Iva Radivojevic.
"Through the Project Forum," writes IFP in their press release, "creatives connect with the financiers, executives, influencers and decision-makers in film, television, new media and cross-platform storytelling that can help them complete their latest works and connect with audiences."  
Independent Film Week takes place September 15 – 19 at Lincoln Center, and it precedes the opening of IFP's Made in New York Media Center in DUMBO, Brooklyn. In a statement, IFP Executive Director Joana Vicente said, "For 35 years, IFP has promoted and served the independent film community and we're thrilled to be able to continue to do so with an outstanding slate of both U.S. and international projects for this year's Independent Film Week. This year, we're heavily focusing on innovative filmmakers and creators who are pushing the boundaries of our medium and making storytelling more accessible than ever."
The 2013 Project Forum curatorial team was led by Deputy Director/Head of Programming Amy Dotson and Senior Director of Programming Milton Tabbot.
The full list of selected projects can be found here at the link. Further details from the press release are below.
NARRATIVE FEATURES
Narrative features in RBC's Emerging Storytellers and No Borders International Co-Production Market sections highlight new work from top emerging and established creative visionaries on the U.S. and international independent scene.

Theses slates include new feature scripts from directors Carlen Altman (star/co-writer of The Color Wheel), Rama Burshtein (Fill The Void), Zach Clark (White Reindeer), Matthew Porterfield, (I Used to be Darker), Pia Marias (Layla Fourie), Martha Stephens (Pilgrims Song), Sophia Takal (Green), The Zellner Brothers (Kid Thing), and Caveh Zahedi (I Am A Sex Addict). Internationally acclaimed short filmmakers Johannes Nyholm (Las Palmas), Ian Harnarine's (Doubles With Slight Pepper), Christopher Radcliffe & Lauren Wolkstein (The Strange One), Andrew Renzi (Karaoke!), and Lucas Leyva and Jillian Mayer's (#PostModem) are also are presenting new feature works.

This year's slate also features several web series innovators who have found success in the digital realm and are now embarking on their first narrative features. Participating filmmakers include series creators Mesh Flinders (Lonelygirl15), Alex Jablonski (Sparrow Songs), Angela Tucker (Black Folks Don't), and Thom Woodley (The Burg). And for the first time this year, an original web series, Awesome Asian Bad Guys, will participate, created by the National Film Society's Patrick Epino and Stephen Dypiangco.

A number of top documentarians are also crossing over into the narrative world including Jennifer Fox (My Reincarnation), Andrew Rossi & Kate Novack (Page One: Inside the New York Times), Jeremiah Zagar (In a Dream), and Pete Ohs & Andrea Sisson (I Send You This Place).

Producers and Executive Producers of note attached to participating projects include Neda Armian (Rachel Getting Married), Josh Braun (A History of Violence), Soojin Chung (Escape From Tomorrow), Chip Hourihan (Frozen River), Garurav Dhingra (Peddlers), Johnathan Duffy (Pit Stop), Julian Farve (Arcadia), Morten Kjems Juhl (Teddy Bear), Sophia Lin (Take Shelter), Julie Lynn (Albert Nobbs), Brendan McFadden (Cold Weather), Christina Piovesan (Amreeka), Mike Ryan (Junebug), Ryan Silbert (Holy Rollers), Shrihari Sathe (It Felt Like Love), Kim Sherman (A Teacher), and Brock Williams (Awful Nice).

SPOTLIGHT ON DOCUMENTARIES
For the first time, feature documentaries in the Spotlight on Documentary section highlight new work from international documentarians in addition to those from the U.S.

The documentary selection includes new work from acclaimed directors such as Academy Award® winners Louis Psihoyos (The Cove) and Cynthia Wade (Freeheld) and Academy Award® nominees Marshall Curry (If a Tree Falls), Carl Deal (Trouble the Water) and Rick Goldsmith (The Most Dangerous Man in America: Daniel Ellsberg and the Pentagon Papers); Ed Pincus and Lucia Small (The Axe in the Attic); Kristi Jacobson (A Place at the Table); Michel Negroponte (Jupiter's Wife); Dawn Porter (Gideon's Army); Jamie Meltzer (Informant); Kimberly Reed (Prodigal Sons); Jesse Moss (Full Battle Rattle); Mitch McCabe (Youth Knows No Pain); Jody Lee Lipes (NY Export: Opus Jazz); Lisanne Skyler (No Loans Today), Stephanie Wang-Breal (Wo Ai Ni Mommy); Pietra Bretkelly (The Art Star and the Sudanese Twins); Yael Hersonski (A Film Unfinished); Catherine Gund (Mother Afghanistan); Judd Ehrlich (Magic Camp); Edward Hall & James Lovelace [D.A.R.Y.L.] (Werewolves across America, Katy Perry: A Part of Me); and Andy Bicklbaum & Mike Bonanno (the Yes Men films).

While veterans comprise a significant part of the roster, a third of the documentary slate is from talented documentarians making their first features after notable short films, narrative work, or from other disciplines, including Iva Radivojevic (FILMMAKER 25 Faces 2013), Moby Longinotto (Smalltown Boy), photographer/authors Cyril Christo & Marie Wilkinson (Walking Thunder: In the Footsteps of the African Elephant); and the team of photojournalist/cinematographer Jessica Dimmock (Without) and photographer Christopher LaMarca (American Photography 28).