Back to selection
A D.P. Chooses the ARRI ALEXA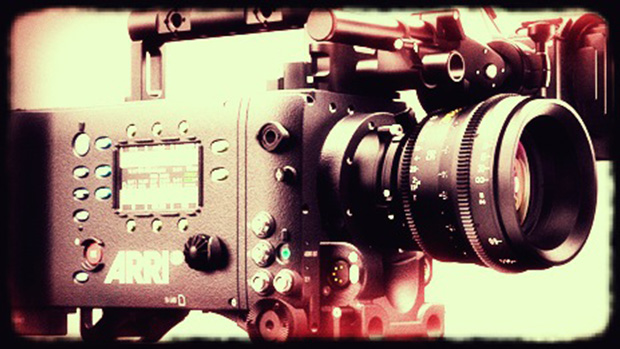 It's been said that choosing between digital video cameras is a bit like choosing between film stocks; they provide different images that suit different uses and aesthetics. I'm not sure that the analogy is entirely accurate, but it's certainly worth considering. For this reason, I'm always interested in hearing about d.p.'s experiences when working with a camera other than the one they usually shoot with.
When Boston cinematographer Chris Loughran recently tweeted that he was going to be shooting with an ARRI ALEXA, I was curious to ask him about his experience with the camera. I first met Loughran a couple of years ago when he was shooting with the Panasonic AG-AF100. He subsequently migrated to the Sony PMW-F3, and I wondered why he wasn't using the F3 for the shoot.
"I was asked by the client if my camera would be able to punch in from a medium shot to a close up for broadcast HD commercials," replied Loughran. "I told them that they could safely get away with a 35% punch-in, but they wanted more if they could get it."
Another choice might have been the RED ONE or EPIC he says, but the client didn't have the post workflow for the RED. For this reason it was decided to use the ALEXA to get the best quality 1080p footage that they could.
In one word, Loughran describes the ALEXA as "fantastic." "The image is so dense and organic, but most of all, it's easy to use. The camera only has a few key functions: frame rate, ISO, shutter, white balance and either Log-C or Rec709. Once you tell the camera where and how to send the signal to the cards and monitors, you're ready to roll."
While the F3 produces a similar image, Loughran says that you can easily see the difference between 10bit vs. 12bit and 4:2:2 vs 4:4:4. "The color rendition is much better and the skin detail is very film like." He added that the F3 can do 4:4:4, but he usually records to a KiPro mini that only records in 4:2:2.
Loughran said that the ALEXA, like the F3, has a very flat and de-saturated image, much flatter than the images from the Canon EOS Cinema cameras, which use a much less aggressive Log algorithm. Because of this he says that you have to have some basic color correction added before the client can watch the footage. His production hired colorist Rob Bessette to grade the footage on set with Resolve 9. That way, "we knew everything was going to look good at the end of the day and the client could take editable footage back to the West Coast," said Loughran.
There were some downsides to the ALEXA. The files are massive, with 14 minutes equaling about 32 GB. Because of this, they needed to have an AC on set to handle the juggling of cards and the transfer of data. The ALEXA is heavy, he added, but not unmanageable when handheld. Another issue they had to deal with was that "it sucks power like a Mack truck." A large Anton Bauer Dionic HCX battery ran the camera for only 40 minutes.
When asked to compare the ALEXA and F3, Loughran said, "I love both cameras. I think they have the most filmic look of any cameras on the market — besides the F5 or 55, which I haven't used yet."
4K ALEXA coming?
With other manufacturers moving to 4K, ARRI has been asked many times whether there will be a 4K ALEXA. They even have an answer to that question in the ALEXA FAQ on their website: "for the foreseeable future, ALEXA is ideally suited for 2K or HD workflows in 2D and 3D."
ARRI has made it clear that they believe that latitude, highlight handling and natural color rendition are more important than resolution. ARRI's Managing Director, Franz Kraus, recently confirmed that ARRI originally had a 4K camera on their roadmap and intended to develop it shortly after the original camera. However, they found that they would sacrifice dynamic range for resolution, and decided not to proceed.
Klaus also confirmed that ARRI continues to work on a successor to the ALEXA that supports at least 4K resolution, and high frame-rates, but at the moment they are not talking about a possible release date.
Hollywood Reporter: Arri's Managing Director: HD Is 'Dumbed Down' to Make 4K Look Good