Back to selection
Braden King Creates Haunting, Tumblr-based Music Video for Califone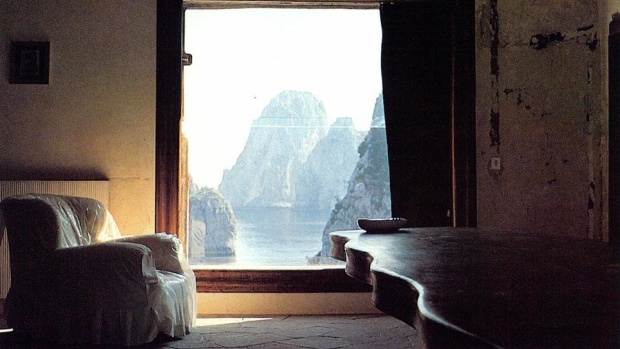 Filmmaker Braden King has made a hauntingly beautiful, web-only "interactive music video" for "Stitches," the new single from Califone. In real time, the video pulls and sequences images from a curated selection of Tumblrs, sidescrolling them across your monitor in sync to the song's elegant melancholy. Black-and-white photos and animated GIFs drift by, and by highlighting one with your cursor color bleeds back in. Click and the image flips over, allowing you to write a caption that is then sent to the band (and included on the "Stitches" home page) or, if you want, reblogged.
Califone's Tim Rutili and King are old friends, with the former contributing music to the latter's recent film, Here. Programmer Jeff Garneau wrote the API that pulls the images and says that no two viewings are the same.
From the press release:
King says of his inspiration, "A good Tumblr can make an emotional stream of consciousness visible in a very visceral way. If you accept the premise that stories function as a way of ordering, synthesizing and making sense of our lives and experiences, these blogs, though primarily visual, represent a new kind of storytelling – a new way of ordering, synthesizing and making sense of our lives and experiences that transcends 'once upon a time.' To me, they illustrate the bleeding edge of narrative; a new kind of storytelling that transcends literature, plays and movies.

"Tim's song triggered the idea, the thought that maybe there's a way to create a window into the emotional soul that lies beyond the surface plane all these blogs and images rest on. There's a lot of humanity and emotion behind these blogs; people are using Tumblr to express themselves very honestly, directly and openly. I felt like we could create a way to wade into this stream of imagery and emotion that Tumblr's users are sending into the ether to create an experience that reflected and honored Tim's beautifully raw song.
For his part, Rutili says, "To me, the song (and the album) stitch together the flood of images and feelings triggered by opening yourself up and loving someone; the courage and freedom found in the acceptance of vulnerability and joy crossed with the familiarity and alienation that can be found in co-dependence and pain.

"Part of the purpose of creating these songs, or any art, and putting it out into the world is so that we don't feel so alone. We hope that people can relate to and maybe find some comfort and inspiration in the things that we make.
"I think the same thing goes for someone expressing themselves by collecting images and posting them on their tumblr page. This is how we express & share our stories. The random magic of pulling in these strange, dark and beautiful images from the ether/collective brain to create the video reflects this idea perfectly."
"Stitches" can be found here at its Tumblr page. Look for the "click to watch" link. The album of the same title will be out September 3 from Dead Ocean.