Back to selection
Filmmaker Conference Chat with IFP's Rose Vincelli Gustine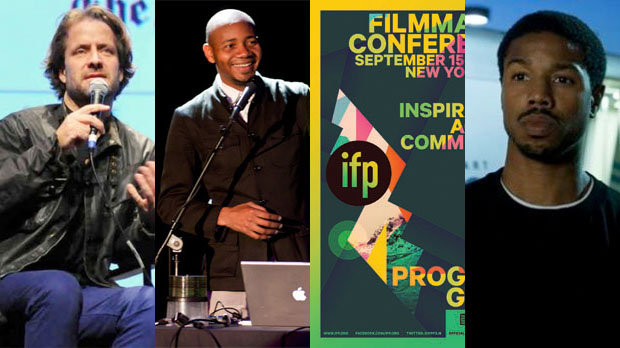 IFP's cornerstone event, Independent Film Week, is less than a week away. The event is made up of Project Forum, which showcases in-progress projects from emerging filmmakers, and the Filmmaker Conference, which stages numerous panels and events to help filmmakers with myriad aspects of their work. In anticipation of Film Week, Filmmaker spoke with IFP's Producer and Program Manager, who oversees the Conference, about what it has to offer this year.
N.B. Filmmaker magazine readers can use the code 13Friends13 to get a special discounted price for tickets to the Filmmaker Conference.
Filmmaker: First up, can you tell me about the Blitz Presentations. This is a new thing at the conference this year, right?
Vincelli Gustine: Yeah! I'm excited about them — they're short talks from people doing unusual things with story — mostly not-filmmakers like, street photographer Jamel Shabazz — I've been a fan of his for a while and I just cold emailed him and he said yes right away! And animator Dash Shaw, who is also a comic artist, and composer Peter Nashel, who is so smart when he talks about how music affects a movie — we've been working with him in our Labs program for a while, and I'm glad to have him in the Conference, finally!
Filmmaker: You have some great names for the Keynotes for this year. Getting Lucien Castaing-Taylor is a bit of a coup!
Vincelli Gustine: Yeah, Lucien is great. He's going to show some films from his archive — 35mm even! I'm really interested to hear his talk. I think it'll be one part Leviathan and Sweetgrass and one part Harvard Sensory Ethnography Lab. Film school for us post-grads!
Filmmaker: Do you know in advance the exact focus of the keynotes?
Vincelli Gustine: More or less! Since we're bringing in smart and engaging people, they are mostly just going to run with it. But I know that Jon Kilik is keen to  refute the doom and gloom prophecies of independent film that some have made. And DJ Spooky is going to be showing us some of his new work from Terra Nova: Sinfonia Antarctica and some of his many other projects.
I'm really interested to hear Glen Basner's talk too. FilmNation is doing such a huge array of work as sales agents, production company, distributors and everything else, practically!
Filmmaker: Yeah, I think that one should be very interesting. I really like the fact that your case studies are so diverse, from Fruitvale Station to Hollow to Drunk History.
Vincelli Gustine: Haha, well what would film (television, multimedia!) be if it wasn't diverse? Bo-ring! People are just doing so many things, I'm glad we'll get to talk about, sort of, one of everything: comedy, drama, historical documentary, web-based, television. And all the projects seem to be in the zeitgeist. I'm fascinated that Our Nixon is getting pushback from the Nixon administration guys like Ben Stein — but maybe we can hear more about that in their panel!
Filmmaker: I hope so. I think it's going to be interesting to hear what Ryan Coogler and Elaine McMillion (of Fruitvale Station and Hollow, respectively) have to say. Both are not really hooked into major film networks but have had considerable success despite this. And they're both 25 New Faces alums, of course, too, as is also Penny Lane of Our Nixon.
Vincelli Gustine: Yeah, it's exciting that so many first-time feature directors are getting such spotlight this year.
Filmmaker: Which panels would you recommend for the DIY filmmaker?
Vincelli Gustine: Well, this year we're co-presenting one of the days with the Sundance Institute, their #ArtistServices team. That day is really a soup to nuts exploration of tools for filmmakers: we're demystifying DCP and how it works for indie filmmakers, and talking about things like how crowd funding affects your tax liability — maybe not sexiest topic but totally vital for filmmakers. Plus, we have a slew of pitch workshops, and live pitches from narrative features, docs and web-native works. On Sunday, we'll be choosing someone from the audience to pitch live, in addition to those that are already selected. It's a great way to get real feedback on a pitch, and even if you're not pitching, to hear what makes a your target audience want to hear more about the project.
Filmmaker: I suspect the panel Why I Say Yes: Investors Speak should be a very popular ticket.
Vincelli Gustine: Oh, yeah. Who doesn't want to know the answer to that (possibly literal) million dollar question?
Filmmaker: And another really juicy one should be When Documentaries Disturb the Power Structure, where you have Carl Deal and Tia Lessin talking about what happened with ITVS and Citizen Koch. The New Yorker piece on that situation was certainly eye-opening.
Vincelli Gustine: Yeah, I'm excited about that panel, and we just got Eugene Jarecki and Rachel Grady to join it also. It'll be a great talk about when filmmakers choose to "poke the bear." They are creating work that is making trouble and inciting change — but for good reason, not just to stir the pot. I think it's going to be a fiery discussion for sure.
Filmmaker: And you have invite someone from ITVS to participate also, right?
Vincelli Gustine: Yes, Claire Aguilar, who is one of ITVS' long-time programming advisors is a part of it. I know she'll have a lot of interesting things to say about the risks that each of us — organizations and filmmakers and individuals — can take when making work that is controversial.
Filmmaker: I'm sure Filmmaker will be there for the panel and reporting on that. Another doc panel I think should be really interesting is Neorealist Features & Hybrid Documentaries, which explores the blurring line between docs and narratives. You have a really strong lineup of filmmakers for that one.
Vincelli Gustine: I've always been really interested in documentary form — what is/isn't a documentary — and it seems like that question is becoming more important in film. Like, if I use non-actors who are playing versions of themselves in my film which is mostly improv, where is the line of what is real? And if I'm out with my documentary subjects and they are performing for me, why is it not fiction? I know I'm not the only one obsessed with this question, with Cinema Eye's Heterodox award, and True/False's Chimeras series and CPH:Dox showing these kind of boundary-pushing films.
Filmmaker:
Absolutely. I feel like it's been a topic that's been coming to the fore a lot recently and it's going to be really interesting to hear people from both doc and fiction talking about their probably not so different methods. Is there anything else you are excited about, or that was fun to put together?
Vincelli Gustine: It's all been pretty fun to put together. I'm also pretty excited about the New Black Voices panel — lots of incredible work is coming from African-American filmmakers lately. I'm excited to have a big-think with them about their feelings about the industry and the work they're making. And OMG I didn't even mention that we're talking about the #CatVidFest yet (any excuse to watch cat videos in a professional setting) and games with Upright Citizens Brigade almost every day! It's been really fun to collaborate with them.
Filmmaker: Cat videos, yes! Lil Bub is breaking down barriers for us all
Vincelli Gustine: I think I'm on Team Grumpy Cat. Obviously. And to get back to the Conference, there's also the New Voices! reading series.
Filmmaker: There are some scripts in there that I'm looking forward to, from Christina Choe, who has done a handful of great shorts, and Jeremiah Zagar, who directed the doc In a Dream a few years back.
Vincelli Gustine: Yeah, it's always such fun to show off some of the works in the Project Forum. We've got a great cast that's doing the reading, courtesy of Zoe Rotter, and it is such a transformation from page to being read.
Filmmaker: The other two scripts are less familiar to me. What can you tell me about them?
Vincelli Gustine: The other two scripts in the reading series are both really great: The Highway Kind is a drama about two vets from J Todd Walker, who had a great short at Sundance a few years ago called Passengers. And the other script is I Like You Like You by Jac Schaeffer which is a hilarious rom-com, much in the vein of her first feature TiMer.
Filmmaker: I recall that Newlyweeds was in the reading series a few years ago at the Conference, and that the staging there was a big step forward in its going into production. It's always heartening to see that these events are not just fun to attend but are sometimes also game-changing for the filmmakers.
Vincelli Gustine: Thanks! Looking forward to seeing everyone at the Conference next week — I hope everyone can find something of interest to them!