Back to selection
Kyle Patrick Alvarez on How C.O.G. Wrapped in Mid-November — and Still Got into Sundance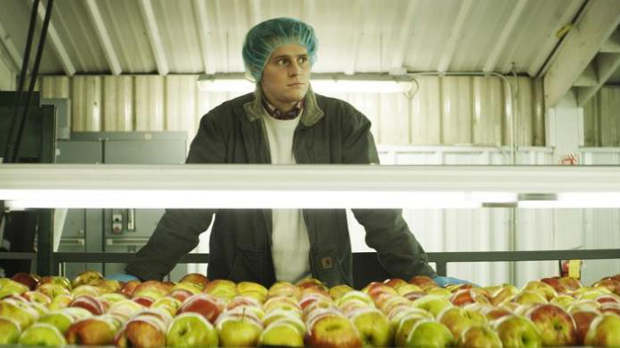 C.O.G
It's every independent filmmaker's dream to have their film have its world premiere at the Sundance Film Festival, but realistically the chances are very slim. The festival gets over 12,000 submissions annually, and only around 200 of those are chosen. However, when the deadline to apply for the 2013 Sundance Film Festival came around this time last year, writer/director Kyle Patrick Alvarez faced a much steeper challenge than most. His sophomore feature, C.O.G., based on an autobiographical essay by David Sedaris about a formative summer spent in Oregon after graduating college, hadn't even started production. Delayed from its original August start date, Alvarez's movie got pushed to October and wrapped only two weeks before Thanksgiving, traditionally the time that filmmakers get "the call" telling them that they are headed to Park City.
In the first of a two-part interview, Alvarez talks about the unlikely journey C.O.G. took to getting accepted into Sundance. The film, which stars Jonathan Groff and Denis O'Hare, goes on theatrical release tomorrow through Focus World. Check back tomorrow to read about Alvarez's take on the art of adaptation.
Filmmaker: With C.O.G., am I right in saying that you wrapped in mid-November?
Alvarez: Yeah, that is true.
Filmmaker: That's got to be the latest wrap date for a film that has got into Sundance.
Alvarez: They told me it was, and you know it took me so long to get this film financed that I certainly wasn't going to wait a year. I was, in the best ways possible, restless with the movie. I was super eager for people to see it and get it out there. And so, we were shooting it and when we found out there was an opportunity for them to still watch the film, I just thought, "Well, it's either going to be this or not at all." I'm my own editor so I put together a version very quickly. As soon as we wrapped, I started editing. I was at the wrap party for, like, 20 minutes I think because I was already putting together a rough cut of the film. I finished a rough cut quite quickly, in a handful of days. I moved back to L.A., finished the rough cut. I had to get it into the Sundance offices at like, six o'clock on a Friday; the DVD finished burning at 5:30, and my boyfriend drove over there. There was traffic because it was rush hour – I got out of the car and ran down the street to make sure to get it there before the people left for the weekend. I mean, it was like a bad movie in some ways. That was sort of the last opportunity for them to be able to see the film, and for me, it was, "Well, I should at least try for it."
When I finished that first cut, I showed it to the three or four people I trust the most, and I would have very much listened to them at that point had they said, "I don't think that this is ready yet and I don't think this is the version that you would show." But, we had such a fast shooting schedule and I edited a little bit on the weekends and sometimes before shooting on certain scenes that it was really a nature of just putting it together. So much of editing had to be done in camera in some ways, save for a few scenes that we covered a lot on – which is the first time I've done a significant amount of coverage. I didn't sleep, but I'm grateful I did it. Even had we not gotten in, I would've been happy that I did it, because it would've given me that piece of mind of, "Okay, well, I did the most I could. And, you know, my first film didn't get into Sundance." It was an experience I've always hoped for and wanted, so I tried to put my money where my mouth is in terms of just working really hard on it.
Filmmaker: When you started production, did you know that you were going to be rushing to get that cut to Sundance?
Alvarez: Not at all. The movie had almost come together to shoot in August and I thought, "Well, I'll definitely be able to push through production and post production." So, when we started shooting [in October], it wasn't even an option. I didn't think about it. And I showed people a couple of scenes and someone was like, "Have you like, checked in with them and really asked and seen when is the last time they're watching movies? You might be able to see if they can squeeze it in." Then someone made a call to them and checked in and asked if there was still an opportunity. It's interesting, I've been on programming staffs in the past before and I know it can be hard and I know that festivals are political and sometimes I feel guilty like, "Oh well, they saw my film so late and they made an exception for it." But at the same time, that's also the nature of programming sometimes — I've learned that Trevor [Groth] and John [Cooper] probably see more rough cuts than anyone else out there. They know how that works and they know how to look into a movie and see what it's going to be or not at the end of the day.
Filmmaker: Did you know Trevor from when Easier with Practice played CineVegas?
Alvarez: Yes, that's when I met him. So what happened was, Easier with Practice didn't get into Sundance. It was before NEXT, which is something I actually really admire they have because I think it's just opened up the programming a lot more. At the time, NEXT didn't exist and Easier with Practice we didn't get in, but we'd gotten really close. When I got my rejection, at the same time I got an email from Trevor and Mike Plante saying, "Hey, we would love to show the film at CineVegas if you can wait." And at that point, Easier with Practice hadn't got into any festivals. Trevor really was the first guy [to champion the film]. At that time, I didn't know anybody, you know? Edinburgh and CineVegas were the first two festivals to stick their heads out for the movie. And that's when I really got to learn and respect the [programming] process because to them, my movie was literally just a blank slate. I mean, it was a DVD with handwriting on it. There was no context or anything.
Now that I'm in a place where there can be context given to the movie for the programmers, I'm grateful for it, but I also know that nothing guarantees your movie getting in, you know? Making movies that are this small and quite low budget, without any big names, I don't think there's any kind of guarantee. To make a long story short, yeah, that's when I met Trevor. I knew I had to trust Trevor to really be able to see [C.O.G.] in its rough state. I think if you saw that rough version and then six months later saw the final version, you would probably think no changes had been made, when in fact every cut in the film was a different cut. Every take was a different take — but the general structure and the vibe [is the same]. The movie's so linear that the spirit of it was still there, I think in that rough version, which is why I felt comfortable sharing it.