Back to selection
Strange Fruit: Jim Mickle on We Are What We Are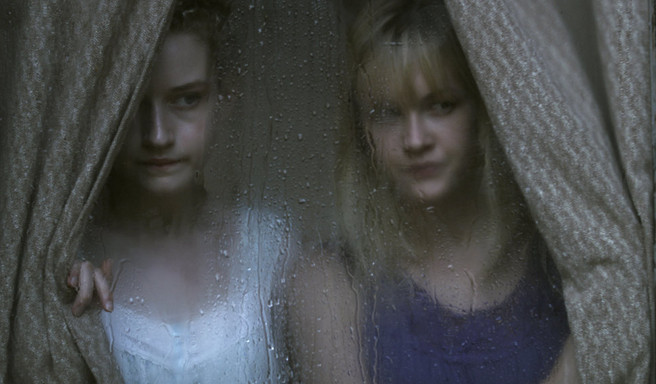 We Are What We Are
Jim Mickle, whose 2010 post-apocalyptic monster picture Stake Land launched him into the top tier of filmmakers making artfully rendered low-budget horror pictures, is back with a lyrically photographed, deeply felt family drama that also happens to be about people that eat other people. In his remake of Jorge Grau's fabulous 2011 Mexican shocker/political satire/cannibalism-themed exercise in existential miserablism We Are What We Are, Mickle moves the action from a hideously corrupt Mexico City to the rainy forests of the rural Catskills. It opens with the sudden and distressing death of a mysteriously stricken woman, Emma Parker (Kassie DePaiva). Her family, including her bullish husband Frank (Bill Sage), a pair of teenage daughters, Iris (Ambyr Childers) and Rose (Julia Garner), and a very young son Rory (Jack Gore), are left to fend for themselves in the depressing trailer park they call home, although they ostensibly own a great deal of land despite Frank's seemingly spartan watch repair gig. Slowly the narrative reveals an even more distressing fact about this clan: for hundreds of years they've maintained a "tradition" that involves, uh, catching, killing and eating folks who occasionally pass by their property, with Frank in charge of disposing of the remains and his wife making the misbegotten meal.
The movie represents a magnificent leap for Mickle, whose 2005 feature Mulberry Street first put him on the industry radar. A series of stellar performances, particularly from Sage and Garner, and magnificent technical credits elevate the material above the typical horror fare as evidenced by the film's impressive festival pedigree. We Are What We Are world premiered at this year's Sundance Film Festival, but it has been particularly well received in France; it screened both as an official selection in Cannes (marking the first time a film and a remake of the same film have both landed in Cannes) and Deauville. After winding its way through the international circuit of fantastic and genre festivals, it opens today in New York and Los Angeles from Entertainment One.
Filmmaker: Are you a fan of the wave of foreign horror films being remade in the States?
Mickle: I hate it. It's one of the worst things.
Filmmaker: What about Jorge's film seemed ripe to revisit or reimagine when you first encountered it? Were you consciously working against the way others have remade recent foreign horror films in the US?
Mickle: I hate the whole trend as a film lover and a horror film lover. It's really frustrating, the whole remake thing. It's a symptom of so any things that are wrong with filmmaking and the industry and the genre right now. In this case, I hadn't seen the movie until it was proposed to me. I felt like I had a really long history with it though because it played a lot of the same festivals, I kept reading about it and hearing about it and seeing the trailer. We worked with Larry Fessenden on Stake Land, and when we were still finishing up with the release of that film, he would always be like, "Have you heard about this cannibalism movie? It sounds awesome." I love the whole idea and I felt the same way and it was like that for almost three years. IFC released both of our movies on back to back weekends, so in a weird way the films were kind of tied together from the get go. But I kind of didn't know anything about it and I hadn't seen it and a couple of producers who we were working with on another project were like, "We have the rights to this — you guys would be great for an American remake." Immediately I'm thinking, "Here's the whole remake thing again," but one of those producers was Andrew Corkin, who produced one of my favorite films of recent years, Martha Marcy May Marlene. They didn't just want to regurgitate it. They were like, "Do what you want with it, it seems like it might be up your alley."
So I took it down to Nick D'Amici's apartment and we watched it on his laptop in his kitchen. We both kind of came away like, "Why are we remaking this? It's very singular in terms of Jorge's vision, there's nothing wrong with it. Why remake it?" So we talked about it, threw out some "what if" scenarios and we came up with a way to make it a much different film.
Filmmaker: Was the idea of making the two young men who are at the center of Jorge's film into young women one of the first ways you went about distinguishing it from the original?
Mickle: It wasn't the first thing, but it was the first thing that hooked me. I wrestled with it. I was hoping another film we were working on would come together. It since has, we shot it last summer. So it was up and down, up and down, we were both like, "If we gotta do it, it's something that's ready to go," but once we flipped the genders it was the first time I went to bed and was like, "Yes, I can spend the next year of my life on this." Stylistically, there were a lot of things that spoke to me about the original. There are not many films that take a slow, dark, dramatic look at a family that can tie in this horror conceit. I thought that was brilliant on Jorge's part. I loved what it was saying abut religion and corrupted family values. But I really didn't want to do his movie again. The sisters thing just clicked. I had loved Martha Marcy and I was sort of in that head space. Especially after Stake Land, which is so male driven, action driven, even though it has its slow, lyrical parts, the conflict is always external and there's these monsters. I really wanted to get away from that and do the exact opposite. I wanted to do a simmering family drama with two sisters at the center. I was inspired by A Tale of Two Sisters, Three Women, Picnic at Hanging Rock, Twin Peaks, The Exorcist and Martha Marcy May Marlene, all these things that are female centric.
Filmmaker: How did you settle on Ambyr and Julia to play the two girls?
Mickle: Well, going back to Andrew Corkin, Julia had had a small role in Martha Marcy and he knew her and her representatives. She was the first one. Right away, that February as we were writing, he was like, "You have to check this girl out." I remember her popping off the screen in that small role and then her agency sent select scenes from Electrick Children and she's so natural and truthful. I remembered her popping off the screen in Martha in that small role. She's everything you want that you can never find, she's kind of this innocent porcelain doll that has so much going on inside. When she came back from Berlin, we met and she was the first piece that came into place. Bill Sage played her dad in that film. I didn't know he played her dad in the film. I saw him and it reminded me of how much I love Bill, in Simple Men, American Psycho, Mysterious Skin. He's such a chameleon, I hadn't even thought of him for the part, but then I saw him and was like, "Bill Sage, there's a guy who never sucks." I wasn't sure he was right for it, but he came in and blew me away in the audition, he was so prepared. He came in with his props and just had this incredible intensity, I knew he was the guy very quickly.
Filmmaker: What was behind setting the movie in a rural area versus a big, corruption-ridden city as in the original?
Mickle: That was the very first thing. By the time they came to us, the producers had had a number of conversations about where to set it and the first place they mentioned to us was New Orleans. So Nick had just been to New Orleans to visit and we thought it was cool, it's got a rich history, it's got a rich food culture, [laughs] the bayou. We were kind of psyched to do it for a second and then we both looked at each other at one point and realized we both didn't know anything about New Orleans! We had both been there for, like, two days. So it felt disingenuous, we couldn't invest it with the specificity Jorge had invested Mexico City with, I couldn't speak as eloquently about that place. It would have been the most Hollywood thing to do, the Hollywood remake. It's like, "Oh, we'll set it there and work in some stereotype." So there was that, but also the class system which is so evident in Jorge's film, beyond the corrupt cop stuff, the stuff about the economic struggles and that's all still really relevant and we thought, "Well, maybe we'll set it in Detroit," but again, what do I know about Detroit? So upstate New York ended up working out the best. I live up there about half the time, I spent a lot of time there, so does Nick, and the year before it had been destroyed by Hurricane Irene. It came in and wiped the town, wiped it right off the mountain; the supermarket washed away, a lot of stores washed a way, a lot of people lost their homes. So living through that and seeing what had happened, seeing a small town struggle, there was something sort of haunting about that and disappointing about this place, and I think it became an organic backdrop to talk about a struggling place and a struggling community. That was the first thing. Once that happened that got the dialogue rolling and then once we came across the idea with the daughters, we knew we were on the right track.
Filmmaker: How long did the movie take to put together after you had a script?
Mickle: It came together incredibly quickly. We were in the middle of a project that was taking years to put together and wasn't coming together so it was a welcome thing to have someone come to us and say, "This thing we could get up and greenlight really quickly." Nick wrote a script in four weeks, we sent in our first draft to the sales agent and based on that and a treatment they were able to do pre-sales and raise the financing in less than a week. It was amazing. We were still sitting there like, "Oh, what's going to happen?" and we get a call like, "We have the money, you got the greenlight, you can go into pre-production." The success of the original helped. Even though it wasn't a big deal in the United States, it did well overseas. Memento Films did our sales and they're Paris-based and the film had gone to Cannes so there was much more awareness out there about it. That helped, the remake label helped and Stake Land did better overseas than it did here, so I think there was an appetite for it.