Back to selection
Mayor Bloomberg, Joana Vicente and Questlove Open Made in NY Media Center by IFP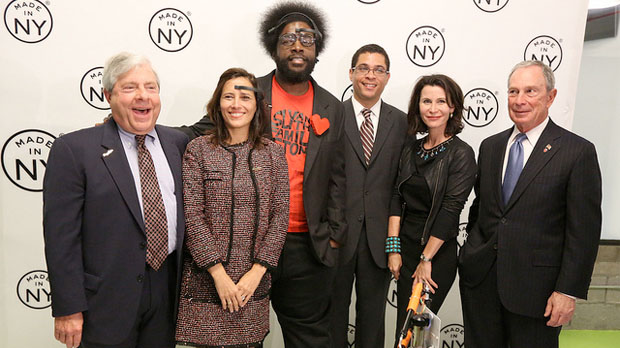 This morning, Mayor Bloomberg and IFP's Executive Director Joana Vicente kicked off the launch of the Made in NY Media Center by IFP alongside the Center's Founding Artist in Residence, Ahmir "Questlove" Thompson.
At the event, Mayor Bloomberg said, "The Made in NY Media Center by IFP continues the work this administration has done to diversify New York City's economy and provide access to affordable work space. New technologies and distribution platforms are appearing every day, and entrepreneurs, growing businesses and creative individuals will have the chance to harness their skills with the educational resources provided by the Media Center as well as the community network that's being established here."
"The Media Center is launching this week, and will soon be the incubator and central hub for storytellers from multiple disciplines, industries and platforms," added Joana Vicente, Executive Director of IFP and the Made in NY Media Center by IFP. "Regardless of what tools are used, we'll be doing what we've done for 35 years: curating stories, supporting artists and connecting storytellers to investors, audiences and other artists.  We look forward to sharing our programming, partners and events with the creative and tech communities in the coming weeks."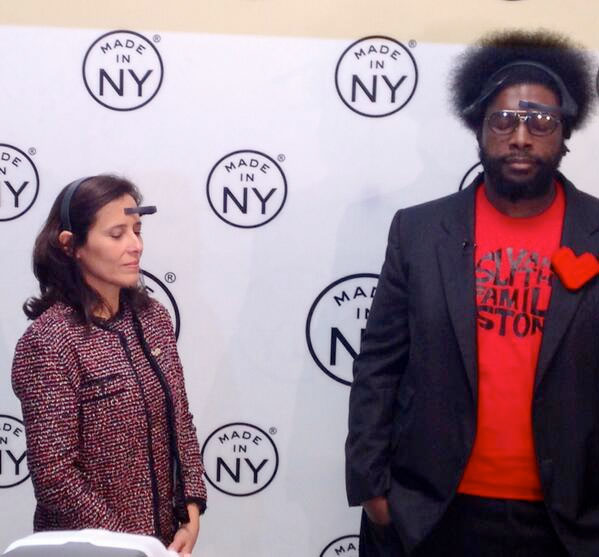 Before he and Vicente cut the ribbon to the Media Center — using a modified off-the-shelf EEG headset called the Rowsr that would power the scissors only once their minds were relaxed! (see left) — Thompson said, "The birth of any new art movement, from hip hop, to punk to Dada has a center, a place to meet up and collaborate. The Media Center will be a vibrant space that embraces forward thinking about the future of art, film, new media and storytelling in the digital space and I look forward to working with the Media Center on ideas I hope will help shape tomorrow."
Vicente also announced that Judy McGrath's new cross-platform entertainment shingle Astronauts Wanted would be an anchor tenant, and that Cornell would be a partner on a joint conversation series at the Media Center.
Through October the Media Center will be hosting a series of open houses while on October 15th tenants will move in, and classes and workshops commence. Projects accepted into the incubator will be granted full access to the Media Center from early November. Also as part of the October events a the Media Center will be a number of exhibits including Lance Weiler's video project in collaboration with David Cronenberg, and The Color Project, a research and development project created by MPC Digital's with artist Thompson Harrell utilizing geographic satellite imagery.
Additional information on the Media Center and how prospective tenants can apply can be found at nymediacenter.com.