Back to selection
What's in the New Fall Edition of Filmmaker (And Why You Should Pick It Up)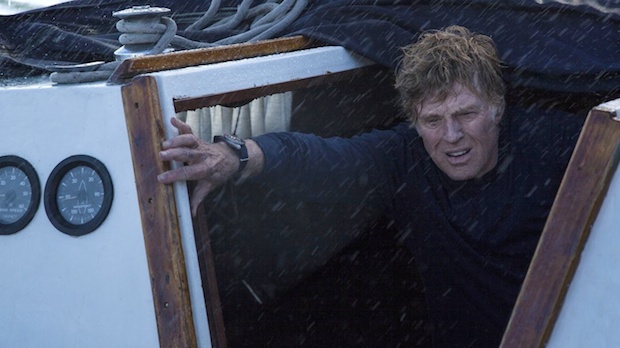 All is Lost
Filmmaker's Fall issue is now live, arriving on newsstands, in mailboxes and online, both as a digital issue and in Apple's Newsstand. (The iPad edition can be bought here) and you can subscribe here.
I like this issue. It's got an old-school Filmmaker flavor to it, in a way. By that I mean it's got an eclectic mix of articles, each with its own voice, covering topics ranging from practical filmmaking concerns to theory. Our Line Items section, consisting of long-form articles, is particularly robust, which I think is appropriate. These days when you buy an individual copy of a magazine as opposed to read stuff online you want deep pieces that will inform you, not listicle-based quick hits. That's what we try to bring you with each issue of Filmmaker, and the majority — over 80% — of what's in the print magazine isn't published online.
Our cover story this issue is my interview with J.C. Candor, writer/director of All is Lost. It's an incredible, must-see film, a picture both intimate and epic, and one that plumbs the most profound questions of human existence with spare, focused precision. But half our conversation is about other stuff, specifically Chandor's long journey to become a film director, a journey that started more than a decade before his breakthrough debut, Margin Call. Chandor imparts a lot of wisdom here — wisdom about balancing work, life and family; navigating Hollywood financiers; and on screenwriting. Our talk is strewn with nuggets that only come from having experienced the highs and lows of this business, and I think it's one that you will like.
My other big story this issue is a long (5,500 words!) article, "How to Find a Producer." It's a question I'm often asked, and when one filmmaker did just that recently, and I started to reply, I realized that I should write it as an article instead. So, I spoke to a dozen producers and filmmakers, including Twilight producer Jon Kilik, Lydia Dean Pilcher (The Reluctant Fundamentalist), Alicia Van Couvering (Drinking Buddies) and Mynette Louie (in addition to producing Tze Chun's Cold Comes the Night, she's also President of the new Gamechanger Films). The article has a specific target audience: it's focused on the first-time director who is starting from scratch on an independent feature. I do write a little bit about how directors get attached to Hollywood films, but then I dig deep into the ways directors hook up with producers, what producers are looking for, and behaviors that will score you a better chance of finding a great collaborator. I was really happy when, a couple days ago, Louie tweeted that it was "probably the best article ever" on the subject.
And, you know, it's not a listicle. I could have written one for the web — "10 Must-Know Tips on Finding Your Producer" — and it would have scored a lot of traffic. But it would have been shallower, as there's a lot of nuance in the quotes from the people I spoke to. It also wouldn't have the flow that the long-form piece does. So, if this is a subject you're interested in, check it out.
I'm also happy to have another long-form (5,100 words!) piece by Larry Gross, who, in my book, is the quintessential independent screenwriter. It's his keynote speech from the 2013 Screenwriting Research Network International Conference about "The Watergate Theory of Screenwriting." Taking a deep dive into Kurosawa's Ikiru, Gross shows how screenwriting is akin to the Watergate Committee, who wanted to know, "What did the President know and when did he know it?" Gross's is a fascinating commentary on how the release of information and the positioning of audience perspective in relation to a film's characters structure narrative but also allow genre to be transcended.
What would an issue of Filmmaker be without a good case study? Tom Putnam and Brenna Sanchez, the filmmakers behind the firefighter documentary Burn, detail their successful DIY theatrical self-distribution, which broke a lot of rules (a $20 ticket price!) and ignored the advice of a number of experts but proved to be the best strategy for the film.
There's a lot more, of course. Chris Hegudus and D.A. Pennebaker interviewed Jehane Noujaim and Karim Amer about their documentary, The Square, particularly delving into how the film was shot, finished for Sundance, and then completely restructured with new footage once events on the ground changed yet again. Ray Pride has an excellent interview with Omar Mullick and Bassam Tariq about the doc These Birds Walk, and the iPad edition has a bonus video interview too. As always there are our usual great columnists like Anthony Kaufman who, this issue, finds positive successes in the VOD space. Check out the entire table of contents here. You can buy a single issue for the iPad for only $2.99, or subscribe digitally for $10 to read this current issue. Or, subscribe for a year, in which case your subscription will start with the next print issue but you'll be able to read the current one as a digital edition.