Back to selection
Femke Wolting on Submarine Channel and the Online Documentary Unspeak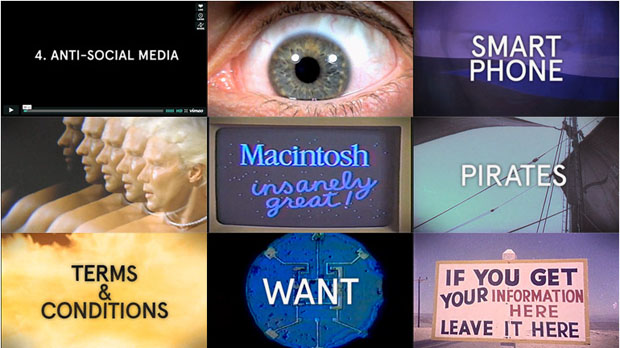 George Orwell claimed in his 1946 essay "Politics and the English Language" that English was in a bad way: common consensus (which he was satirizing) held "that any struggle against the abuse of language is a sentimental archaism, like preferring candles to electric light or hansom cabs to aeroplanes." His own opinion was more that "the decline of language must ultimately have political and economic causes: it is not due simply to the bad influence of this or that individual writer." Thus it could be resisted: "Modern English, especially written English, is full of bad habits which spread by imitation and which can be avoided if one is willing to take the necessary trouble. If one gets rid of these habits one can think more clearly, and to think clearly is a necessary first step toward political regeneration: so that the fight against bad English is not frivolous and is not the exclusive concern of professional writers." In subsequent years the nature of speech and language as political actors subject to overt political force has been explored by Noam Chomsky and others, and now it's the subject of Unspeak, an online documentary by Submarine Channel, the Dutch transmedia production company.
Submarine Channel, a division of the broader production company Submarine, works with all genres and styles, having produced dramas, documentaries, music videos, games, and other media. An office in Los Angeles now exists along with the Amsterdam headquarters, and Submarine co-founder Femke Wolting recently relocated there. Wolting is a prolific producer and director who's worked with numerous partners, including Peter Greenaway, Dutch broadcaster VPRO, and the Rotterdam Film Festival, where she created and ran the Exploding Cinema program from 1995 to 2001.
Unspeak began as a 2006 book by British author Steven Poole. Like Chomsky's Manufacturing Consent, it looks at how language is constructed by not only politicians but the journalists and media outlets who report on them. The nonword "unspeak" itself denotes the facts omitted (or at best covered over) by the terms proliferated by the press. So, for example, the early "inadvertant climate modification" became "global warming" which became "climate change"; each term has distinctions from the others, but in recent years "climate change" was pushed by Republican strategist Frank Luntz to divert attention from the actual heating of the atmosphere too prominent in the term "global warming." The media has largely adopted this term, marking a shift in the public discourse about global temperatures – an example of unspeak. And the fact that this story and Luntz's role in it are far from universally accepted illustrates how divisive and political simple language can be.
Since these terms – in medicine, economics, the social sphere, etc. – are mutable, it made sense to translate them from Poole's book in an interactive form like a website, where viewer/users could contribute to the conversation as English continues to evolve and be both consciously and unconsciously manipulated. And as Wolting indicates below, it also made sense to divide the book up into six individual videos. Poole himself wrote and recorded the narration for each of the pieces and different directors were brought in to illustrate the words with archival footage. As a simple exercise in archival filmmaking, Unspeak is a fast-paced, engaging project, with the images teasing out additional associations not contained in the words alone.
Unspeak was nominated for a Prix Europa award and the videos have been screening at festivals as well as online (the project also includes a Tumblr account): next up are RIDM Montreal and IDFA DocLab. The project includes a number of interactive elements as well, which Wolting recently discussed with me.
Filmmaker: What's the concept behind Unspeak?
Wolting: It's an interactive documentary series investigating the manipulative power of language. Blending filmmaking, data, technology, and design, the story of Unspeak unfolds across a series of short films, data visualizations, and a participatory dictionary.
Filmmaker: It's based on Steven Poole's book. Did the impetus for a video come from Poole, yourself, or someone else at Submarine Channel?
Wolting: We at Submarine Channel decided to translate the book to a series of videos, because the format of the book, short chapters analysing Unspeak in a particular field like medical disorders or climate change, lends itself to adapt to short docs. We thought it'd be interesting to see how Unspeak words are widely used across mass media communication channels – like on official news sources and social media – since these words leave behind a data trail that we can mine for meaning. To reveal this hidden layer of digital data, help form new understanding about the prevalence of Unspeak, and offer the opportunity for audiences to playfully interact with and analyze publicly available data about the use of Unspeak we figured that an interactive documentary would be a suitable form. Also through the online documentary we were able to create a platform where people can flag and discuss new Unspeak terms on an ongoing basis, something you could never do in a book or a film.
Filmmaker: How did you got about putting together the budget and personnel? What was production like?
Wolting: We developed the interactive concept with the Submarine Channel team. In house we have a great team, a mix of researchers, programmers, designers and producers. Then we reached out to a six directors that have been working with found footage and collage films, such as Jennifer Abbott who directed The Corporation and Rob Schroder who directed Meet the Fokkens, and they each directed a short doc about a specific domain. We collaborated with the two talented designers of Catalogtree on the data visualizations and the Urban dictionary. Katy Yudin, who has been working on data visualizations for a long time, developed these for the site. For the development of the project we got money from the Dutch Media Fund and VPRO, a Dutch broadcaster also chipped in some money in the beginning of the project. The rest we financed ourselves.
Filmmaker: Tell me more about the interactive components of the project. The most obvious on the website interface is the button "Expose Unspeak" that lets users submit and define new terms for the Unspeak Dictionary.
Wolting: We suggest you start out by watching at least one of the films before exploring the related content. About 10 Unspeak terms are covered in each episode, which can then be individually explored through the Unspeak dictionary. Besides flagging new Unspeak terms, here you can browse definitions, vote on the best ones, contribute alternative definitions to existing terms, or suggest sources like news articles or videos where Unspeak language appears.
Filmmaker: What has the response to the documentary been like so far? What goals do you have for it moving forward?
Wolting: People love the short docs. We deliberately asked the directors to play with images to create a fun experience. Of course the understated voice-over recording by Steven Poole itself asked for an entertaining, dynamic approach. We are distributing the shorts not just on the Unspeak website, but also through well-known social media.
Filmmaker: You founded Submarine in 2000 and Submarine Channel soon after, before transmedia had entered public consciousness. Can you tell me a bit about Submarine and Submarine Channel's purpose and methodology? What future projects do you have in store?
Wolting: Digital storytelling is no longer the niche activity it was when Submarine Channel launched in 2001. What started as a marginal, small-scale creative trend has expanded to become a mainstream, worldwide presence with a global consumer base spanning age, gender, and demographic divisions. Hence, in its twelve-year existence, Submarine Channel has become a seminal hothouse where the cultural potential of digital media is constantly pushed, generating vital discussion around the transmedia evolution of story. In the near future we will focus on new motion comics, a transmedia storyworld accompanying the new feature film from Peter Greenaway, and an online game for our upcoming documentary about Somali pirates.