Back to selection
Comic Striptease: Joel Allen Schroeder on Dear Mr. Watterson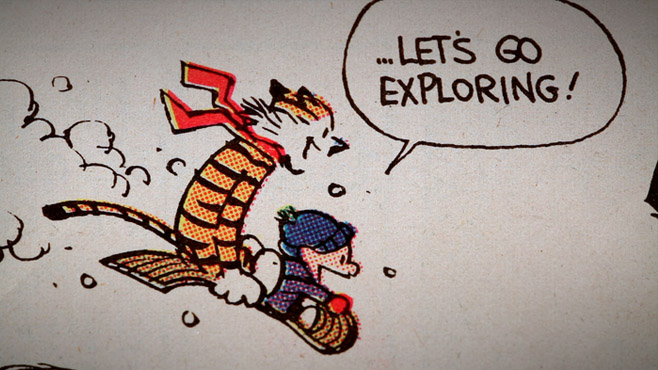 In Dear Mr. Watterson, fellow comic-strip artists, eerily adoring fans and apparently serious comic-strip critics pay tribute to Bill Watterson, an enigmatic man whose sly, dexterous mind and remarkably precise hand are responsible for "Calvin and Hobbes," a brilliant, widely-read syndicated newspaper strip that haunted the pages of America's most hallowed dailies from the early 1980s through the mid-to-late '90s. The film, Joel Allen Schroeder's first, attempts to earnestly and without irony portray the ostensibly profound impact the "Calvin and Hobbes" strip has had on the lives of peculiar subset of American youth.
In an era in which the form truly reached a golden age, artists such as Watterson and fellow Kenyon College grad Jim Borgman broke new ground with painfully funny strips inflected with a nuanced subversion. Much of that work is shared here, but so are a series of unlikely and oddly resonant testimonials, as Schroeder takes a childhood obsession (his bedroom in his mother's home is a mini-shrine to the C&H strip) and unpacks it for his viewers and interview subjects, all the while detailing how Watterson drew influence from earlier strips such as "Krazy Kat," "Little Nemo," "Peanuts" and "Pogo."
Schroeder's film, which world premiered at this year's Cleveland International Film Festival, opens today in Manhattan.
Filmmaker: What was the genesis of this project for you?
Schroeder: I grew up a "Calvin and Hobbes" fan. I went off to college, and I kept reading it. It never got old. It's just always been something I can go back and read, and I get a lot out of it. It holds a lot of meaning for me, and I'm very nostalgic. We started shooting six years ago in the fall of 2007. What I really wanted to explore was the impact of the strip. I think it's a thing I'm really interested in as a filmmaker, the impact that people can make on others. I just think that there is something special about "Calvin and Hobbes" in that way. It has reached and maintained its significance to so many people. Not many things have that quality.
Filmmaker: You certainly found many kindred spirits while traveling the country interviewing "Calvin and Hobbes" fans. What was the most indelible thing you gleaned from them during your interviews?
Schroeder: I loved "Calvin and Hobbes" as a kid, but I don't have a great story of how I discovered the strip as a child. So I was really happy to talk to these people who had these really personal, relatable stories, such as [the kids whose]grandmother showed them "Calvin and Hobbes" or those who would read "Calvin and Hobbes" together, who made it a social activity, or those people who used the strip to get through a really difficult time, a divorce, or a death in the family. Or just someone who didn't fit in and who saw that Calvin was someone who didn't fit in either but was awesome and it was okay that he didn't fit in. The experience of reading his story has helped people feel comfortable in their own skin. Those were things that were lovely to find out. I love hearing from fans. One of my favorite questions was to ask people to recall their favorite strip. Not a ton of these descriptions found their way into the film itself, but watching people imagine it, their eyes would just sparkle as they tried to describe it, and that was a real pleasure.
Filmmaker: Did you ever attempt to contact Mr. Watterson? Obviously he's not in the film.
Schroeder: Early on we knew that he preferred his privacy. I respected that. I wondered had it been long enough, are we far enough removed from "Calvin and Hobbes," that he would participate in the film, and we knew that this was an obstacle, that we may have to make a film without him. Ultimately we never asked him to participate. The more I researched, the more I learned, the more I was convinced it was something that just wasn't going to happen. I also wanted to send the message to him that this wasn't about his personal life but about the comic strip. I also did not want the film to be about tracking him down, about trying to score an interview. I didn't want that to be the perception of the movie. It can be very hard to fight certain preconceptions of a project. In this case it was really important to me that this was not what people thought this was, that it be more about the impact of his work. There are a few things that have helped maintain that impact and his legacy, and I wanted to shed light on those.
Filmmaker: Do you think he'll ever see the film?
Schroeder: I know he has already [laughs].
Filmmaker: How did he respond?
Schroeder: He appreciated the choices we made to make him less central. I know watching it for him was a fairly surreal experience. I know he appreciated our choices. It validated our choice to not try and get an interview with him because we chose to respect his privacy. It was at the time of the Cleveland Film Festival that we invited him to see it. He didn't accept the invitation to come and see it at the festival. That would have been very weird for him in case someone recognized him, but we were able to get a DVD to him.
Filmmaker: There is something odd about how many great cartoonists come from Ohio, such as Watterson's fellow Clevelander Harvey Pekar or Cincinnati's Jim Borgman.
Schroeder: There is something in the water down there for sure.
Filmmaker: Were there things about his life and work you had to cut out that you might have wanted to keep but didn't work for the film you ultimately arrived at?
Schroeder: Editing was very difficult. I edited the film myself, and I don't necessarily recommend that, it is very hard to say goodbye to things. You can only do so much in 90 minutes. Early on I learned that Bill Watterson had done a foreword for Richard Thompson's first collection of his strip "Cul de Sac." For quite a while, I thought that that could be something for the end of the film. I loved the "let's go exploring" message of Bill's final strip, and I thought the discovery of this strip "Cul de Sac" was a great passing of the torch, if you will, from Bill Watterson to Richard Thompson. So that was a scene at the end of the film. Unfortunately, Richard Thompson was forced to retire because he has Parkinson's and I did not feel it was appropriate any longer to highlight "Cul de Sac" as a passing of the torch because the strip was being discontinued. So that scene was pulled from the film. I'm sad to see the scene pulled — more sad because of the reasons behind the demise of "Cul de Sac".
Filmmaker: Does the strip mean more to you now than it did at the beginning of the process?
Schroeder: Yes, it means even more to me now. The circumstances that led to it being so popular and the circumstances that have led to it having such a strong legacy — I think that it was sort of a perfect storm that makes me even more grateful we got the ten years of "Calvin and Hobbes" that we got. I think had things played out differently, had he compromised his principles, had he made different decisions early on before "Calvin and Hobbes," had he abandoned cartooning when he was struggling with poverty, there are many things that could have happened that would have meant no "Calvin and Hobbes" or significantly fewer years of the strip. So I think we're lucky to have gotten what we got from him.