Back to selection
The 21st CamerImage International Film Festival of the Art of Cinematography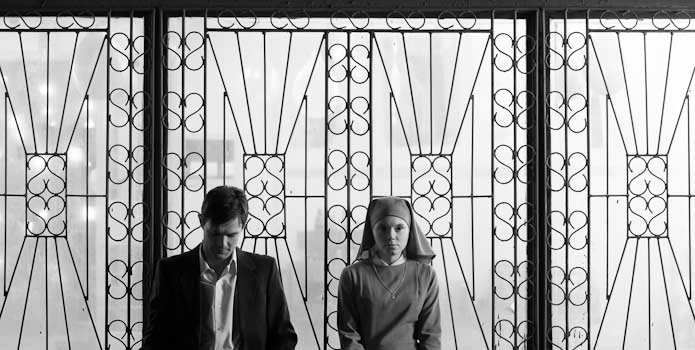 Ida
On the festival circuit, technicians generally get the short shrift. They work long, hard hours for weeks on end, often for less money than they ought to get rewarded with, towards a film that will ultimately have someone else's name above the title or next to the "a film by" credit on the poster. Sure, they might get a shout out from a director while standing on stage at the closing night awards ceremony to go along with their fee, but glory is usually reserved for others. Not so at the CamerImage International Film Festival of the Art of Cinematography (say that four times fast), which concluded its 21st edition this past weekend. In Bydgoszcz, the city in northern Poland where the festival is held, cinematographers and their craft take center stage for seven days and nights of competition screenings and retrospectives, trade show floor room wandering and masterclasses, many of the latter hosted by a "who's who" list of the world of film's most legendary lensers.
Poland has older festivals (Krakow, which has a doc and shorts festival nearing 60 years old) and hipper (upstarts New Horizons and OFF Plus Camera cater American indie films and the young, foreign directors that come with them), but none more prestigious or well financed as CamerImage, which each year features a staggering array of top-shelf guests. Opening on Saturday, November 16th with the forthcoming Tom Hanks vehicle Saving Mr. Banks and concluding this past Saturday with the European premiere of Ben Stiller's big budget rumination on James Thurber's classic short story The Secret Life of Walter Mitty,  CamerImage awarded its top prize, the Golden Frog, to Ida. A local production of sorts, the newest film from the celebrated Polish auteur Pawel Pawlikowski, which bowed simultaneously in Telluride and Toronto ahead of winning the top prize at last month's BFI London Film Festival, is a moody black-and-white rumination on delicate nun in training during the early '60s who discovers terrifying secrets in her family's past involving the brutal Nazi occupation of Poland that make her question her own fitness to take the vows she's about to embark upon. Lukasz Zal's sensuous and stark monochrome 35mm shooting held sway over a competition that included such American made festival circuit heavy hitters (and strikingly well-made examples of the D.P.'s craft) as Nebraska and Inside Lwellyn Davis.
Centered at the Opera Nova, a 57-year-old opera house that rests on a canal which stretches between the Brda and Vistula rivers, the festival, which also played host to the over 300 films showcased at this year's event, has become yearly reunion for many of the world's top cameramen and women. Legendary cinematographers such as Vittorio Storaro and Ed Lachman are regulars, while almost familiar names from the world of Hollywood and American indie camerawork such as Stuart Drybergh, Steven Fierberg and Reed Morano can be found stalking the second story of the Opera Nova, where the latest production and postproduction technologies from companies like Arri, Panavision, Kodak, Canon, J.L. Fisher, Sony, Panasonic, KinoFlo, Technicolor and Zeiss are presented at booths that line the outside of the auditorium. Tickets for nearly everything, even something as obscure as Gustav Deutsch's experimental rumination on the world's within Edward Hopper's paintings Shirley: Vision of Beauty, are hot properties; film students from the Polish national film school in Lodz, formerly the host city of CamerImage before a fiscal nightmare led to the unwinding of a plan to build a state-of-the-art film center there, take the entire week off to come to Bydgoszcz for the festival. They dominate the scene as much as the hordes of well-known and obscure D.P.'s do; they can be found sitting on the steps of the sold out Opera House to catch a talk by the great Anthony Dod Mantle or partying until the wee hours at the CamerImage festival club, which doesn't really get going until 2am or whenever Christopher Doyle arrives.
The awards ceremony, which clocked in at over three hours, saw prizes given out to Polish, student and documentary films, as well as feature debuts (of both directors and cinematographers) and music videos. These prizes were intermixed with occasionally funny, often touching tributes to a varied groups of luminaries, from pioneering music video director Samuel Bayer to Clint Eastwood's editor Joel Cox to the great Slawomir Idziak, cinematographer to a whole generation of great Polish directors (Kieslowski and Wajda) and Hollywood craftsman (Ridley Scott and Andrew Niccol among others). His long, thoughtful acceptance speech, in which he talked about how cinematographers must realize the dreams of others while putting their own egos aside, struck just the right tone for a festival that doesn't desire to be among the elite, premiere-hungry endeavors that are popping up all over Europe's second tier of fests but instead focuses on providing a richly textured and well programmed experience that one can, with complete earnestness, refer to as both educational and vodka-fueled. Only in Poland.