Back to selection
Shia LaBeouf Tweets Apology for his Daniel Clowes Plagiarism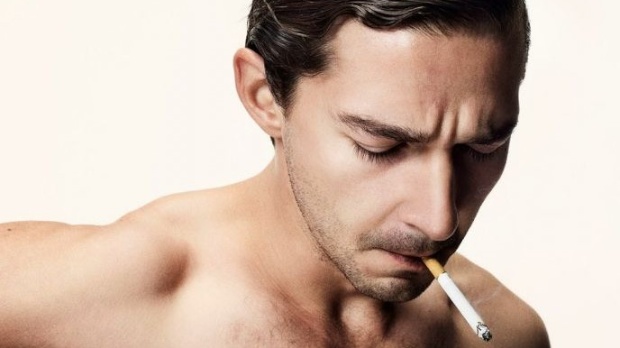 Shia LaBeouf from the Nymphomaniac marketing campaign.
Shia LaBeouf's short film HowardCantour.com — and internet film culture — has had a strange 24 hours. Yesterday, Short of the Week posted a short by the actor-turned-director about a bitter online film critic meeting a famous director at a film junket. Various sites, including Filmmaker, embedded it, and LaBeouf himself reached out to press through his Twitter account. About the short, LaBeouf told Short of the Week:
I know something about the gulf between critical acclaim and blockbuster business. I have been crushed by critics (especially during my Transformers run), and in trying to come to terms with my feelings about critics, I needed to understand them. As I tried to empathize with the sort of man who might earn a living taking potshots at me and the people I've worked with, a small script developed.
A few hours after the post went live, a number of people — commenters, viewers and filmmakers, and sites like Buzzfeed and Boing Boing — began to notice similarities between HowardCantour.com and "Justin M. Damiano," a lesser-known comic by Ghost World author Daniel Clowes that originally appeared in a Zadie Smith-edited anthology, The Book of Other People.
Aside from the storyline, the two works share nearly identical dialogue and narration, including this opening passage: "A critic is a warrior, and each of us on the battlefield have the means to glorify or demolish (whether a film, a career, or an entire philosophy) by influencing perception in ways that if heartfelt and truthful, can have far-reaching repercussions."
Contacted about the plagiarism, Clowes told told Buzzfeed:
The first I ever heard of the film was this morning when someone sent me a link. I've never spoken to or met Mr. LaBeouf. I've never even seen one of his films that I can recall — and I was shocked, to say the least, when I saw that he took the script and even many of the visuals from a very personal story I did six or seven years ago and passed it off as his own work. I actually can't imagine what was going through his mind.
Boing Boing received a statement from Jacqueline Cohen, director of publicity and promotions at Fantagraphics Books:
Shia LaBeouf's new short film, HowardCantour.com, is a complete rip off of Daniel Clowes's comic "Justin M. Damiano." Every-word from the 4 page comic created by Clowes in 2006 is used in the script for LaBeouf's directional debut. Clowes never authorized the use of his comic for HowardCantour.com. He had no knowledge that he had been plagiarized until today when the film was posted on Vimeo.
Short of the Week took the video down, and hours later LaBeouf tweeted a series of statements and apologies:
Copying isn't particularly creative work. Being inspired by someone else's idea to produce something new and different IS creative work.

— Shia LaBeouf (@thecampaignbook) December 17, 2013
In my excitement and naiveté as an amateur filmmaker, I got lost in the creative process and neglected to follow proper accreditation

— Shia LaBeouf (@thecampaignbook) December 17, 2013
Im embarrassed that I failed to credit @danielclowes for his original graphic novella Justin M. Damiano, which served as my inspiration

— Shia LaBeouf (@thecampaignbook) December 17, 2013
(Note to LaBeouf: adapting a copyrighted literary work into a film requires more than just crediting — it requires a contract and often payment. See this Filmmaker article!)
I was truly moved by his piece of work & I knew that it would make a poignant & relevant short. I apologize to all who assumed I wrote it.

— Shia LaBeouf (@thecampaignbook) December 17, 2013
I deeply regret the manner in which these events have unfolded and want @danielclowes to know that I have a great respect for his work

— Shia LaBeouf (@thecampaignbook) December 17, 2013
I fucked up.

— Shia LaBeouf (@thecampaignbook) December 17, 2013
The strange kicker to all this? LaBeouf's explanation of plagiarism is remarkably similar to a 2009 post found on Yahoo Answers.
But perhaps the best summation of this strange story is from director Joe Swanberg:
The whole LaBeouf/Clowes thing is really embarrassing and reminds me of Jesse Eisenberg playing the Pink Floyd song in SQUID AND THE WHALE.

— Joe Swanberg (@joe_swanberg) December 17, 2013