Back to selection
Tribeca Film Festival Announces "Innovation Week"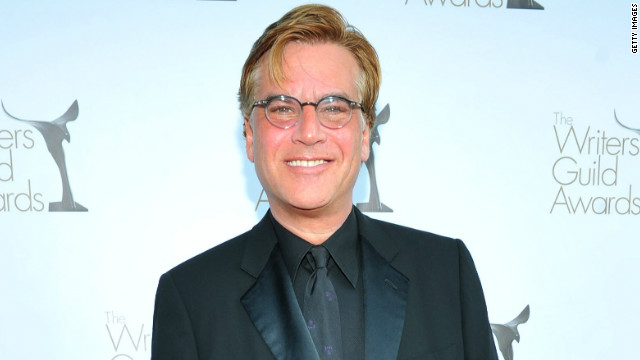 Innovation Week honoree Aaron Sorkin
The Tribeca Film Festival has made significant strides to transform their trend-buoyed cachet into a boundary pushing enterprise. Last year, TFF introduced Storyscapes, a transmedia installation that probed the intersection of technology, interactivity and installation art, and this year, De Niro and Co. are extrapolating from the initiative, launching a full blown "Innovation Week." From April 21-26, the festival hopes to become ground zero for hackers, screenwriters, engineers and venture capitalists alike, with a program centered around the Fifth Annual Tribeca Disruptive Innovation Awards (TDIA), Future of Film Live with Aaron Sorkin, Tribeca Hacks <Mobile>, a TFI Interactive summit, the Games for Change Festival and the sophomore Storyscapes.
The theme for the TDIAs is "From Outer Space to Inner Space: a New Sputnick Moment?" which will honor people in disparate fields as healthcare and sports. Just as SXSW achieved great success with their Interactive arm, the Innovation Week is an opportunity for Tribeca to engage demographics beyond their screening venues. A full list of the week's events can be found below.
·      Future of Film Live Series (April 21 – 24) – This series of live programs explores and illuminates the status of story and cinematic narrative at the intersection of technology, culture and commerce. Each of the four live events uses vibrant cross-disciplinary conversation to uncover the prescient questions occupying artists, scientists, philosophers, technologists, entrepreneurs and audiences worldwide. Future of Film will kick off with a conversation with Oscar® and Emmy®-award winner Aaron Sorkin.
·      11th Annual Games for Change Festival (April 22 – 24 & 26) – Collaborating around the premise that digital games can effect positive social change, the largest gaming event in New York City is now part of the Tribeca Film Festival. This three-day international event held at NYU Skirball Center for the Performing Arts unites innovators and game developers with change makers and educators who believe in the transformational power of games and game thinking. On April 26, G4C and TFF will host the Games for Change Public Arcade as part of the TFF Family Festival Street Fair in Lower Manhattan. Join the conversation on Twitter and Facebook with the hashtag #G4C14
Previous attendees have included the Bill and Melinda Gates Foundation, Facebook, Fast Company, Mashable, Microsoft, MIT Media Lab, The New York Times, the UN World Food Programme and Warner Bros.
·      Tribeca Disruptive Innovation Awards (April 25) – Returning for its fifth edition, this provocative awards program, co-sponsored by Accenture and AT&T, celebrates the new frontiers of disruptive innovation in collaboration with Harvard professor Clayton Christensen, father of the groundbreaking Disruptive Innovation Theory, and the Disruptor Foundation. Cross-disciplinary disruptors are honored from a broad range of domains, including business, education, art, media, healthcare, technology, religion and spirituality, economics and politics. Recent honorees have included Eric Schmidt, Jack Dorsey, Keith Richards, MakerBot, Handi Ulakaya, Jack Andraka, Kenzo, Alec Ross, Ashton Kutcher, and David Brooks.
The full slate of honorees will be rolled out ahead of the Festival, but 15 of the leaders to be recognized as part of this year's TDIA honorees include:
–          Adam Braun, Founder of Pencils of Promise, an award-winning organization that has built more than 150 schools across Africa, Asia, and Latin America. His forthcoming book, The Promise of a Pencil: How an Ordinary Person Can Create Extraordinary Change, will be released by Simon & Schuster in March 2014.
–          Mary Fisher did not wait for change; she became it. In the darkest days of the American AIDS epidemic, she showed millions a "new face of AIDS." Through her speeches, books, painting, quilts and ethical jewelry, she's called powerful audiences around the world to protect the powerless. She's helped build clinics, schools, and sustainable social enterprises enabling vulnerable women to realize their dreams. Co-founder of "100 Good Deeds," she's now inspiring a movement to change the world as she has: one person, one deed at a time.
–          Dick Fosbury, who defied convention when he won a Gold Medal at the 1968 Olympics hosted by Mexico City. The creator of the "Fosbury Flop" Dick changed the game forever. Since that time, the Fosbury Flop has become the universal technique used by elite high jumpers globally. The USA Olympic Hall of Famer continues to travel the world inspiring young athletes and corporate partners promoting the benefits of sports, fitness, and an active, healthy lifestyle
–          Yael Cohen is the founder and CEO of Fuck Cancer, a cancer education organization changing the way the world approaches the prevention and communication of cancer.
–          GoldieBlox was founded by Debbie Sterling in 2012 after recognizing the need for more women in engineering and knowing that girls typically lose interest in math and science as early as age eight. Seizing the opportunity to inspire future innovators before this critical juncture, Sterling designed GoldieBlox to cultivate young girls' ingenuity and get them building. GoldieBlox is a book series and construction set where girls follow and build alongside Goldie, a girl inventor.
–          IdeaPaint, headquartered in Boston, MA, exists for one simple reason, to fundamentally improve the way people work and work together.  IdeaPaint makes a high performance dry erase paint that transforms any surface into a boundless writable dry erase canvas that becomes a catalyst for better results; through encouraging collaboration, enhancing creativity and increasing engagement.
–          Kevin Kelley, a head football coach and athletic director at Pulaski Academy in Little Rock, Arkansas, has radically changed the thinking about "go for it" backed by statistical analysis.  Kelley has led his team to three state championships in the last 11 years by rarely ever giving up the ball on fourth down.  Now known as the "the coach who never punts", Kelley has transformed conventional thinking about football strategy.
–          Lindon Leader, who over a 30 year career in corporate identity, has developed branding programs for a wide variety of companies in virtually every market. His work has earned international recognition and numerous awards, among them for his 1994 design of the FedEx logo.
–          Roya Mahboob is the CEO of Afghan Citadel Software and is one of the first female IT CEOs in Afghanistan. She received the Time 100 Most Influential award in 2013, in a piece written by Sheryl Sandberg, for her work building internet classrooms for women in Afghanistan. Her model trained women to work online from home, allowing them to earn money in a practical way. She also serves on the board of Jelly, the new company from Twitter co-founder Biz Stone. Her fellow board members include Al Gore, Jack Dorsey, and Bono.
–          No Labels is the only bi-partisan movement in the country calling for a national strategic agenda. They have enlisted over 80 members of Congress so far to begin creating one.
–          Jon Oringer is the founder and CEO of Shutterstock, Inc. (NYSE:SSTK), the world's leading provider of commercial stock videos, photos and illustrations. As a dynamic, two-sided creative marketplace, Shutterstock currently has 40,000 contributing artists providing 30 million images to 750,000 customers around the world. The company recently surpassed 350 million paid image downloads and maintains offices in several cities around the world, including New York, Berlin, San Francisco and London.
–          Sesame Workshop is the nonprofit educational organization behind Sesame Street, the landmark television program that reaches millions of children every day in more than 150 countries. The Workshop's mission is to use the educational power of media to help children everywhere reach their highest potential. Sesame Workshop develops research-based content – including television programs, books, games, mobile apps and community engagement initiatives – that supports early childhood learning, helps prepare children for school, and addresses developmental needs. The Workshop's programs are tailored to the needs of specific regions and focus on topics that help young children and families develop critical skills for lifelong learning.
–          Shiza Shahid is an entrepreneur and activist, with her current role being cofounder and CEO of the Malala Fund. She has been recognized as TIME Magazine's social entrepreneur on its list of "30 Under 30," Forbes Magazine Education "30 Under 30," and featured in multiple publications for her social entrepreneurship work including Entrepreneur Magazine and Fast Company.
–          Jay Walker is curator and chairman of TEDMED, a global community of leading doers and thinkers from every sector of society who focus on unlocking imagination in service of health and medicine. Best known as the inventor of Priceline, Jay also chairs Patent Properties Inc., a public company that leverages the patents and intellectual property developed by Walker Digital (Mr. Walker's privately-held invention lab based in Stamford, Connecticut).
–          Both Warby Parker and VisionSpring have been inspired to disrupt the status quo in the fields of eyewear and vision—one from a non-profit perspective, and the other from a for-profit perspective. Neil Blumenthal, co-founder of Warby Parker, was an early hire at VisionSpring helping to pioneer innovative solutions to deliver affordable glasses in the developing world. Today Warby Parker is revolutionizing the American eyewear industry and VisionSpring has sold more than 1.6 million glasses to those living on less than $8 a day.
·      Tribeca Hacks <Mobile> sponsored by AT&T (April 25) – For two days, creative media makers will work with technologists and designers to imagine and invent new possibilities for storytelling in an increasingly mobile and connected world. They will experiment with telling stories on smartphones and tablets, using social media and connected devices. Join the participants and other Festival VIP's at an exclusive reception to gain a glimpse into the future imagined through these groundbreaking creative collaborations as creators present their finished works.
·      TFI Interactive (April 26) – Returning for its third year, TFI Interactive (#TFIi), an initiative of the nonprofit Tribeca Film Institute with leadership support from the Ford Foundation, assembles the brightest thinkers and innovators from the worlds of film, media, gaming, technology and society to explore storytelling in the digital age. This daylong summit includes keynote speeches, panel discussions and interactive activities to be announced in full in March. Past participants have included Tiffany Shlain, Lance Weiler and Jason Silva, and presentations have explored a variety of topics on the changing art of business and film, including web-based documentaries, attracting funding for transmedia works, and rich narratives in gaming.
·      Storyscapes, in collaboration with BOMBAY SAPPHIRE Gin – The Tribeca Film Festival and BOMBAY SAPPHIRE proudly offers transmedia artists an opportunity to showcase their creativity within a Festival setting. In its second year as a juried section at TFF, visitors to the BOMBAY SAPPHIRE House of Imagination immersive gallery will see first-hand how the conventions of visual storytelling are changing through genre-bending projects at the intersection of technology, interactivity and installation art. The five projects accepted into this year's section will be announced in March and the space will be open to public for four days during the Festival. Innovation Week passes will enable holders to attend invitation only preview events closed to the public through RSVP.