Back to selection
25 Picks for the 2014 SXSW Film and Interactive Festivals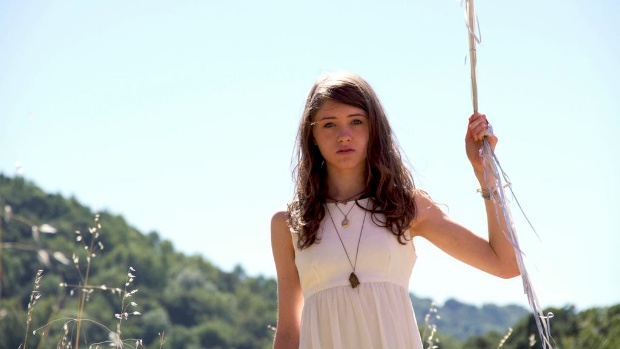 I Believe in Unicorns
Airline fares entered the stratosphere weeks ago, hotels were booked months ago, and SXSW begins today. As always, I'm interested in film and tech. Regarding the latter, Jenna Wortham at the New York Times checked in with a number of the big companies that launched in Austin in the past and found that many, like Foursquare, are skipping it. In their place are tech start-ups from Africa, South Korea and Brazil. Scanning the program, I see fewer rock star speakers (is Chelsea Clinton a rock star speaker?) and many folks from on-the-horizon tech like personal health management and computing wearables. (Oh, yes, I'm moderating a panel conversation between Vimeo CEO Kerry Trainor and iMDB's Col Needham on Saturday afternoon). On the film side, a number of titles I've been long anticipating are premiering at SXSW Film, so, for me at least, there's a lot to see. Here, then, with my flight leaving in a few hours, are my quick picks. See you in Austin.
The Heart Machine. Zach Wigon is an occasional contributor to Filmmaker, and I donated to his Kickstarter campaign, but even if the above weren't true I'd still be highly looking forward to his debut feature, The Heart Machine because it ticks off a number of personal interest boxes. Perfectly timed, it finds romantic correlatives in the digital paranoia the recent NSA revelations have subtly induced in us. The picture tells the story of a young journalist who becomes convinced that his attractive long-distance online hook-up is secretly and mysteriously just blocks away. The great Kate Lyn Sheil and John Gallagher, Jr. star.
Anne Wojcicki. Each year SXSW Interactive attempts to predict, nail or, perhaps, create the currents that will be the tech talk of the next year. With this presentation by Wojcicki, I'd say they are doing the second option. Personalized medicine, biotech, the genome project and crowdsourced health solutions should all be covered in this talk by the CEO and co-founder of 23andme.
I Believe in Unicorns. Leah Meyerhoff's I Believe in Unicorns was, in rough cut, a stand-out project at the IFP Narrative Lab — sensitively directed, visually imaginative and emotionally acute, with an excellent lead performance by rising star Natalia Dyer. I can't wait to see how Meyerhoff has finished the film.
Wild Canaries. Following up his Gaby on the Roof in July, writer/director Lawrence Levine teams with his wife, director/actress/writer/producer Sophia Takal, for a Brooklyn murder mystery that, on paper, reads like Agatha Christie by way of Curbed: a BK couple fears foul play in the death of a rent-controlled neighbor and investigates. As Gaby and Takal's own film Green demonstrate, Levine and Takal are strong performers, precisely attuned to each other's rhythms.
Edward Snowden, Glenn Greenwald and Julian Assange. My brush is a little broad in lumping these three together, but SXSW Interactive has certainly captured the zeitgeist in its satellite-enabled programming of these journalists and whistleblowers. In the case of Greenwald, whose reporting Filmmaker has noted for years (check out his appearance in our "Super 8" column back in the late aughts), he's also at the front of new journalism start-up, The Intercept, financed, somewhat controversially, by billionaire Pierre Omidyar. So, expect comments on the current economics, necessities and contradictions of an independent press as well.
Before I Disappear. Shawn Christensen has poked around the edges of Filmmaker for years. He produced Damon Russell's Snow on tha Bluff, and we've written about and linked to his own, strikingly visual shorts. One of those, Curfew, went on to win an Academy Award, and now he's expanded it a debut feature. It's got a simple set-up: a depressed, near-suicidal guy is tasked with babysitting his 11-year-old niece. The chemistry in the short was incredible, and Christensen's work is always sensitive and beautifully shot.
The Mend. 2008 25 New Face John Magary makes his long awaited feature debut with The Mend. It's not the film he talked about in our write-up six years ago, but instead a "dark comedy about rage" starring Josh Lucas.
Jason Blum. Back in the day, Jason Blum was the Miramax acquisitions guy. He'd look at your low-budget indie, some droopy family drama or earnest coming-of-age tale. He might have visited your set. He rollerbladed to one of mine. But all that is in the past. Like Lena Dunham, also speaking at SXSW, Blum has nailed the zeitgeist, building his low-budget Blumhouse horror empire in the process. He's speaking at SXSW, keeping the dream of indie fame and fortune alive for micro-budget creators.
Vessel. World premiering at SXSW is this documentary about Dr. Rebecca Gomperts, who commandeers a boat providing abortions on the high seas — in international waters and outside of specific country jurisdictions — as well as the reproduction rights activists who assemble around her.
Born to Fly. Screening in the SXSports section is this documentary about the risk-taking, gravity-defying, body-punishing choreographer Elizabeth Streb by Catherine Gund. I know Streb's work pretty well, and knew her way back in my days at The Kitchen. Before extreme sports, she was there with her performance art-infused choreography. Streb is hardcore. I'm interested in catching up with her via Gund's film.
Crowdsourcing Humor. Some people are funny. Some people are not. If you are in the latter category and are in Austin, maybe you should check out Bob Mankoff's presentation. He'll discuss the New Yorker's crowdsourced joke/punchline competition and, in the process, pinpoint the types of things that make us laugh
The Great Invisible. The Order of Myths director Margaret Brown premieres her anticipated documentary on the Deepwater Horizon oil disaster, viewing it through the prism of those — from oil execs to ruined fisherman — left behind.
Austin Kleon. The author of Steal Like an Artist is a punchy and ingratiating self-help guru for the digital age. He's giving a keynote.
The Immortalists. I don't know much about Jason Sussberg and David Alvarado's documentary, but I love the hook: a doc about two scientists working in anti-aging research who themselves are dealing with their own advancing years. SXSW always has a speaker or two imagining the days when we'll be rollerblading down the concourse at 150. This should be a provocative, reality-checking corrective.
Veronica Mars. Had to list it. I've never seen the show, and I'm not so interested in the film itself. But, along with Zach Braff's upcoming Wish I Was Here, it's the film representing the mainstreaming of crowdfunding and the power of large, aggregated fan bases. Already the makers seem on top of things, providing special screenings and SXSW parties for higher-level backers. Will the film satisfy fans who have invested more than the price of a ticket? Will the Warner Bros. team embrace or blow-off the legions who made this happen? Will director Rob Thomas and star Kristen Bell fulfill the ethos of what they started? It should be fascinating to see how all this plays out.
Among the Living. Crossing "Stand by Me with Friday the 13th," says the program, is the latest from Gallic horror maestros Julien Maury and Alexandre Bustillo. Their Inside — one of the last decade's most extreme horror films (and one that almost lost me a long and valued friendship) — was impressively executed, emotionally punishing body horror. They followed that up with Livid — Del Toro-esque Gothic horror fantasy. It looks like they are sub-genre hopping again. I will be there.
The Guest. Here's one more title from a favorite genre filmmaker. Adam Wingard follows up his great You're Next with another Simon Barrett-scripted drama, this one about a dangerous soldier returning home.
Halt and Catch Fire. Last year there was Andrew Bujalski's Computer Chess. This year in SXSW's Episodic section there is Halt and Catch Fire, the world premiere of a series set in the early, '80s days of the PC era. It's by longtime independent filmmaker Juan Jose Campanella, and it stars independent names Lee Pace and Scott McNairy.
Penny Dreadful. Okay, it's a Showtime series. But the promos have made me really want to see it. From Oscar winners John Logan and Sam Mendes it's a London-set tale reimagining the world of classic horror characters like Frankenstein. And it's got Eva Green in it. If there's one thing I see at SXSW that I could just as easily wait and see at home, this might be it.
The 78 Project Movie. The canon of cross-platform classics is a small one. Bring up the dreaded T-word, and the same titles are referenced again and again. One of those titles is The 78 Project, which has been a web series, set of recordings, live concerts and now, in true cross-platform fashion, a feature film. Inspired by the ethnomusicology of Alan Lomax, Alex Steyermark crossed the country and paired musicians with the compositions and technology of the past.
Last Hijack. With their gaming and transmedia collaborations, the husband-and-wife team of Tommy Pallotta and Femke Wolting have appeared before in Filmmaker's pages. With this latest work, they jump on the Somali pirate aquatic caravan with a mixture of doc and animation telling the story from the pirate's point of view.
Ukraine is Not a Brothel. If you missed it in Venice or True/False, SXSW is the place to see Australian director Kitty Green's provocative, energetic, and deeply complicated (and contradictory) tale of the Femen movement — topless women protesting patriarchy and sexual abuse in the country that's now all over news.
Lena Dunham. The first 25 New Face to host SNL, Lena Dunham will be doing a keynote at SXSW on Monday. There's no one who has so cleverly and so boldly articulated a voice through independent film and then leveraged it in such undiluted form into the mainstream culture. She's opposite Snowden. Tough call.
The Hard Thing about Hard Things. In this SXSW Interactive session, entrepreneur Ben Horowitz of Andreeson Horowitz discusses start-ups, business practices, and what happens when your dreams seem like they'll turn into nightmares. Hard-won wisdom should, I hope, be shared.
Bruce Sterling. The predictive rants and necessary commentary of this cheerfully battle-scarred author and cultural commentator traditionally close out SXSW Interactive. If you haven't flown out yet, check him out on the 11th.