Back to selection
Producer Jason Blum @SXSW: "If I Had to Make Kicking and Screaming Today, I'd Make It for $50,000…"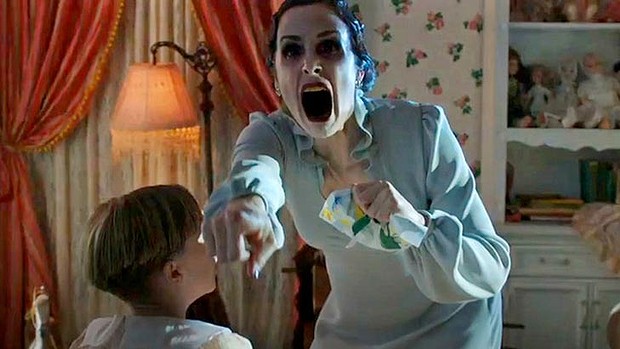 Insidious Chapter 2
"If I had to make [Noah Baumbach's 1995 pic] Kicking and Screaming today, I'd make it for $50,000, not $1 million," said producer Jason Blum (The Purge, Insidious, Whiplash) at his SXSW keynote address on Sunday. In a conversation with the Los Angeles Times' John Horn, Blum blended his own producer origin story with practical advice for filmmakers seeking to emulate his rise to top of Hollywood's low-budget horror hierarchy. "Don't wait for the industry to go forward," he told the crowd, explaining that his own career was accelerated when he learned from a past error: passing on The Blair Witch Project when he was an acquisitions executive at Miramax.
"When I worked for Harvey [Weinstein] he never let me forget that I passed on Blair Witch," Blum said. "[That year] we bought a movie [at Sundance called] Happy Texas, which you've probably never heard of." So, when Paranormal Activity crossed his desk as a directing sample, he vowed not to make the same mistake again. Even though it had already sold to Anchor Bay for $150,000, Blum talked director Oren Peli into going for a bigger theatrical release. "Just let me try," he remembers telling Peli. "We signed our deal, played at Slamdance and everyone passed again. Two and a half years later it finally came out."
By now, Blum's model is well known: low-budgeted ($3 to $5 million) horror films with clever premises, strong characters and less-than-Hollywood levels of gore and VFX. "When you take away special effects, the toys, the director has nothing to focus on other than story and characters," Blum explained. "Story and character much more important than jump scares…. What you can imagine is much scarier than what you can see. And blood is expensive. "
And while many in the independent world associate "low budget" with "first-time director," that's not how Blum, who prefers to work with experienced directors, looks at it. "First-time directors should have bigger budgets," he argued, "because they don't know what [they shot] is going to wind up in the movie."
Low-budget producers often have their line producers budget out shoots in myriad rebate states, looking for the largest tax credits, but Blum says they should stay put in Los Angeles (or, presumably, New York). Rebate states attract so much production that it can be hard for a low-budget shoot to compete for crew with the bigger shows. And, he says, characters in his films are often mothers and fathers, and the actors who play them are usually also mothers and fathers. It's easier to get these actors to commit to a lower payday if they can go home and put their kids to sleep at night.
Blum recently produced the Sundance Grand Jury Prize winner Whiplash, and he credits the diversity of Glee and American Horror Story producer Ryan Murphy's work for inspiring him to broaden his own range of material. "He is all over the place," says Blum. "As soon as you figure something out and say, 'I am going to do this forever,' your business is done. You have to change things. I could never had made Whiplash five years ago. With each success I am trying to make different things."
One of the conversation's best exchanges came when Horn asked Blum if he saw "a dissonance" between the financial model of his films' production and their distribution. The films are usually budgeted below $5 million, with six times as much spent on their prints and advertising.
"I think about it all the time," Blum replied. "One of my goals when I talk to Universal would be to have a movie that everyone thinks should be a big release and to sit at a big table, run the models and decide that it is more profitable to go day-and-date. A wide release shouldn't always be the golden ring. The only way to solve the $30 million P&A problem is to collapse the windows." The demands of such huge marketing budgets are, he said, "pushing the best artists into television. True Detective wouldn't have happened eight years ago. Theatrical windows aren't doing us any favors."
A questioner asked Blum which he'd prefer: a higher Rotten Tomatoes score or $5 million more at the box office. That spun into a discussion of how Blum values his own films. "I look at all of the reviews," he admits, "but the measure of a good movie is not box office. Time is most important — are [these films] culturally relevant with time?
"I'm not trying to use these movies to get to a bigger place," Blum summed up. And while his choice of material will expand, he doesn't see the essentials of his business model changing. "There's an inherent hypocrisy in going to a studio and saying, "We need $100 million for a movie and then bitching about being told what to do. I choose not to produce big-budget movies. As soon as I am [the studio's employee that taints the conversation. I'm more comfortable working with the studio as their creative partner."