Back to selection
Adding Motion to "Stills" with Cinemagraph Pro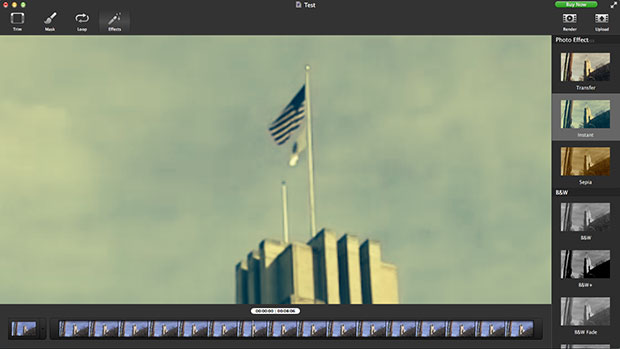 Cinemagraph Pro from Flixel adds motion to a still image. In essence you shoot a sequence of video, and then indicate the area of the image that you want to see in motion – perhaps just the hands of the subject of a portrait, or the water in the lake of a scenic picture. While the masked area remains in motion, the rest of the scene is totally still; the lack of motion draws the eye to the part of the image that is moving.
It's an interesting effect, and could be useful in video or film for dream sequences, special effects (it's rather like the magical photos in the Harry Potter movies) or for manipulating timelapses.
Cinemagraph Pro is available only for the Mac, and requires OS 10.9 or later. Creating a sequence is easy; import the video you want to edit, trim it (if necessary) then use a brush and eraser to indicate the masked area – the part that is in motion. You can choose any frame as the still image, or export the still frame, edit it and then re-import the image. The loop option lets you define the dissolve from the end of the clip back to the first frame of the clip. It's vital that you shoot the video on a tripod that is totally still.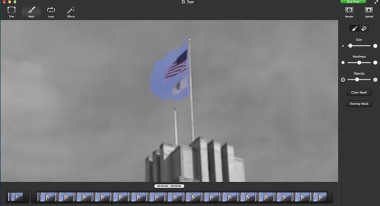 The program also has a number of visual effect presets to change the coloring of the sequence, and it supports UHD video.
Cinemagraph Pro is a fun tool, and while you could do everything in After Effects, it would take you much longer. It's currently a stand-alone program, but could be really useful as a plug-in for Premiere and Final Cut Pro if they were to offer that.
Cinemagraph Pro is normally $199, but they are offering a special deal of $14.99 until Thursday. At that price, it's worth getting.