Back to selection
Why We Are Discontinuing our Apple Newsstand Edition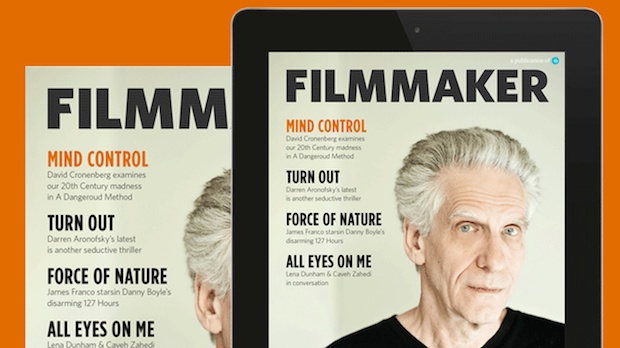 After almost two years of experimenting with an iPad-only edition in Apple's Newsstand, we have decided to discontinue this version of Filmmaker. The reason? Relatively few of you are reading it compared to our print magazine and website, and the cost of its production runs us a substantial loss. And that's money we've decided would be better spent on additional editorial content as well as new digital properties serving a platform-agnostic audience. (Meaning, something that can be read by you Android and Kindle readers too.)
With this announcement we want to make clear that all Filmmaker content is still available in digital form. Subscribers still have full access to print articles online, and we are continuing our Bluetoad digital edition, which reads fine on the iPad. This is the version available both as a separate digital subscription and as an add-on to all print subscribers. (Indeed, for the last two years we've been alone in offering our subscribers three separate ways to get our print content in digital form.)
When we launched our iPad edition, we believed a more slickly designed native iPad app would be a significantly better experience than the flipbook PDF-based version we've had since 2006. We've found the opposite, though. The flipbook edition is readable on all devices, allows for cut-and-paste, the downloading of the entire issue or just separate articles, translation, and search across not just a single issue but all back issues. For $10 a Filmmaker digital subscription gets you not only the next year's worth of Filmmaker but all back issues through 2007. From our subscriber feedback, we've learned that the benefits of this version outweigh the spiffier aesthetics of our native iPad edition.
We wanted to make this announcement a little earlier, but we've been trying to figure out how to deal with those of you who subscribed through Apple. You see, Apple doesn't share your subscriber information with us, so there's no way for us to contact you to offer a refund. Instead, you have to contact Apple and tell them we're discontinuing the product. Apple will give you a refund and they'll be in touch with us. For all other queries about this discontinued iPad edition, you can get in touch with our subscription office: subscriptions AT filmmakermagazine.com.
I'd be lying if said we weren't a little sad about discontinuing the iPad version. It did indeed look great. But the tablet market is fragmenting and the specific benefits of Apple's Newsstand — particularly in terms of discoverability — are becoming fewer. At a time when our web traffic has doubled and our print magazine holds its own in a tough marketplace, we have decided the cost of producing a product for an iPad-only audience doesn't make sense. We look forward, however, to telling you about various new initiatives in the near future.