Back to selection
"You're Really Just Talking to Yourself:" Beau Willimon, David Simon, Nate Silver and Anne Thompson on Audiences and Data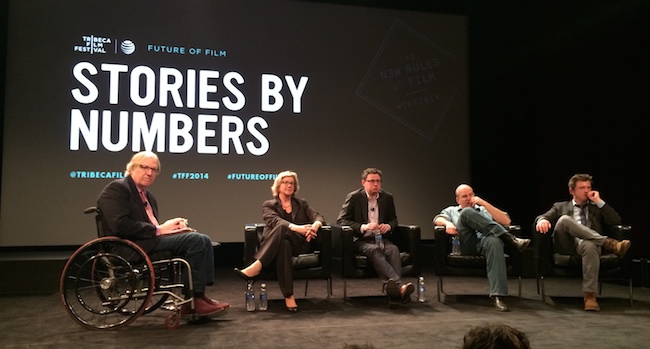 "There are two asteroids corrupting media," bellowed radio host John Hockenberry at the start of the Tribeca Film Festival's "Stories By Numbers" panel last week. The first, viewing patterns; the second, data streams. "Narratives," he opined, pacing before Beau Willimon, David Simon, Nate Silver and Anne Thompson, "are becoming indistinguishable from vices."
It's no secret that Netflix's limitless entree into consumer preferences has informed much of its success in the realm of original content. Hockenberry noted that big brother Sarandos can scrutinize viewing behavior down to its utter minutiae: "what people skip over, what sex scenes they replay, is all fed back into the storytelling process."
But Willimon, who as creator and show runner of House of Cards serves as the living embodiment of said asteroids, insists that numbers have no effect on his work. Not only does Netflix safeguard their data, but playing to its dictations, he said, "leads to pandering, which is the very antithesis of creativity." Reflecting on his path from playwright to harbinger of the new model of television, Willimon said that initially he had "the sophomoric idea of trying to reach other people," before realizing, "you're really just talking to yourself."
From a journalistic standpoint, Thompson argued the importance of readership recognition: "who is your audience and what do they like." Any blog owner can argue their integrity, but hits pay the bills, as she conceded to covering Robert Pattinson and other Twilight-related tidbits far more often than she would like. "You can't," she warned, "chase traffic with the up to date news breaks, because that's what everyone else is doing." Take time to craft your angle.
David Simon sided with Willimon in putting forth his belief that catering to audience demands is both didactic and restrictive. At The Baltimore Sun, he readily gleaned that readers sought gratification from hearing what they already knew, just as viewers of The Wire wanted more of Omar, in the exact same circumstances he was in last season. "Audiences want more of what they already like. We're entertaining ourselves to death," Simon scolded.
So what does it mean for the average creator? One who doesn't have a multi-billion — or at least million — dollar enterprise behind their back. The general consensus from the experts seems to be to stay true to your voice, but what do we do when data is capable of pre-engineering success? Is a gamble on creativity enough? Willimon himself may not be crunching numbers, but there's no denying that the built-in UK success story + topicality + Fincher and Spacey's involvement in House of Cards led to Netflix's investment. They did their research, covered their bases, and ensured its success. There are those rare breeds whose passions align with the masses', but what's in it for the data-less raconteur?