Back to selection
Of Sheep and Uggs: The 23rd Aspen Shortsfest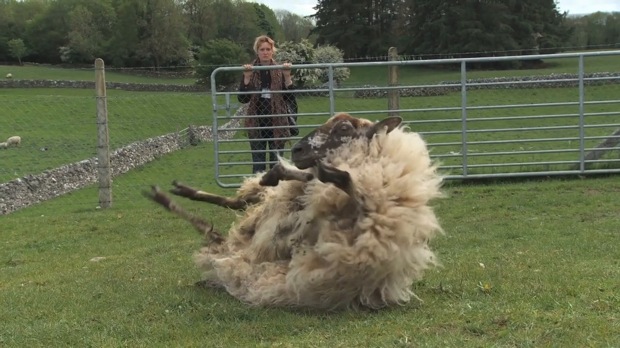 Lambing Season
Just as the snow began to melt, the sun began to shine and the mercury began to rise after a brutal winter in New York City, I hopped aboard a plane to Colorado to attend the 23rd annual Aspen Shortsfest. The festival takes place April 8-13 in the aftermath of ski season, when the snow on Ajax Mountain turns to slush and Aspen's high-end boutiques appear empty. The Wheeler Opera House gets packed full of seasonal citizens either at the tail end of their winter stay or just getting into town to prep for the summer rush. Though the festival has no market attached and finds itself in the middle of other shorts focused fests like Clermont-Ferrand and Palm Springs, Aspen Shortsfest offers a high-quality selection of 70 films culled from 3,000+ entries from 30 countries.
The morning after my arrival in the lovely little city, almost 8,000 feet above sea level, the temperature was 22 degrees. Thankfully, the brief taste of spring experienced in NYC wasn't enough to make me long for an immediate return flight. In any case, I would be spending most of my time not outside in the brisk ski town but inside a darkened theater for some of the world's best short films. While short film might be considered a niche interest, there's something intriguing about sitting down to a series of films that one knows nothing about.
It can sometimes be painfully obvious when a short is a student work. At Aspen, however, two of the best films screened were the culmination of the director's schoolwork. Highlighted with a Special Jury Recognition, Jeannie Donohoe's Lambing Season was her thesis for Columbia University's graduate film program. Shot on location in rural Ireland, Lambing follows a young American woman named Bridget (Breeda Wool) in search of the father she's never met. Her quest coincides with the area's sheep birthing season, the delivery of the little lambs paralleling Bridget's need to know where she came from. Any film shot on the green hills of Ireland is going to be infused with a sense of history and place, but thankfully Donohoe's story doesn't get sucked back in time; instead, she brings that ancient greenery forward into a modern story.
The Best Student Film Award winner, Sprout, came from South Korea's Ga-eun Yoon who attended the Korean National University of Arts. When little Bory (Kim Soo-an) sets off to buy bean sprouts for her mother, the slightest detours in her winding neighborhood transform her errand into a grand adventure. Cute child actors can make or break a film, feature or short. Thankfully, Bory doesn't leave the realm of piteously cute to head into annoying territory.
Netherlands screenwriter Thomas van der Ree was represented by two shorts perfectly capturing the ridiculous elements of today's obsession with technology. In 97%, directed by Ben Brand, a man gets an alert on his phone informing him a love match with 97% compatibility rating is riding in his subway car. His farcical quest hilariously reveals how we've gotten so reliant on technology that we'd much rather have a device tell us who to date than talk face-to-face with the smiling person sitting across from us. Directed by Joost Reijmers, Pony Place concerns a grandmother who agrees to care for her granddaughter's virtual pet horses. What begins as a courteous favor quickly turns into an obsession, and the juxtaposition of elderly citizens with technological gadgets makes for a surprisingly unpredictable tale. The short took home the Audience Award, which came as no surprise after the abundant screening laughter.
Uggs for Gaza director Brooke Berman was the new kid in town; Aspen was the first film festival the playwright had ever attended. Adapted from a short story written by her husband, Uggs inadvertently asks just how much good we are doing with our bizarre charitable organizations. At a pretentious Los Angeles get-together, a young man tries to impress a girl by claiming that he heads the titular non-profit organization. The amusing short follows the liar-turned-do-gooder on his undertaking to make the organization real, whether it's needed or not.
The best of the animated films in Aspen were aggregated from other prominent fests. Nicolas Devereaux's quirky 50 Meters 80, which won Best Animation at France's Dimension 3, follows sneaky giraffes that enjoy Olympic-style diving. Bernardo Britto's touching Yearbook won the Sundance Short Film Jury Award and wowed the Aspen audience with its subdued look at the end of days. Also from Sundance, Aspen's Animation Award winner was Joseph Oxford's Me + Her, a clever tale of cardboard boxes in love and an amazing feat in puppetry and craft.
A real festival turning point came towards the end. Before the Friday evening program began, Aspen Film co-director Laura Thielen appeared onstage to warn the audience that the Tomasz Sliwinski's documentary Our Curse featured a graphic scene of "a medical procedure." Someone faints at Shortsfest every single year, she said, and this time they were trying to preempt any possible unconsciousness. The film centers on Sliwinski's own family; he, his wife and their son Leo, born with a rare genetic medical disorder known as Ondine's curse. Through this slice of their difficult life we see Leo's first days home after three months in the ICU as his young and inexperienced parents learn to care for him. Sure enough, moments after the specified scene ended, a slight groan could be heard from the back of the house, followed by a loud voice asking if there was a doctor in attendance; 2014 had its fainter. A few audience members — no doubt doctors responding to the request — headed towards the man in need, while the rest turned back towards the screen, completely riveted by the film's emotional journey. I heard later on in the evening that another gentleman had fainted in the balcony at the same time. This is not to say that the scene Sliwinski's film was grotesque in any way. Perhaps the two fainters were just suffering from altitude sickness; that, or Aspen Shortsfest had another knockout year.