Back to selection
Paid Friends, Empathy, Inequality, True Detective, Garry Winogrand and the Impossible Stairwell: Sunday Morning Links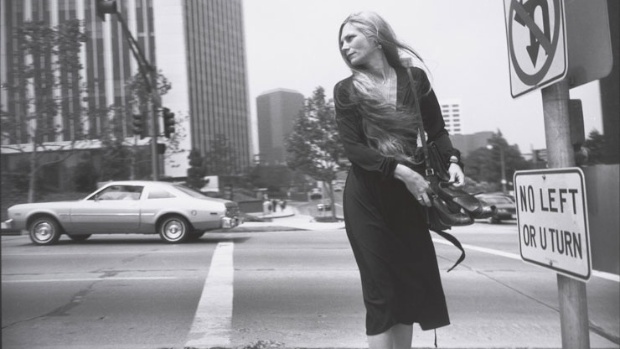 Garry Winogrand, Los Angeles, 1980–1983
Here's some of what I've been reading this week for your Sunday perusing pleasure.
At Vulture, producer Gavin Polone has developed into an excellent essayist. Here he is discussing the emotional complexities of a particularly Hollywood-type of relationship, the paid friendship:
While I'm sure that paid friends exist in many walks of life, I doubt they are as common anywhere else as they are in the entertainment industry. I've encountered many big-deal stars and directors with an entourage of assistants and development executives who have crossed the business-­personal line. Some were friends before they were employees. Others drifted the other direction. Doll & Em, the recent HBO show that's built around a paid friendship, reflects the perceived normalcy of such relationships by those in this industry. It is such a prevalent aspect of Hollywood life that it almost feels natural—although the most salient characteristic of paid friendships is that they're not natural at all.
I highly recommend Leslie Jamison's The Empathy Exams, a connected series of essays on diverse topics all related to pain, empathy, their meanings and the articulations they both produce and are produced by.
Here is Jamison at the L.A. Review of Books hailing Destin Daniel Cretton's Short Term 12 (this little snippet on that movie is, actually, a good indication of her approach in general):
But what made the film remarkable was that it didn't just produce feelings; it was also about feelings, about the pleasures and perils of powerful emotional response: how stories make us feel, and why they make us feel, and whether these feelings are useful — and if so, what their uses might be.
And here is Jamison interviewed by Eden Lepucki over at The Millions.
In the L.A. Review of Books, Alice Brolin considers Twin Peaks, Greil Marcus, Pretty Little Liars and True Detective in her "The Oldest Story: Towards a Theory of the Dead Girl." An excerpt:
Broadening the effect and the meaning of an individual murder is what the Dead Girl Show is all about. Investigating these murders essentially ruins Cohle and Hart's lives. When we see them in 2012, Cohle is gaunt and bedraggled, now a bartender who starts drinking at noon on his day off. Hart is off the force too and divorced, drinking again, and working as a private eye. How sad that these murders had to happen to them. The show's trademark is Cohle's laughably serious dialogue about the nature of the self and existence. He describes life as "a dream that you had inside a locked room. A dream about being a person." These ruminations recall Plato's Cave, in which the self is a prison that prevents true insight.
At Art.net, Benjamin Gennochio uses the excitement around Thomas Piketty to ruminate on inequality in the art world:
If being around creative, aesthetically minded, often visually gifted people is important to you, then the art world is the place to be—even if financially you are punished for it. Most artists and art world workers are at peace with the choice they have made: Lifestyle over income. For most of us worker bees in the art world, a degree of control over work and personal time is more important than, strictly speaking, earning money.

Most artists and art world workers are happy and willing to interact with the oligarchs and financial types because those people are the patrons who fund the exhibitions that help sell artworks. People in the art world understand the reality: Fundamentally it is a small wealthy elite that makes the wheels turn, supporting art museums and buying art, creating jobs so a whole lot of people like us get to do what we love. As has been for all time, it seems to me. No problem there.

The income inequality, whether growing or not, and which we benefit indirectly from, isn't so troubling as what I will call the "opportunity inequality" that has come with increasing stratification of wealth. Opportunity inequality means bigger and more voracious galleries, individual mega-artists and museums getting all of the money, and fewer chances to succeed for the young seat-of-the-pants galleries that have traditionally been incubators for new artists. At least that's how it seems to me it is shaking out here in New York. Which is why perhaps new opportunities are coming from different parts of the country—or different countries. Or different models, like these communal artist groups that pop up in various biennales.
At the Paris Review, Jesse Baron interviews My Struggle's Karl Ove Knausgaard, the autobiographical novelist who reveals that he burned his own teenage diaries when he was in his mid-20s. For him, that act was essential to finding the form of his celebrated, six-volume work:
Life develops, changes, is in motion. The forms of literature are not. So if you want the writing to be as close to life as possible—I do not mean this in any way as an apology for realism—but if you want to write close to life, you have to break the forms you've used, which means that you constantly have the feeling of writing the first novel, for the first time, which means that you do not know how to write. All good writers have that in common, they do not know how to write.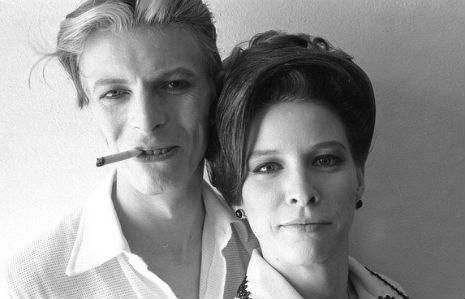 At Dangerous Minds, Paul Gallagher posts pictures from the set of one of my favorite films, Nicolas Roeg's The Man Who Fell to Earth.
In an essay published at Medium, Ash Huang discusses creative burn-out — how to identify it and how to protect yourself from it.
I'm greatly looking forward to reading Astra Taylor's The People's Platform: Taking Back Power and Culture in the Digital Age. Andrew Sullivan has rounded up a few reactions at The Dish.
When are movies like video games? When they subscribe to these six rules, writes Nick Schager at Esquire.
At HTMLGiant, Alexandra Naughton talks with Jeremy Hight, the creator of what sounds like a cool online project, Ethan Has Nowhere to Go. Rather than publish a short story in a literary magazine, Hight went digital, "killing the author" and allowing contributors to continue the project as films, poems and other texts.
At the POV blog, Tom Roston asks whether the spate of documentaries fetishizing depicting poor subjects and communities constitutes "poverty porn." But, don't worry, he has a solution:
So here's my proposition: Some foundation or non-profit should create a fund that supports communities in parallel with the creation of documentary art. The fund shouldn't help the actual subjects of the film, because that would encourage performance on their part and people might fall over themselves to make it into the documentary with the promise of financial reward – that's reality TV – but this would take filmmakers off the ethical hook and allow them to maintain their artistic standards.

You could call this a "poverty porn clean-up crew." That was how one foundation representative described my idea after laughing darkly at the prospect of filmmakers heightened their representations of bleakness in order to win funding.
Philip Greenspun points to the National Gallery of Art's website and the resources there tied to the museum's current Garry Winogrand exhibition. Of particular note is a video of Winogrand speaking to students at Rice University in 1973. He also links to this piece and collection of links about Winogrand from photographer Eric Kim. There are 11 lessons, including this one: "Smile when shooting on the streets." Winogrand mostly used a 28mm, which meant he was quite close to his subjects. Quoted is photographer Mason Resnick, who witnessed Winogrand at work:
Incredibly, people didn't react when he photographed them. It surprised me because Winogrand made no effort to hide the fact that he was standing in way, taking their pictures. Very few really noticed; no one seemed annoyed.

Winogrand was caught up with the energy of his subjects, and was constantly smiling or nodding at people as he shot. It was as if his camera was secondary and his main purpose was to communicate and make quick but personal contact with people as they walked by.
(Another of Winogrand's rules was to never crop; unfortunately, the limitations of our CMS prevented me from following that rule in the image above.)
"The Escherian stairwell" is the subject of a web series that, its creators were surprised to find out, intrigued viewers enough to send them journeying from miles away to Rochester, NY to check it out for themselves.
At Hazlitt, Linda Besner talks with the creator of the video, Michael Lacanilao. And there's now a Kickstarter campaign that explains more while pitching a larger version of the project:
We created a six-minute video last May, which accumulated a combined 20 million views, as a vehicle for introducing the stairwell to the public. While the video may give the appearance of being an awkward, amateur, clumsily made university production, it is actually a very carefully executed and scripted work of fiction, with actors that rehearsed for two months before shooting and an innovative special effect that took a year to plan. The result is a steadfast realism that leaves viewers wondering whether or not the stairwell is real!
Documentary producer Heidi Reinberg has recently left New York for L.A., priced out of her Brooklyn neighborhood. On an episode of WNYC's Death, Sex and Money podcast, "Brooklyn Left Me Broke and Tired," she says financial instability is the last taboo:
I think you can talk to your friends about sex. You can talk to them about depression. You can talk about health things — what are the other taboos? You can't talk about money. Money is the last taboo. And maybe I'm underestimating my friends, but nobody wants to hear that you're having a hard time making ends meet.
You can stream her sobering, honest interview below.
Meanwhile in Los Angeles, "Anonymous in L.A." pens a powerful essay for Boing Boing on his and his wife's financial struggles there. They are both writers; he does ad copy, she wants to work in TV. He fears, however, that the profession of "paid writer" is vanishing. He says he and his wife's "boat is leaking badly." From "Going Broke in L.A.":
We aren't alone. About a half-million people are unemployed in Los Angeles County right now, and if you zoom out to include all of L.A., the number is much higher. While SoCal unemployment usually gets reported at around 10 percent, freelancers — who, like other kinds of workers, aren't included as part of the stats — understand the figures to be more accurately double that. Or worse.

Unique to Los Angeles, however, is an unprecedented degree of denial. Nobody talks about it. Many of our friends — Ava, Dawn, Russ, Mike; all the names in this article have been changed — are in the same boat. We meet up at cafés, nurse our decaf, try to avoid each others' haunted glances. It's not going to stay like this, we reassure one another. Something will change.

But it hasn't, and potential employers fall into two categories: Either they talk a good game, like we do, with calm assurances that "things are getting better" and "just about to break open," or they flat-out ignore you, even if you've done good work for them in the past. It's part of the dominant culture here. Whether by silence or prevarication, no one wants to be the bearer of bad news.