Back to selection
Legendary Producer Marin Karmitz on Great Directors, Producing, and Why Money is Never the Real Problem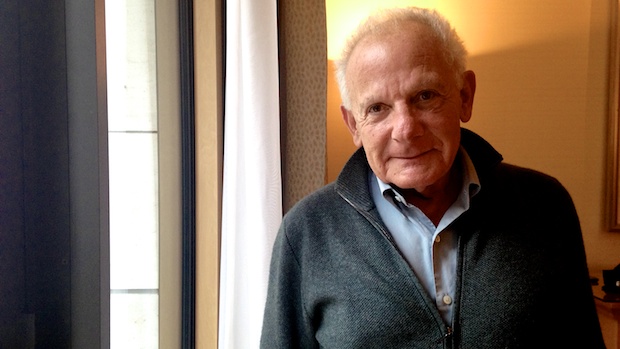 Marin Karmitz
Combining taste, business savvy, and enduring idealism for the role cinema can play within the broader culture, legendary producer, distributor, director and exhibitor Marin Karmitz has helped shape the course of world cinema since launching his MK2 Films in the early 1970s.
Beginning his career as an assistant director to, among others, Jean-Luc Godard and Agnes Varda, Karmitz went on to become one of the most distinguished producers of his generation, with such classics as Kieslowski's Three Colors trilogy, Jean-Luc Godard's Every Man for Himself and Claude Chabrol's Ceremonie to his name. But his list of producing credits only tells half the story because Karmitz expanded MK2 into distribution and exhibition, creating a stylish chain of art house cinemas, whose graphic design, architecture and urban practices reinforced, not detracted from, the cultural values of the films on their screens.
On the occasion of MK2's 40th Anniversary, MoMA's Film Department, supported by the Cultural Services of the French Embassy, is premiering a "Carte Blanche" series of work produced by Karmitz at MK2. Opening tonight, June 5, with Xavier Dolan's Tom at the Farm, the series goes on to include work by Kieslowski, the Taviani brothers, Theo Angelopolous, Gus Van Sant, Lodge Kerrigan, Alain Resnais, Godard and, with his '72 feature, Blow for Blow, Maritz himself. (A complete schedule can be found here.)
The series also includes several special events, beginning on June 6 at the FIAF with a tribute featuring the world premiere of a documentary on Karmitz, A Life at the Movies, followed by a discussion with critic Eric Hynes. On June 8 at UnionDocs will be a screening of Karmitz's short, Nuite Noire, Calcutta, written Marguerite Duras and starring Maurice Garrel. Elisha Karmitz director of MK2 Agency will discuss MK2 expanded cinema projects followed by a cocktail reception. Karmitz is also a noted photography and art collector, and on June 9 at Invisible Dog in Brooklyn there will be a conversation with Karmitz and ICP Chief Curator Brian Willis.
In our conversation I focused less on biography and more on Karmitz's philosophy as a producer. To what practices and ideologies does he credit his long and successful career collaborating with so many great directors to? Find out below.
Filmmaker: I want to start by asking you not how you became a producer, but instead, why do you think you're a good producer? What are the characteristics of your personality that are particularly conducive to being a producer?
Karmitz: I don't know if I am a good producer. I have tried to become one. I tried to become a producer for two reasons. First of all, when I was myself a film director, I really felt a lack of a good producer. Meaning, there was nobody I could discuss the birth and the future of the film I was currently making with. And when it became obvious that I wasn't going to be a film director anymore, I decided to become a producer and to do for others what I wish had been done for me. And the second reason is that it pertains to one of the first films that I ever produced, which is Jean-Luc Godard's Sauve qui peut (la vie). The film was a terrific commercial success. Once we finished that film, we were setting in motion plans to make a new film together, and at that point, Jean-Luc said to me, "You're not a good producer." So I was very hurt, first of all, but it also led me to ask myself the question, "What is a good producer?" And it took a long time for me to find the answer to that question. In fact, it took 20 films to become what I thought might be a good producer. And we're talking about 20 films that swept up tons of awards and were shown internationally, but yet, I still knew that I was not being a good producer.
Filmmaker: And what happened on that 21st film?
Karmitz: It was Alain Resnais' film, Mélo. It was a very difficult film to produce. No one wanted to touch it. And the key to making that film in collaboration with Alain Resnais and the rest of the crew was to somehow transform the constraints into freedoms. So rather than saying, "We don't have the money, we can't make this film," the solution was every step of the way was to find the answers that would allow us to make the film that Alain Resnais wanted to make, and in the way that he wanted to make it. Meaning, it was no longer money in power, but really "imagination in power." [A May '68 quote.]
Filmmaker: Do you think that is what Godard wanted when he said, "You're not a good producer?" Or, was it something different?
Karmitz: The answers wherever Godard is concerned are often very complicated, so I would rather not speculate on what his thoughts were. He's a very contradictory person. Though, several years later, he did come back to me and ask that we make a film together again.
Filmmaker: Are you a very similar producer with different directors? Or, do different directors draw different things out of you as a producer?
Karmitz: I think that every film — at least certainly the films that I like to make, the auteur films — is different. You can't have a pre-established formula when you do any one of those films. Every time, you're making a prototype, and every prototype, as you know, is different. But there are some guiding principles that will always remain the same. The main principle is how to make the best film possible. So applying these thoughts specifically to the filmmakers I've worked with, who are some of the greatest filmmakers of my generation, that approach requires respecting their individual personalities and wishes. Another principle is how to transform the constraints — and there are constraints every time you make a film — into freedoms, because I believe that you can't have freedom without constraint. And that's a very complex and important idea.
Filmmaker: Is money most often the constraint, or are there others?
Karmitz: Obviously there is money, that's important to talk about. If you don't sort of throw yourself head into the problem of money, then you can't talk about all the other constraints. But imagine you have all the money that you'd want — and those cases do happen. Imagine you have $20 million, $50 million, $100 million, that you're granted that budget. Because you were given that sum of money, you are going to have to apply constraints to the situation, because it's impossible to be faced with that kind of situation without constraint. You'll always be asking for something more. [The director will say], "Today, I don't want to shoot, so I'm not. I'm not going on set."
Filmmaker: That never happens in America.
Karmitz: You say it never happens?
Filmmaker: It does not happen very much.
Karmitz: Or, "I no longer want this DP. Let's change."
Filmmaker: That does happen in America.
Karmitz: "I don't want this actor. I can't work with him. We need a new one." "The set, you have to build a different one." It's part and parcel of something that's an endless problem. So I think that the problem of money is really a false problem. What's key is the desire to make a film and your ability to follow through on that desire and make the film and to convince others to come on board the adventure of the film.
Filmmaker: Out of the many directors you've worked with, who are ones who particularly challenged you as a producer?
Karmitz: All the great filmmakers I've worked with, or at least the ones I consider to be great, have presented that challenge. We don't have enough money to make the film, or at least not enough money to make the film to the best of our abilities. I'll give you some examples. The first film I made with Chabrol, nobody wanted to touch it. The film is called Poulet au vinaigre in French. Chicken and Vinegar. I was interested in the script, so I said, "I want to try and do this film." So I look at the screenplay and I realize immediately that the film is going to be two hours and 15 minutes long. So I tell Claude two things. The first thing is, "The screenplay goes on for too long, and if you can tighten it, you'll make a better film." And then, the second thing is, "We need to make this film for cheaper. And if you tighten the screenplay, that eight-week shoot suddenly can become a six-week shoot, and I can raise that kind of money." What I didn't say to him was, "We can shoot this screenplay [as written] in six weeks instead of eight." [I said], "We're going to work on the screenplay and then shoot the film in six weeks. We'll cut before we go on set, rather than after." And Claude found that kind of work very amusing. He asked me, "What's the average cost of a French film nowadays?" And I can't remember now what at the time the sum was, but Claude said, "Okay, I am going to make this film for half the cost of the average French film nowadays. I'm going to show young people how you make a movie." And so, we made the film for half the cost. That's one example.
I'll give you an example of an experience that wasn't so positive. I worked with a young filmmaker called Abdellatif Kechiche, and a similar thing happened. He gave me a script that was too long. I had the same conversation with him that I had had with Claude Chabrol on his film, and with Alain Resnais too [on Melo], for that matter. So he said, "Fine. I'll make the cuts, and I'll rework the screenplay, and I'll come up with a film that's shorter than two hours. And I'll be within the budget." And he gave me a three-hour long feature [Black Venus] $5 million over budget. And so, when I tell him, "This isn't good, you need to rework this," Abdellatif Kechiche starts writing insulting letters to me on a weekly basis.
Filmmaker: You are somewhat unique as a producer in terms of having a more holistic approach to your career involving production, distribution, and exhibition. Could you talk a little bit about how each of those influence the other?
Karmitz: The starting point is always the film. It's always the content. The problem I ran into with the films I directed myself is that making the film is only part of the process. What's important is then showing the film. That's how you go to bat for your film — where you show it. And that's how I came to become a distributor and also [owner] of movie theaters. It was a way to defend the films. In the press, I've often called myself a film editor/publisher — somebody who sells films. And by that, I mean that I was a midwife. That's why I used the word editor. I'm not the mother and I'm not the baby. I'm the midwife who really helps the mother give birth to the baby. That work happens before the whole gestation of the film, to make sure that you're going to arrive at the best possible result. And the second stage is very important, the second developmental stage, which is that once the baby is born, you then need a pediatrician to help the baby grow and help it become healthy. It's a different role, but it's all part of the same work, and that's when you start dealing with the poster, the previews, the festivals, the distribution, the screeners and everything that goes around the film. The problem is that there's often a separation between those two roles: the baby is born and then you sort of wash your hands of it and somebody else takes on those problems. There's no continuity. And that's very dangerous for a film, because what you're doing is putting something that is key to the film's continuity and its future in somebody else's hands. But you have to know movie theaters. You have to know who to talk to. You can't just finish a film and expect others to take care of it. So then, the next issue that was raised is dealing with the distribution side of things with your company, with your crew, your team members. But what was important to me was the cinemas themselves. The cinemas had to represent what was being said by these films that I was producing. And so, I adapted the movie theaters to the films, and not the films to the movie theaters.
Filmmaker: What did that entail?
Karmitz: For example, all the first films that I worked on were different. They were new. They sort of stood outside of the norm of production at the time. They were films that really required an audience to be in tune to them, to be open to them — an audience that was sort of prepared to welcome them. The first screen, the first movie theater I opened 40 years ago, I tried to think differently about the architecture itself, of the space. I went into a very working-class neighborhood, where all the cinemas were porno cinemas or karate cinemas. I made the conscious decision to only show films that hadn't been dubbed, films with subtitles, in their original versions. And audiences, of course, were not used to seeing films in that way. So they had to be taught in a way to read cinema. And I created theaters where there wasn't just another screen but rather all disciplines colliding. There were exhibitions, concerts, and debates presented by the bookstore.
For example, one of the first films that I distributed was a Bolivian film about miners and their struggle. And I brought together 10 painters, young painters, and I showed them the movie and asked them to come up with an illustrated response to the film, something that we could reproduce very easily and make lots of copies and sell for a dollar. I showed films about psychoanalysis, and we would sell textbooks and books about psychoanalysis. Or, we would have an exhibition of Raymond Depardon's photos and the series he took of the mental asylums in Italy. And when Pinochet came to power in Chile, we showed Chilean cinema. We had Chilean musicians, who were in exile come over and play every night. And that's how we created a different way of watching films. Certainly, it was the first time that you had a bookstore in a movie theater. And this was 40 years ago.
Filmmaker: What do you think is needed today in order to preserve a kind of author's cinema, a kind of auteur cinema when it comes to distribution and exhibition? Different ways of seeing a film — whether it's in the theater, or at home, or on a phone — is a big topic of debate in the U.S. Do you think the kind of theatrical experience you are discussing, one that is connected to a broader culture and which provides the sense of an event, is still needed when it comes to art house cinema? Or should we be adapting to the world of electronic devices and people watching at home?
Karmitz: I think it's really [about] giving people a reason to get out of their house. And I think cinema needs to be more festive, celebratory than it is now. Which is why I think it needs to go beyond the movie theater itself. I think we're talking about a place where you can go by yourself with your family and spend a whole day — watch a film, read a book, eat something. I'm talking about the whole experience. And what we're hitting up against are issues of architecture, issues of urban landscape, and that brings us to a new conception of cinema. I think we have to reconnect with what cinema started off as being with Lumière and Méliès — sort of a cinema that was really connected to life itself, a moving cinema, almost like a fairground cinema.
Filmmaker: Do you feel technology is changing cinema in a fundamental way?
Karmitz: It doesn't have an impact on the content of the films themselves. Technical progress allowed Chabrol and Godard to make films in a different way, and to rethink the language of cinema. Handheld cameras, hypersensitive film, direct sound — they really propelled the history of cinema. The advent of digital, which is, you know, another form of progress in cinema, in my opinion has not really propelled the history of cinema. It has not massively changed the history of cinema. Two opposing examples of this: [Kiarostami's] Ten could not have been made without a digital camera. And it's a camera that I personally went and bought in the shop next door [from my office]. And I think that's a film that really completely moved forward the history of cinema. That's an example of the use of technological progress to really tell a story. On the complete other end of the spectrum, you have a movie like Avatar. Both of these projects were advances, you know?
But, on the whole, I think filmmakers use digital because it's easier and it's cheaper. I think some of the milestones that have happened [involve] the projection of films. One of the most common problems with 35mm prints is that within a few weeks the copies would be damaged. Now, you can watch films that aren't damaged. That's not too bad. And it's much easier to subtitle films. It allows a lot of flexibility with projection. I remember walking to the station with reels and, you know, that's 30 kilos you gotta lug around. I have actually shown a film that lasted 17 hours. You can imagine how heavy that film was! So all of these are benefits. At the same time, no one's really worrying right now about how we're going to preserve the memory of cinema and what's going to become of film. Or other ways to use digital better than we do at present. So there are pros and many cons.
Filmmaker: I want to ask you about the role of the filmmaker today, particularly the auteur filmmaker. I find that many people who are making speciality films in America seem to start from the position that they are marginal figures. Someone like Godard, however, also positioned himself as speaking directly to a larger culture. What do you think is the role of the filmmaker today in terms of addressing that larger culture?
Karmitz: What you're asking me really is what's the role of the artist nowadays?
Filmmaker: Yes.
Karmitz: And we're talking specifically about artists, because you can also be a film director and be a mere illustrator.
Filmmaker: Yes.
Karmitz: For me, the difference between an illustrator and an artist is an artist invents not only the content, but the language. So first of all, before you invent something new, you have to know what has come before. I'm very struck by the fact that many young artists don't know the history of cinema and just quite simply haven't watched the films. They think they're inventing, but they're not inventing. They're sort of doing it less well. It's problematic. So it starts off really with the schooling and working on knowledge. The second thing is an artist is necessarily in the margins because an artist is creating things that are new, and so, they are opposing themselves to what is already there. The difficulty then becomes that the artist can not be marginalized and remain stuck in the margins because then he will cease to exist. That's why I thought I had a role to play. And my role was to facilitate and nurture, to organize the artists' passage towards the center. Allowing them to become known in their neighborhood, their country, the world — allowing them to bring a stone to the house of cinema, and most of all, to be able to continue to work. That's my role and that's what ties in those other roles we were discussing: producer, distributor. The main difficulty is that once an artist gains recognition, that's when you have to make sure the artist doesn't get too lost in the center of town. Once he goes to the center of town, you need to sort of bring him back to the outside. So to give another example, and also, to not offend a number of film directors, how do you get Jeff Koons back to Italy?
Filmmaker: Is there anything you'd like to say about the MoMA selection?
Karmitz: I really let MoMA choose whatever films they were interested in, and I suppose the one thing they all had in common was that I produced them. I've often worked with one film director many times, but I've also worked differently with a vast number of film directors. I'm loyal and disloyal at the same time.