Back to selection
IFP Announces Theatrical First Runs and Narrative Lab Fellows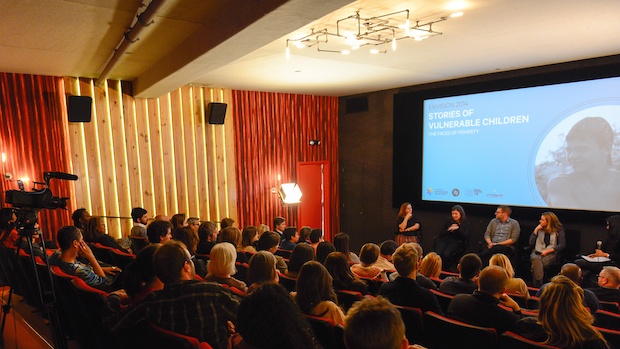 The Made in New York Media Center by IFP.
In addition to the ten projects and filmmakers named 2014 Narrative Lab Fellows this morning, IFP, the parent organization of Filmmaker, also announced that they will offer one-week, theatrical first runs for IFP alumni, members and others at the Made in NY Media Center by IFP.
Since the popularization of self-distribution, many filmmakers have squandered good resources on four-walling for the sake of that New York Times review. IFP's decision to open up their screening room for submissions (come July) offers filmmakers a built-in curatorial buzz. As noted in the release, IFP will begin the initiative in the fall with the theatrical runs of three IFP Narrative Lab Alumni and will assist filmmakers with "comprehensive audience engagement and grassroots outreach strategies, assist with publicity, and offer a revenue split to all participating filmmakers."
Speaking of the Labs, the 10th edition's lineup can be found below. Mentors for the post-production workshop process include IFP's Amy Dotson and Dan Schoenbrun, Filmmaker's Scott Macaulay, filmmakers Eliza Hittman, Hannah Fidell, Jonathan Lisecki, Mike Cahill, Shaka King, Kat Candler, James Pondsoldt, Debra Granik and more.
2014 IFP Narrative Lab and Lab Fellows:
Beatbox
A down-on-his-luck musician charts a new path when he is introduced to a group of Brooklyn beatboxers. Fellows: Andrew Dresher (Writer, Director), Chip Hourihan (Producer), Jon Furay (Producer), Chris Branca (Editor).
Christmas, Again
A lonely Christmas tree vendor tries to salvage his holiday spirit as a mysterious woman befriends him. Fellows: Charles Poekel (Writer, Director, Producer), Clare Paterson (Co-Producer).
Embers
In the near future, survivors of a global epidemic are plagued by a debilitating symptom of the disease – double amnesia. Claire Carré (Writer, Director, Producer, Editor), Charles Spano (Writer, Producer).
Only a Switch
James saves Emily's life and they instantly fall in love. Emily's father leaves James with a decision that will change his life forever. Michael Vincent (Director, Writer, Producer, Editor), Chadd Harbold (Producer, Cinematographer), Jenn Wexler (Producer).
Out of My Hand
A struggling Liberian rubber plantation worker risks family, hearth and home to discover a new life as a Yellow Cab driver in New York City. Takeshi Fukunaga (Director, Writer, Editor), Donari Braxton (Producer, Writer), Owen Donovan (Director of Photography).
Some Beasts
Soon after a young man moves to rural Virginia, he finds that life in Appalachia can be more savage than the world he left behind. Fellows: Cameron Nelson (Writer, Director, Producer, Editor), Courtney Ware (Producer).
Songs My Brothers Taught Me
Songs My Brothers Taught Me explores the unique world of South Dakota's Pine Ridge Indian Reservation through the eyes of Jashaun, a young spirited Lakota girl, whose faith in her family and community is tested when her brother Johnny threatens to leave the only place they've ever known. Chloé Zhao (Writer, Director, Producer), Mollye Asher (Producer), Umar Riaz (Editor).
Take Me to the River
A teenager's plan to come out at his family reunion gets derailed when a bloodstain on his cousin's dress makes him the suspect of abuse. Fellows: Matt Sobel (Writer, Director, Producer).
Those People
A young painter is torn between a lifelong obsession with his infamous best friend and a promising new romance with an older, foreign pianist. Fellows: Joey Kuhn (Writer, Director, Producer), Kimberly Parker (Producer), Sarah Perlman Bremner (Producer), Sara Shaw (Editor).
The Wild
Two unlikely computer prodigies must team up to discover the truth behind their mutual friend's mysterious suicide – leading them down a dangerous and revelatory path. Fellows: Carleton Ranney (Writer, Director), Rebecca Rose Perkins (Producer), Joe Stankus (Producer).