Back to selection
Acts of Rebellion: The Dialectical Cinema of Nadav Lapid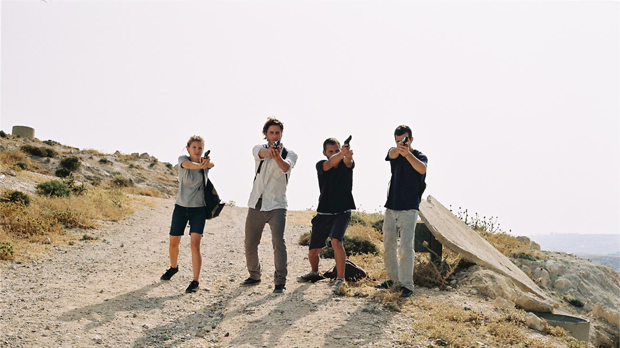 Policeman
In Sergei Eisenstein's seminal essay "A Dialectic Approach to Film Form," the Russian filmmaker lays out the foundational theories for his radical political cinema. "Art is always conflict," he famously writes. "(1) according to its social mission, (2) according to its nature, (3) according to its methodology. According to its social mission because: It is art's task to make manifest the contradictions of Being."
Israeli auteur Nadav Lapid may not adhere to Eisenstein's aesthetics of montage, but he appears to be directly influenced by the Russian's dialectical philosophy of art. Lapid's astoundingly assured two feature films, 2011's Policeman (opening this week in New York), and 2014's The Kindergarten Teacher (which premiered in Cannes), are both marked by stark oppositions — between law and order, poetry and materialism — and the combustible reaction when these two opposing sides collide.
A graduate of philosophy at the University of Tel Aviv and Israel's prestigious Sam Spiegel Film & Television School, Lapid has emerged in just a few short years as one of international art cinema's most promising newcomers.
After winning a jury prize at Locarno, Policeman, the bifurcated story of an elite counterterrorism unit who confront a group of anti-capitalist Israeli revolutionaries, won 15 awards at festivals around the world. The film's unique structure — the first half is about the police; the second about the terrorists — is just one of its many skillful constructions. The Kindergarten Teacher, which premiered as a Special Screening in Cannes' Critics Week sidebar, is another precisely conceived and intricately photographed film, about a young teacher who becomes obsessed with the poetry of a 5-year-old pupil and sets out to protect him from a father and society that are too superficial to appreciate him.
Filmmaker recently spoke with Lapid about dialectics, dancing, the "Israeli sickness," and the ways in which his characters are both trapped by and resist his confining camera.
Filmmaker: As an American viewer, I see a strong critique of contemporary Israel in both films, but you can also say that both films are criticizing materialism or the bourgeoisie, more generally. So do you feel like you're attacking Israeli society as much as global trends?
Lapid: When I was traveling with Policeman, whenever I arrived to a place to show the film, there was a wave of upheaval of social protest. When I arrived in New York for the film festival, there was Occupy Wall Street; when I arrived in London for the film festival, there was a huge riot; when I arrived in France, all these people were living in tents; and in Israel, one week before the film was released there was this huge social upheaval.
So I think there's something that goes beyond Israel. It's a tale of a certain angle of humanity. But I think there's something very physical about my films. Being shot in Tel Aviv and Jerusalem, with the light of Tel Aviv and Jerusalem, and the bodies of Israelis and how they talk, and the fact that I'm Israeli, it creates this mix between the most general, and the most concrete, the most large and the most precise — and the precise is this Israeli precision. Regarding The Kindergarten Teacher, the tragic relationship between materialism and poetry wasn't invented in Israel. But I think there's something about Israeli society — maybe because it's new or it's recent, and there's the lack of traditions — I think you can more easily observe phenomena and ways of thinking where other places are more hidden or covered.
Filmmaker: Both films are marked by these dialectics, police vs. revolutionaries, materialism vs. poetry. What are you, a Marxist?
Lapid: In The Kindergarten Teacher, maybe in Policeman, too, there's this dialogue between the low and the high, even in the editing. There's a moment of grace, then a moment of humiliation, there's something pure and then something filthy. This is the Marxism of existence. From this point of view, it goes beyond the political dialectic. This is, in a way, our attempt to say something meaningful and our incapacity to fulfill this wish. For example, in both films, the radicals' rebellion is to fight against the spirit of time. They go to war against something that other people would call normal life. And in going to war against a society that sanctifies profit, gain, richness, materialism, they suffer for it. They both suffer from the same diseases they try to heal, which is always the tragedy, and the inevitable destiny of the one who goes to war with his time.
Filmmaker: You mention the specific bodies of these Israelis and I was reminded of these very physical dance scenes in both films. I think they function wonderfully, not just as an expression of the characters, but there's this release, cinematically. Can you talk about the conception of those dance scenes?
Lapid: In The Kindergarten Teacher, I can think of three dances. There's the dance of the soldiers; the dance of the kindergarten teacher in the bar; and the dance of the kid. And in Policeman, there's the dance of the policeman in front of his wife. Basically, I think in both films the main action the characters are doing is to declare themselves in front of the camera. It's very clear in the way they talk, in the way they're shot. They're declaring their existence: Look at us, we are who we are. From this point of view, the dance is a marvelous way to present yourself, especially when the camera is static and the character moves from left to right. It's a powerful existential declaration. In The Kindergarten Teacher, it could be a form of liberty, especially when she dances alone. But it's also a dance of detachment. There's something desperate about the fact that this is the only moment where she is liberated.
Filmmaker: In terms of declaring yourself to the camera, you have a couple of shots in The Kindergarten Teacher where the characters actually hit the camera. Was this something intentional by design or something that happened that you decided that you liked?
Lapid: It was intentional. The first time it happens is in the opening. I liked the idea that the film begins, in a way, with a mistake. It begins with something wrong, so people think, "Why didn't they cut? Because they didn't have a better take?" It's going against this artificial perfection of cinema, where everything is being done so well. In Policeman — and here's the difference between the two films — there's this frontal, almost naked work of the camera. Everything is direct and frontal, and the frame is their prison, in a way. Also, the frame of Policeman reveals the incapacity to break this game of destinies. In The Kindergarten Teacher, there's a game between order and chaos, where the kindergarten teacher is trying to find order in chaos, and enforce order upon the world. She lives in this hierarchical world, where the good ones are appreciated, and the bad ones are despised, where vulgarity is blown away and the only thing that exists in this utopian paradise is poetry. But the world, of course, is much more complicated. But the characters refuse to accept this order, so they get too close to the camera or they attack the camera or they go to the sides of the frame. It's also a battle between the limits of the frame and the center of the frame.
Filmmaker: You do have such a strong almost confrontational sense of framing in both films. Do you see your aesthetic in dialogue with other films or filmmakers?
Lapid: I watch a lot of movies before I shoot my films. And I have my inspiring filmmakers, Carlos Reygadas or Nuri Bilge Ceylan. But I don't think my films resemble these works. Maybe because I see too much, it's like a mixture. For me, my main aim in watching a lot of fascinating and intriguing films is not to take something from them, but there's this danger of reducing the frontiers of your thinking, or falling in your filmmaking to a kind of mechanism. So, in general, for me, there's so much yet to discover in cinema.
Filmmaker: I know you've been asked this question before, but I want to ask it to you in a different way. Do you think you'll make a film with Palestinians in it? Because, of course, they are hidden in both of your movies.
Lapid: Maybe. I'm completely against these rules, like the oppressor can't talk the language of the oppressed. I don't believe in it. Of course, if you're an Israeli director and you make a film about Palestinians, you are in great danger of falling into all kinds of complicated traps. And you should be really highly intelligent and conscious. But theoretically, why not? One of the liberties of cinema or art is that you can do anything.
Though I think Israelis have a tendency to discuss anything but themselves in a deep way. It's like they talk about the rise of the right wing in Europe, or they analyze Le Pen for hours without being conscious of the fact that our Prime Minister is not that different from Le Pen. So I think it's problematic for Israeli filmmakers to show Palestinian society when they would better focus on their own. For me, one of the fascinating things is the collective soul of Israel, the actual state of things which is found in the depth of the everydayness. I'm much more interested in dealing with this Israeli everydayness than to go to look for stories in a refugee camp in Nablus.
Filmmaker: Both films also feel very hermetic. It is almost like they're trapped in their little worlds, and they don't have room for anything outside of that.
Lapid: I think it's something that characterizes the biggest sickness of Israeli society. I believe that Israel society has developed a hermetic way of looking at the world, and it justifies everything, like we are the victims, and we are in permanent danger, and it creates a perfect order. I don't want to be too political, but this way of looking at the world is completely stupid and crazy and detached from reality, or at least , very superficial, but at the same time, it makes life easier. So Israelis don't really love to mix.
Filmmaker: Are you working on another script now?
Lapid: Yes, I am in the advanced stage of a script that takes place in Paris. It's the story of an Israeli guy who decides to leave Israeli to heal himself from the Israeli sickness and to become French.