Back to selection
Lodge Kerrigan, Amy Seimetz to Direct Starz Series Based on Soderbergh's The Girlfriend Experience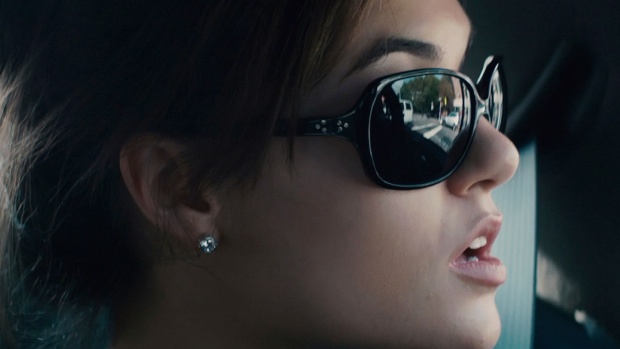 Sasha Grey in Soderbergh's 2009 The Girlfriend Experience
Independent filmmakers Lodge Kerrigan and Amy Seimetz will write and direct a Starz cable series, The Girlfriend Experience, based on Steven Soderbergh's 2009 film. The two also executive produce along with Soderbergh and Philip Fleishman. In Soderbergh's feature, Sasha Grey starred as a high-priced escort providing a "GFE" — emotional intimacy along with sex.
The new series will consist of 13 half-hour scripted episodes.
Soderbergh and Kerrigan have worked together before, with the former producing the latter's Keane. And Seimetz, director of Sun Don't Shine, was one of four filmmakers cited by Soderbergh at his 2013 San Francisco Film Society keynote speech deserving of wider support. Fleishman, a writer, director and producer, and Soderbergh go even further back; he produced Soderbergh's Yes concert film in 1985.
From the press release:
"We're in an exciting period of auteur-driven television right now," said Executive Producer Steven Soderbergh. "When Philip floated the idea of a Girlfriend Experience-inspired television show, I thought: 'let's make it a different woman in a different city, let's pair two independent writer/directors, one male and one female, and let them do the whole thing.' I've known Lodge for 20 years and I became a fan of Amy's when I saw her first feature last summer. We went to Chris Albrecht because he and I have been trying to find something to do together since we did K Street 11 years ago. He responded without hesitation to both the idea of the show and the approach."

"We're excited to work with Steven and Philip to develop this anthology series that takes viewers into a world where intimacy has a price. We were captivated by Steven's exploration of a story where emotional consequences arise, surprising and complicating the lives of both the clients and the professional 'lovers,'" said Carmi Zlotnik, Managing Director of Starz. "This series gives Starz an opportunity to work with some of the most talented independent filmmakers of today, and craft a cinematic exploration into the hearts of relationships – in line with the original film."

"Many of these women are extremely accomplished," said Executive Producer Philip Fleishman. "They range from musicians in major orchestras to PhD candidates in the sciences and often feel empowered by the control and economic freedom their work as GFE's affords them. The question is whether they define a new genus of contemporary relationship, or have relationships always been transactionally based in one form or another?"