Back to selection
Johnny Ma at the Sundance Directors Lab, Part 2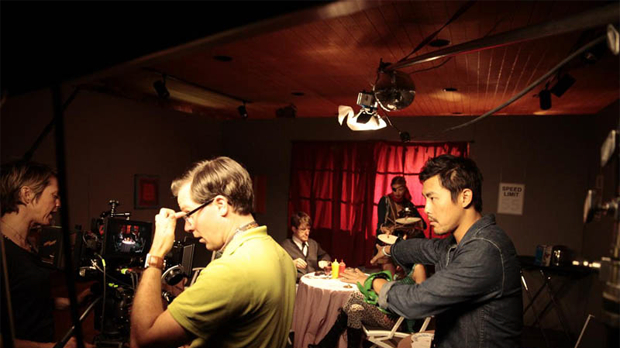 Johnny Ma on set (Photo by Ryan Johnson)
[Johnny Ma's first blog post can be found here.]
The day after the Sundance Labs ended, a group of fellows, advisers, and Sundance staff all walked off the plane together at LAX. Instinctively, we kept close to each other as we edged toward baggage claim, as if trying to stay together a little longer before the real world pulled us apart.
It felt strangely like reaching land after using sea legs for so long, but the big discovery being that the sea is actually our natural habitat. Walking through the airport, we couldn't help but look around at the faces of people waiting, eating, reading, and sleeping. We hadn't been around this many strangers in over a month now. We felt odd: wobbly, and a little high. A close friend of mine would say it was like a six on the drunken scale of ten.
At the start of every Screenwriters Lab at Sundance, the documentary Waldo Salt: A Screenwriter's Journey is screened for all the fellows. In the words of Mr. Salt, "There is absolutely no excuse not to write each story the best it can possibly be." As we all found out, Sundance, aka "the mountain," is the natural habitat for this exact motto. On the mountain, the world of our stories, that has lived for so long alone in our own minds, is given the chance to be born and stand on its own two feet, even if only for a short period of time. Guided and supported in the safe circle of the Sundance staff, advisors, and crew, we are pushed to confront the holes in our stories and weaknesses in ourselves as filmmakers. No stones are left unturned and no secret is too deep to share. If we are not pushing ourselves and we are not failing, then we are not trying hard enough, and we are definitely not learning.
Last week, I received an email from Artistic Advisor Gyula Gazdag with a record of literally everything I ever said in Lab meetings from the past month. He had typed it all up individually for each fellow! I want to share part of our very first email exchange, in which Gyula asked about my goals for the lab.
May 6, 2014

1. WHAT ARE YOUR GOALS THAT YOU WANT TO ACHIEVE AT THE LAB?

I want to try out every bad possibility of the scene. I want to try things that I normally would not dare to do in the real film. I want to learn to create energy and tension with absolute stillness and have the confidence NOT to move the camera. I want to relax and allow the actors to teach me something I don't know about the characters I wrote. I want to be humbled, rejuvenated, and have my mind rewired. Basically the LSD experience:)

2. WHAT ARE YOU MOST AFRAID OF?

I'm afraid of not achieving a finished product as good as I know it can and should be. I'm afraid of embarrassing myself and not being good enough, I'm afraid of what others think of me, and my work. I'm afraid of failing even though I know that is the only road to creating good work.
I re-read that email today, wondering if I have achieved what I set out to do. And I can honestly say, I don't know. But at Sundance, not knowing is not a bad answer if it is the honest answer. I can say with all honesty that I still very much fear all the things that I feared, but now, knowing exactly what they look like after facing them up on the mountain, the Sundance Labs have equipped me to better deal with it. I have become just a little less afraid, and that slight gain in confidence has definitely made me a better filmmaker. I feel it in my bones.
Back at LAX, the bags from our flight began to make their way down the conveyor belt, and all of us got on our phones to call our respective rides. Slowly, our group became smaller and smaller, as one by one each of us was taken away by taxis, girlfriends and partners, until it was just myself that was left.
Sitting on my suitcase, I thought a lot about what I would write in this last blog entry and really I had no idea. I thought about stealing some of Gyula's email notes to fill up the word count. I thought about talking about my fellow Screenwriters Lab fellow Ana Lily Amirpour's wonderful film A Girl Walks Home Alone at Night, edited by the extraordinary Alex O'Flinn. I wanted to say that films like that are a revelation and an absolute jolt of energy and inspiration for all of us.
Then I thought I should probably also start by telling the truth — which is to say that I was actually the second to last person to be picked up from the airport and not the last, but I wrote I was the last one left because it made a better ending to my story.