Back to selection
Old, Faded Pictures: Vilmos Zsigmond on McCabe & Mrs. Miller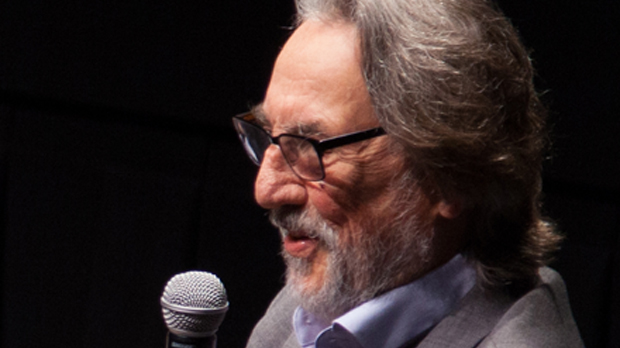 Vilmos Zsigmond (Photo by Geoffrey Gunn, courtesy of TIFF)
"We didn't want it to look good. The whole idea was to make some old, faded pictures."
Master cinematographer Vilmos Zsigmond was talking about McCabe & Mrs. Miller, the 1971 anti-Western he shot under Robert Altman's direction. Speaking in a thick Hungarian accent, the 84-year-old had just watched a rare 35mm screening with a packed audience at Toronto's TIFF Bell Lightbox, which is hosting an Altman retrospective. "That is an amazing print," he declared.
For 30 minutes after the screening, Zsigmond candidly recalled shooting the film, which almost didn't get released. Now it's considered a classic, perhaps Altman's best. "The first time I talked about it with Robert we said it should look like the late 1800s," he recalled. "If they had movies in those days [they] would look faded away, scratchy, grainy and very soft and no contrast. That's why we used the flashing technique to underexpose the film."
"Flashing" means lightly exposing a negative before shooting, which makes it hard to set an exposure, and overall is very risky. At the time of McCabe, flashing was revolutionary—or reckless. "The studio hated it," Zsigmond recalls. The suits wanted to fire him, but Altman protected the DP by lying, blaming the low-contrast look on a Vancouver lab.
Another hallmark Altman employed on McCabe was recording overlapping dialogue on 16 tracks. "Robert," Zsigmond asked his director when they filmed the bar scenes, "I don't understand what the people in the background are saying." "Well, Vilmos, you've been in noisy bars," Altman replied. "Do you hear what those people are talking in the background? I want a soundtrack which is real. Sometimes you don't understand what they are saying."
McCabe is also known for its striking use of the zoom lens. Surprisingly, Zsigmond admitted that Altman insisted on the zoom (likely the Angenieux 25-250mm) and not the other way around. "He started using that in TV movies," he explained. "He was really in love with the zoom lens, but he also knew how to use that. In McCabe & Mrs. Miller we always used it in combination with pans or dollying. We can hide a zoom if we do that. I learned that from him."
Zsigmond recalled many years ago in London when Altman and Stanley Kubrick ran into each other after seeing each other's films, McCabe and 2001. "Robert," gushed Kubrick, "those zoom lens shots are incredible. Did you do it yourself?" Altman replied,  "No, my cinematographer does that." "And you trust him?" Kubrick shot back.
Like so many Altman movies, McCabe was largely improvised. It was also filmed in continuity, which was unheard of. Zsigmond recalls stars Warren Beatty and Julie Christie huddling with Altman after viewing dailies each night to plan the next day's shoot. For example, the bathing scene when the whores arrive in town and bath together was never scripted. "The bath house was built for the extras who were living in this little village that we built," Zsigmond said. "That's where Altman got the idea for the scene when the prostitutes came in from the cold, and they were so happy. When they did that scene outside they were freezing to death. They were happy to jump in the water, just like in the movie." Zsigmond had two cameras rolling, one wide and one close-up, to capture the sweetest moment in a somber film.
One big problem with shooting in script order was the ending, which called for snow in rainy Vancouver. "We can't wait months and months for snow with the crew doing nothing," Zsigmond lamented. To create a wintry effect, Altman ordered the entire set to be hosed for the gunfight between McCabe (Beatty) and the vigilantes chasing him through the village. "We started shooting that scene," Zsigmond recalls, "then after lunchtime the snow started. A miracle. It happened. It was heavy, heavy snow, going on for a day and a half. We were shooting like crazy with two cameras."
However, the snow stopped before filming completed and fake snow was added in post, which Zsigmond regrets: "That's the only problem when I look back at this movie. If we had done that scene today digitally, adding the snow would look much, much better and much more real. The snow in the first prints in 1971 looked quite yellow."
Despite that, Zsigmond, who has shot nearly 100 movies, including Close Encounters of the Third Kind (which landed him an Oscar) will always prefer film over video.  "Too sharp," he complains, "too much detail in the faces and all that. The faces sometimes look terrible. We need to diffuse them. I always get the best cameras and make it with bad lenses."
The eyes see the world differently, he explains: "The eyes are kinder than lenses are." It's jarring to imagine McCabe being filmed on today's cameras, and the thought makes Zsigmond shudder. All shots in the film, "including out of focus shots," he declares, "were meant to be that way. And I'm proud of it."