Back to selection
First Impressions: The 2014 Locarno Film Festival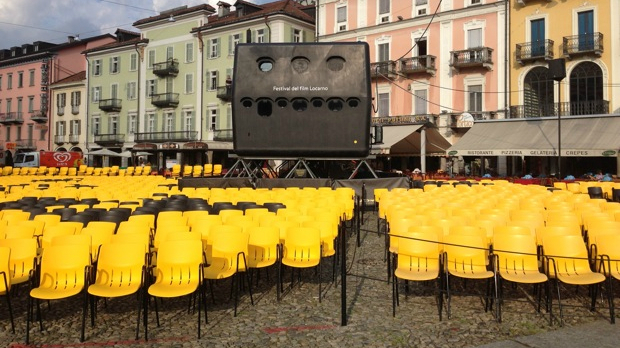 A spinning vortex of yellow leopards could be a metaphor for the feverish mixture of exhaustion and exhilaration experienced at the Locarno Film Festival. The image was a large collage of the festival's mascot produced by the proprietor of my B&B, which he showed to me one sleep-deprived morning, on my way to a 9 am press screening at the Kursaal Cinema.
Speaking of altered states, there's been a persistent sense of déjà vu at the festival — which is actually a good thing. Seven days into the ten-day celebration, it's clear that the 67th edition continues its tradition as a "frontier" festival, delivering challenging, often thrilling work from young and established filmmakers from around the world. Last year's excellent edition was the first under new Artistic Director Carlo Chatrian, and it launched some of 2014's most satisfying smaller releases like Manakamana and Joaquim Pinto's What Now? Remind Me.
Chatrian's mission to cast a wide programmatic net is driven by a belief in a productive friction between different cinematic modes. Collisions between mainstream and auteur cinema, fiction and nonfiction, are encouraged at Locarno, as is a continuing conversation with film history, this time with a retrospective of Italian production company Titanus. It's likely to be the only festival where Luc Besson's action fantasia Lucy (the opening night selection) plays alongside new work by Filipino veteran Lav Diaz and the young US director Joel Potrykus. It's true, however, that the films by the latter two will probably never screen in the festival's iconic 8,000-seat Piazza Grande, which is generally reserved for the overtly populist fare.
Diaz, who presided over the jury last year, returned with a film in competition — a first in his career. His 338-minute From What Is Before is among 17 films competing for the Pardo d'Oro in the Concorso internatzionale (International Competition). Other highly anticipated films include Horse Money (Cavalo Dinheiro), the first feature in five years by revered Portuguese director Pedro Costa, and Alive, the buzzed-about second feature by acclaimed South Korean director Park Jungbum.
Martín Rejtman, a leading figure of the New Argentine Cinema of the '90, returns with Two Shots (Dos Disparos), while fellow countryman and rising star Matías Piñeiro debuted at the festival with The Princess of France. The two US directors in competition are Alex Ross Perry with Listen Up Philip, his acerbic portrait of a toxically narcissistic young writer (it premiered at Sundance), and J. P. Sniadecki with The Iron Ministry, a documentary portrait of train passengers traveling on China's sprawling national railway system.
It was by chance that the most arresting (and erotic) posters around town belonged to two of the stronger films to premier in the first week. Piñeiro's latest takes its title from a character in Shakespeare's Love's Labour's Lost. Like last year's Viola, the film is a romantic roundelay of twenty-something actors in Buenos Aires. This time, the story revolves around Victor, who is organizing a radio play with five women, with whom he has different relationships. This is the director's most formally complex and confident work yet, feeling at once expansive and almost perversely intricate, with impressively choreographed mise-en-scene and sensual camerawork. The mood set in the ten-minute opening shot — a nighttime soccer match viewed from a rooftop set to a Schumann symphony — has stayed with me for days.
The poster for Ventos de Agosto, another competition entry, features a naked couple lying on a bed of coconuts, an image that perhaps oversells the film's erotic content a tad. It's true that the teenage couple works on a coconut farm and make love in the back of a wagon carrying their yield, but the film's real concern is with isolation and decay. The titular August winds are partially responsible for the appearance of a corpse, which becomes the boy's obsession — and a wedge separating him from the other villagers. The film is the fiction debut of Brazilian documentarian Gabriel Mascaro, and his images of life in a remote fishing village have a bracing tactility.
Ventos de Agosto is as much a landscape film as it is a portrait of a community, a focus given a much wider canvas in From What Is Before. Water, in the form of torrential rain, plays a dramatic role in both films. As it turned out, I caught the Diaz film on the one sunny day in Locarno this year, so for me the rainfall never stopped. It's certainly been one of the most debated films at the festival, and not simply because the film's length is roughly equivalent to a trans-Atlantic flight. (It's a mid-length entry in Diaz's canon; he's been known to go up to 11 hours.) At the director's entertaining public Q&A last week, he happily talked shop — how he starts with a location before anything else; how he writes a script during a shoot; and how he never films unless the light is right: "We don't push things. We wait."
Dressed in black jeans and black T-shirt with tattoos visible, Diaz looked and sounded more like a rock star than a fifty-five year old auteur of slow cinema. His latest is an allegory about rural barrio life in the early '70s, just before martial law was across the Philippines by brutal dictator Ferdinand Marcos. The film is violent, angry and also visually ravishing, if exhausting. Asked if he is generally pessimistic, Diaz responded, "Pessimism is the start of rebirth." In his eyes, From What Is Before is statement against political repression and for artistic freedom. It's a rebellion against his country's historical amnesia and a middle finger to Hollywood and mainstream manners: "I'm trying to liberate my cinema from the system. It's a simple as that."
A similar fuck-the-system sentiment is channeled in Joel Potrykus' darkly comic Buzzard, one of the stronger entries competing in the Concorso Cineasti del presente (Filmmakers of the Present). This line up of 15 films by young and emerging directors also includes two other well-received features by US directors: Charles Poekel's low-key New York drama Christmas, Again, starring Kentucker Audley, and Soon-Mi Yoo's essay film Songs From the North.
Yoo's film, a US-Portuguese co-production, also made a strong impression during the first week. The film mixes rare footage shot inside North Korea by the filmmaker during several trips she took during 2010-12, with archival footage from the US National Archives and flat-out astonishing material Yoo discovered online. Sensitively structured and emotionally complex, the film balances the personal and the political, offering a welcome corrective to the often cartoonish and condescending characterization of North Koreans by US media. This should be the film to spark debate, not that other one opening later this year by some guy named Franco.