Back to selection
Stray Links, 8/18-8/21: Orson Welles' First Film is Online and Chinese Film History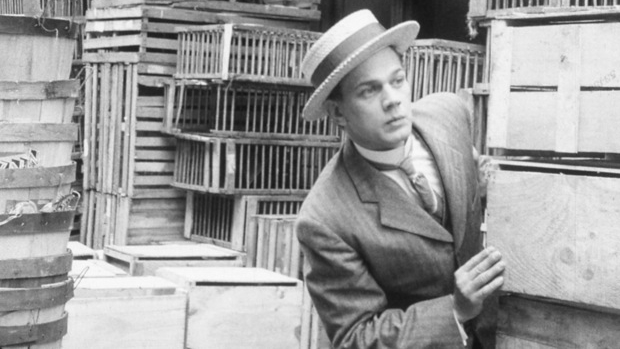 Joseph Cotton in Too Much Johnson
This week's round-up of suggested reading is all film-related for a change:
• The China Digital Times conducts a long, fascinating interview with Paul Pickowicz, an authority on Chinese cinema who talks about studying film in China from 1982-83 as an "unwelcome guest," shifting trends in national anxieties as expressed on-screen through the decades, how long-dead political affiliations shape the government's choice of which films from pre-1949 to promote as canonical, and much more. It may be the most interesting film-related thing I've read all week.
• Kurmanzhan Datka: Queen of the Mountains, a Kyrgyzstani epic about a 19th-century hero, is set to premiere at Montreal this week. As Transitions Online's Bakyt Ibraimov reports, "audiences will be watching not just a movie but a government-sponsored attempt to instill a sense of patriotism in a people beleaguered by low living standards and a self-serving, smaller-than-life political class." Among other troubling production factoids: halfway through, the budget ran out and parliament had to approve more funds, because no budget was set initially.
• "They think they can slap on an Amish hat and a long black robe, and they've created a Hasid." The Jewish Daily Forward's Miriam Moster profiles Elli Meyer and Isaac Schonfeld, who get into the details of making sure the Hasidic community is represented accurately onscreen.
• Sid Levin is an old-school Hollywood agent who specializes in representing "real people," like arm-wrestling champs and Gulf War veterans. He also helped Danny Trejo break into film. The AP's John Rogers has a profile.
• "I was shocked to discover that even among hardcore film buffs, people who watched the same kind of movies I did, there was almost zero awareness of Indian cinema." In a guest post for Dear Cinema, Dennis Bartok — co-founder of Cinelicious Pics, which just got started in June — talks about discovering Indian cinema and why he's chosen the five-and-a-half-hour epic Gangs of Wasseypour as the company's forthcoming first release.
• A real-life rendition of The Purge in Texas? Not likely.
• Orson Welles' long-thought-lost, never completed first feature Too Much Johnson was rediscovered last year, and now you can watch it online courtesy of the National Film Preservation Foundation.