Back to selection
Checkmate Director Timothy Woodward Jr. on Shooting with the Blackmagic Production Camera 4K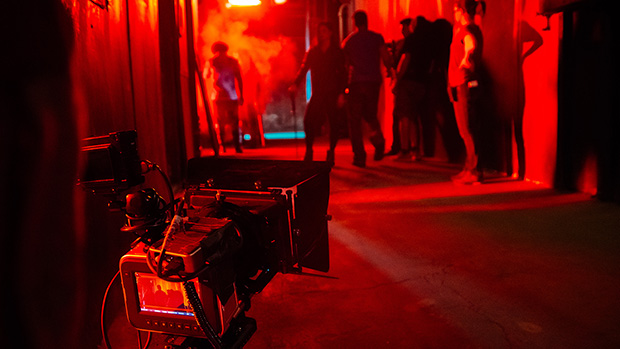 On the Checkmate set
Director Timothy Woodward Jr. is currently in post-production on Checkmate, an action thriller with supernatural undertones shot using the Blackmagic Production Camera 4K. The movie is expected to be completed by October, and is one of the first features shot with this camera.
We spoke to Woodward about shooting with the Blackmagic Production Camera 4K, as well as about shooting action sequences and why you shouldn't "fix it in post." This is part one of the interview.
Filmmaker: Where did the story come from?
Woodward: We found the story on a service called InkTip.com. It was very clever. It was well written, the pacing was really good. We contacted the writers and got the option.
Filmmaker: You chose the Blackmagic Production Camera 4K for the movie. Why?
Woodward: Multiple reasons. For the other films that I've directed and produced we have used multiple cameras: the Canon C100, the Sony F3 and also the Red EPIC. We've been using the EPIC a lot for its 4K/5K capability for shooting action scenes so we can manipulate the frame, while we use a C100 or the F3 on the more dramatic scenes.
When Blackmagic announced the Production Camera 4K, what stood out was a) the amazing price point, and b) here's a camera with the ability to do both action and dramatic shooting that's economical. It actually has a nice look and can record straight to ProRes, which requires a lot less work in post.
Filmmaker: The camera hadn't been out that long. How did you go about testing it?
Woodward: I bought the Blackmagic Pocket probably 4 months earlier and then I bought the Production Camera 4K about three or four weeks before we started shooting. We did some test shoots. We checked low lighting, we shot in "Film" log mode and video REC709 mode. But I had played around with the Cinema Camera and I had the Pocket so I knew the features and the screen and the menu.
Filmmaker: What mode were you shooting in?
Woodward: We bounced back and forth between 1080 ProRes HQ and 4K ProRes HQ. After doing testing we shot a lot in video REC709 mode, because the output of the images was so crisp and the blacks were black, and because of the time it would save in post opposed to shooting "Film" log. And I like to see what I am going to get on set so the DP can light for it and I want to be able to control it while I'm shooting rather than just in post.
Another thing: in previous shoots, if an actor wanted to look at their frame to see how much room they had to move around, it would be, "OK, here's the frame, and don't worry how it looks. We're going to crush the blacks, we're going to color correct it, we're going to do all these things to make it look good." The nice thing about the Production Camera 4K is we were able to turn it around and say "here it is," and it looked good. The blacks were black, it felt really bold, and that was nice because it got their confidence level up.
Filmmaker: Why was the image so much better?
Woodward: With DSLRs, for example, there's a lot of gray level. Those blacks and shadows aren't there. With the Blackmagic camera, even shooting in ProRes and video REC709 the blacks are really black, they're very bold. We would sometimes under-expose one stop to get this very crisp image that we haven't been able to obtain with the DSLR cameras. We would have to go in post and crush the mids down, add contrast and do a lot of things to manipulate it, and the same thing with RED footage, which is very grainy.
Filmmaker: How does the camera perform in low light?
Woodward: It's not like shooting with a Canon C100 or the F3, which are really nice in low light. We had to go in and light things that we needed. Now with that being said, I think it's a lot better than when I tested the Blackmagic Cinema Camera, but it's not quite up there with the DSLRs. But if it is an outside scene and you're used to shooting with a DSLR you're going to get the same thing.
Filmmaker: Any issues with rolling shutter?
Woodward: No, we were good. The only issue we really had was the black hole sun issue [Youtube: Black Magic Cinema Camera 4K Test Footage – Black Hole Sun]. We were shooting a car and the window would glare from the sun that was super bright. It created a black hole in the image. We were fortunate enough to have read about it and see it in the monitor and be able to switch things up and flag it off.
Battery life is one thing I would tell people. Make sure you have external batteries. We had rigs for ours. The camera battery lasts only about 45 minutes. The monitor is really important with the camera, because the brightness goes up to 100% and that can be misleading if you don't test it ahead of time. We kept our brightness between 72 and 80% so that we would get a more accurate feel for what we were shooting. If you keep it at 100%, the footage will be darker than what you're seeing. And if you're under-exposing by one stop, then there can be trouble there.
Filmmaker: You're mixing footage from the Pocket camera with the Production camera?
Woodward: We used it as a C camera so I got a few inserts with that, and it's been working fine. We did run the Pocket in "Film" log so we could color that to match the other shots perfectly.
Filmmaker: You also shot quite a few scenes with two Production cameras running at the same time?
Woodward: In particular for one scene with Vinnie Jones and Danny Glover. Normally in these kinds of situations, you don't want to bring in your star and say "Hey, we need the back of your shoulder while we get somebody else's coverage," so you would use a stand-in. But I really wanted to capture the performance with them acting off of each other, so it was nice to be able to shoot both of them with each camera: one on a 50mm lens handheld to create a little tension and the other one on sticks. Then switch them so we would have both angles.
Filmmaker: You were using a Blackmagic monitor?
Woodward: We had tested other monitors and we couldn't find one that worked with the ProRes output. We got hold of the Blackmagic monitor and it worked nicely so we kept it.
Filmmaker: What lenses did you use?
Woodward: We shot a lot with Nikon still lenses. We've used Cooke, we've used some of the Canon cinema lenses, but we did different tests and we liked the way [they looked.] We were shooting a lot with 105mm, 85mm lenses, always at about f/4.0 to 5.6. We never tried to go too blown out or stop down to f/1.8 or something like that, but we thought the Nikons worked really well with the camera, it was a great image.
Filmmaker: How many gigabytes of footage did you end up with?
Woodward: We ended up with a little bit under 5 TBs. We used two cameras, and we had two 480GB cards for each camera. When we were shooting 1080 we'd go through about half of the card, and on a 4K day we'd go through the card. It was pretty intense. There were some days where we only used one camera because I didn't want to slow things down.
Filmmaker: What is your post-production work flow?
Woodward: It's actually really nice, because we use Final Cut X and we're importing 4:2:2 files into a 4:2:2 HQ timeline, so we don't have to unroll, unwrap or up-res it and do all those things. Also, the camera has a labeling system with metadata to help tag things, so not only do we have the script notes we actually have tags in the camera as well.
Filmmaker: You recently switched from Final Cut Pro 7 to X. How has that been?
Woodward: We're enjoying it. It's definitely different than Final Cut Pro 7 and Premiere Pro, but we like it. The DaVinci Resolve editing software is somewhat similar, so it makes it pretty easy to go back and forth between the two of those. The plug-ins are great for it, and as far as bringing in stock footage and conforming different material, all those things are leaps and bounds above 7.
Filmmaker: You've shooting in HD and 4K. Are you just mixing in the timeline as is?
Woodward: We bring the 4:2:2 4K stuff into our 1080 4:2:2 HQ timeline. It automatically converts it to 1080 for us, because we will deliver the film in 1080. The purpose of the 4K, and where it comes in handy, is with action scenes. For example, we may go a little wider than what I want [for the final framing] just to make sure someone doesn't move out of frame, and to make sure that we have plenty of room to play with. We blew up a van on the Disney back lot and we had one attempt at it, so we obviously wanted to give extra room, and we could also get two shots in one; we'd have a close up and a really wide.
In Part 2: Shooting action sequences and the futility of fixing it in post.