Back to selection
Stray Links 9/1-9/5: Tarantino's 35mm Prints, Dead Russians and Teddy Bear Detectives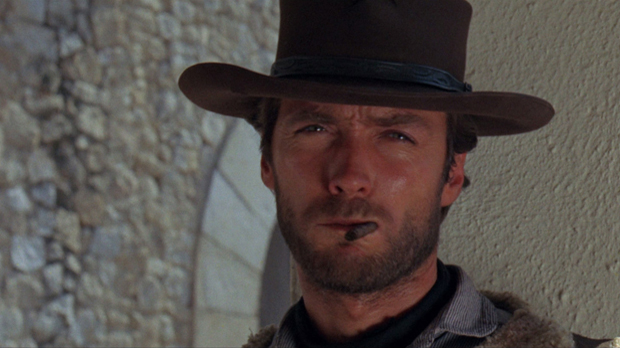 A Fistful of Dollars
The future of 35mm rep cinema, a personal history of cinephilia as mediated by changing archival access, how the garbage heap of "hot takes" colonizes the internet and more in this week's round-up of assorted reading:
• Quentin Tarantino has owned Los Angeles' beloved New Beverly Cinema since 2007; now he plans to take over programming himself, drawing extensively upon his private collection of prints. Talking with the LA Weekly's Chuck Wilson, Tarantino repeatedly goes off on the crappiness of DCP, including this gem:
I have all three Sergio Leone Clint Eastwood movies in I.B. Technicolor. Magnificent looking. I just saw the DCP restoration of A Fistful of Dollars at Cannes. I introduced it. I felt like I was watching a DVD. I said, "Why didn't you ask me to bring my fucking print?" They said, "Well, there was three extra minutes in this." I said, "I've seen that movie a million times and I didn't notice those extra minutes. I just noticed that it looked like a fucking DVD."
• For more background on the New Beverly's just-departed programmer Michael Torgan and a personal history of memorable screenings there, turn to Dennis Cozzalio.
• "Sometime in 1993, after several trips to Russia, I noticed something bizarre and disturbing: people kept dying. I was used to losing friends to AIDS in the United States, but this was different. People in Russia were dying suddenly and violently, and their own friends and colleagues did not find these deaths shocking." For the New York Review of Books blog, Masha Gessen writes about how "in the seventeen years between 1992 and 2009, the Russian population declined by almost seven million people, or nearly 5 percent—a rate of loss unheard of in Europe since World War II." She reaches some disturbing conclusions about why this might be the case.
• Asharq Al-Awsat's Mohammed Rouda catches up with legendary Iranian filmmaker Mohsen Makhmalbaf, who fled the country a decade ago with his family. In their brief chat, Makhmalbaf details some startling claims about the Iranian government's attempts on his life and talks about how movies have replaced poetry as the country's cultural voice. It's all unnerving stuff, but there's also this bracing little disclosure: "My daughter Samira was 14 years old when she threatened to commit suicide if she could not become a film director."
• For Bloomberg View, columnist Matt Levine has a fascinating column looking into the unusual legal dispute between Goldman Sachs and a former employee they sued for stealing code. The crux of their dispute as it stands currently is whether Sergey Aleynikov's title as Vice President was a verbal promotion in name only, not a status that would make him a company officer. Goldman argues it was a title without merit, and Levine has a very complicated, fascinating take on this lawsuit with lots of background about life in the finance world, like this footnoted tangent:
In my banking career I was introduced — perfectly legitimately — as the U.S. head of at least two things and the global head of one or two others. Each of those things had at most three employees (me and perhaps an associate and/or analyst), and at least one of them had zero all-time worldwide revenue. You could be Global Head of Dragon Treasure Currency Hedging and also Head of Unicorn Securitization for Northern Europe and it would not take too much of your time.
• Film scholar David Bordwell looks back at his life as a viewer through the lens of changing archival access; essential reading as usual.
• In two delightfully ticked-off posts, Alex Pareene — guest-blogging while Andrew Sullivan's out — takes on the "Giant Garbage Pile That Is Online Media, 2014." For anyone who works online, Pareene is offering catharsis, not news, when concluding that "The people getting paid (barely) to produce those slightly differentiated versions of every story ever are wasting their time, unless 'able to crop a picture of a celebrity in WordPress without help' becomes, suddenly, a much scarcer and more in-demand skill." What he doesn't get into is the great paradox behind all this: that Good Content may not pay, but posts decrying crap content are their own brand of reflexive-click-generating reliable content. Still, fun reading.
• Pathé has opened a 2,200-square-meter film history center and from the outside, writes Rosslyn Hyams, it "gives the impression that a gigantic glass slug is going to burst through the façade, which was decorated by the great French sculptor Auguste Rodin in the 19th century." As Hyams points out, the company, founded in 1896, "is the only film industry pioneer in the world still operating."
• Department of internet guilty pleasures: at Tidbits, Michael E. Cohen reviewed a self-published mystery with an all-teddy bear cast. The review was mixed-negative, and the quotes from the text vindicate the verdict. But author Stephen J. Cohen wouldn't let it go and has spent months in the comments, decrying the review in terms both self-aggrandizing (on his prose: "that's straight out of Fitzgerald and Keats, my friend") and increasingly frenzied ("You are pure bullshit, lady"). The thread has, understandably, since been closed.