Back to selection
Sundance Institute Announces 2014 New Frontier Story Lab Participants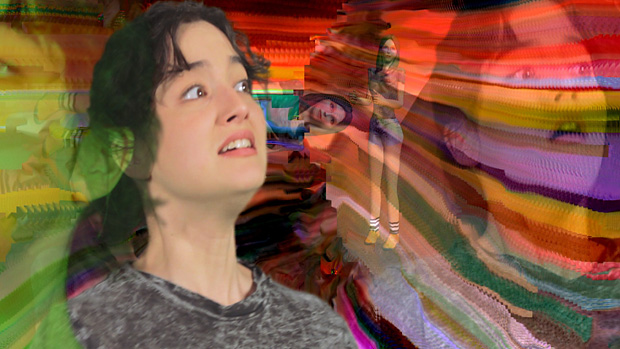 #PostModem, by Jillian Mayer and Lucas Leyva
The Sundance Institute has announced the six projects set for this year's New Frontier Story Lab, a hands-on initiative for developing content that converges at the intersection of "film, visual art, media, live performance, music and technology." The 2014 creative teams and projects are Karim Ben Khelifa and Chloé Jarry (The Enemy), Dandypunk and Darin Basile (Heart Corps), Tracy Fullerton and Lucas Peterson (Walden, A Game), Braden King and Matthew Moore (Weather), Hasan Minhaj and Greg Walloch (Sakoon/Paint The Town) and Navid and Vassiliki Khonsari (1979 Revolution). Previously supported projects include #PostModem (from 25 New Faces Jillian Mayer and Lucas Leyva), Kill Shakespeare, 18 Days in Egypt and The Silent History. 
Workshopping at the Lab, which runs from October 22 – 27 at the Sundance Resort in Park City, includes individualized story sessions, conversations about key artistic, design and technology issues, and case study presentations from experts in diverse related disciplines. Detailed descriptions of each project can be found below.
1979 Revolution
Navid and Vassiliki Khonsari
1979 Revolution, the action/adventure game, immerses players into the gritty, euphoric streets of revolution – where the choices you make may betray you.  Set in the actual events of 1979 Iran.
A founder of iNK Stories, Navid Khonsari is known for having developed the cinematic look and feel for groundbreaking video games such as Grand Theft Auto/Vice City/San Andreas, Max Payne, The Warriors, Midnight Club, Manhunt, Red Dead Revolver, Alan Wake, Homefront and more. His films include The Contract, Pindemonium and Pulling John. Khonsari recently completed his first graphic novel, Infidel. Khonsari can be found as a guest lecturer within the Game World focusing on the discourse surrounding the convergence of politics and gaming or the potential of games to incite empathy.
Vassiliki Khonsari arrived at filmmaking through Visual Anthropology, with a specialty in verite storytelling.  In addition to her TV Producer/Director credits, Khonsari's Doc Feature Producer credits include Our House (20+ awards) and Pindemonium (Sundance Channel) and she directed the award winning Pulling John (premiered at SXSW). As co-founder of the innovative media studio iNK Stories Vassiliki is passionate about her current development projects that focus on immersive stories.
Weather
Braden King and Matthew Moore
Weather is a multi-platform, multi-channel interactive installation that seeks to create a deeper and more tangible connection to the impacts of Global Climate Change through emotional experience.
Braden King is a New York-based filmmaker, photographer and visual artist. His most recent feature film, HERE, starring Ben Foster and Lubna Azabal, premiered at the 2011 Sundance and Berlin Film Festivals and was distributed theatrically by Strand Releasing in 2012. A three-screen installation version of the project, HERE [ THE STORY SLEEPS ], premiered at The Museum of Modern Art in 2010 with live soundtrack accompaniment by the Boxhead Ensemble; it toured internationally the following two years. King's previous work includes the feature film DUTCH HARBOR: WHERE THE SEA BREAKS ITS BACK (co-directed with photographer Laura Moya), the award-winning short HOME MOVIE and music videos for Sparklehorse, Sonic Youth, Bonnie 'Prince' Billy (Will Oldham), Califone and Dirty Three.
Matthew Moore is a multi-media artist based in Phoenix, Arizona. His art practice explores the broad issue of placemaking, often by creating large-scale installations and environments with the goal of achieving a state of wonderment, contemplation, and invitation to change. Moore's work addresses issues of ecological, cultural, and economical sustainability often through the unique lens of his life as an active fourth generation farmer. His video and installation artwork are exhibited internationally, at the Sundance Film Festival, the Walker Art Center, Phoenix Art Museum, MassMoCA, the World Congress of Soil Science in Korea and Nuit Blanche in Canada among many other venues; and has been featured in Art Forum, Art in America, Art Lies, Metropolis Magazine, Dwell, and Architecture magazine, well as the Wall Street Journal, National Public Radio, and numerous other publications.
Sakoon/Paint The Town
Hasan Minhaj and Greg Walloch
Paint the Town is the film adaptation of Sakoon, the autobiographical solo show based on the first generation experiences of Indian-American comedian Hasan Minhaj. This project seeks to reinvent the one-hour comedy special by eliminating the distance between performer and audience in a transformative exploration of the "new brown experience."
Hasan Minhaj is a Los Angeles-based comedian, actor and writer. A current member of the The Moth Mainstage Company, his storytelling has garnered acclaim in film, web and television. He recently hosted the documentary special 'Stand Up Planet,' produced by The Bill and Melinda Gates Foundation, and his viral web series 'The Truth with Hasan Minhaj' has been featured in countless publications including The Huffington Post, Gawker and The New York Times. He has been seen on a variety of other television programs including Arrested Development on Netflix, HBO's Getting On, @Midnight on Comedy Central, and E!'s Chelsea Lately. His parents would still like him to go to law school.
Greg Walloch is a writer, storyteller and comedian whose live solo shows have toured in Moscow, Toronto, Vancouver, London, Ireland, Germany, Australia, Poland, Scotland, Tel Aviv and in various festivals across the United States.  As a regular guest appearing with The Moth, the acclaimed not-for-profit organization dedicated to the art and craft of storytelling, he is currently featured in their Peabody Award winning series The Moth Radio Hour on National Public Radio.  Walloch was also featured in USA Network's Characters Unite national live storytelling tour as well as appears in the network's Characters Unite, "I Won't Stand For…," PSA TV campaign to fight hate and discrimination.  He currently lives and works in Los Angeles and is the host of the popular monthly live storytelling show, Eat Your Words at The Standard, Hollywood.
The Enemy
Karim Ben Khelifa and Chloé Jarry
The enemy is always invisible; When he becomes visible, he ceases to be the enemy. Two combatants from opposing sides observe each other. Each of them explains why they are fighting – what made them decide to take arms in order to defend their beliefs, their family, their country, their clan or their faith.
Karim Ben Khelifa is an award winning photojournalist and war correspondent who has freelanced regularly for Time Magazine, Vanity Fair, Le Monde, the New York Times Magazine, Stern and dozens of others.  He was the 2012 Carroll Binder Fellow at the Nieman Foundation for Journalism at Harvard University, where he has also given talks and lectures.
He is currently a Visiting Scholar and Artist-in-Residence at the Open Documentary Lab at the Massachusetts Institute of Technology in Cambridge.
Chloé Jarry joined Camera lucida as new media producer in charge of transmedia and cross-media development in January 2011. She produced a collection of iPad and iPhone apps mixing games, interactive animations and extracts from the films for children produced by Camera lucida, including Le Carnaval des animaux, Antoine's Four Seasons and Peter and the Wolf. She is also the author and producer of Missions Printemps – Die FruehlingsForscher, a French-German citizen sciences TV and web program. Since 2011, Chloé Jarry and Camera lucida have developed more than 10 transmedia projects.
Heart Corps
Dandypunkand Darin Basile
Ink illustrations are brought to life with projection mapping and live performance, in a fully immersive, "walk-through," graphic novel experience.
From a background in street art and acrobatics, Dandypunk discovered a way to combine the two using the "magical lantern" that is the projector. Mixing whimsical, hand drawn illustrations and stop motion animation with newer technology and physical movement, he attempts to evolve a style that has been described as "digital light poetry."
Darin Basile is a self-taught visual generalist, engineer, artist, developing story teller and introvert with an honest desire to understand himself and others. He hopes to imbue others with a sense of wonder for the worlds around us and empathy for those that inhabit them.
Walden, A Game
Tracy Fullerton and Lucas Peterson
Walden, A Game, simulates the experiment-in-living made by Henry David Thoreau at Walden Pond in 1845-47, allowing players to walk in his virtual footsteps, attend to the tasks of living a self-reliant existence, and discover in the beauty of a virtual landscape the ideas and writings of this unique philosopher.
Tracy Fullerton is the lead game designer and director of Walden, A Game. She is an experienced designer whose recent credits include The Night Journey, a collaboration with media artist Bill Viola. Currently, she serves as the Electronic Arts Endowed Chair of USC's Interactive Media & Games Division, and the Director of USC Games, ranked the #1 games program in North America by the Princeton Review. Prior to joining USC, she worked as a game designer creating innovative games for companies including Microsoft, Sony, MTV, among many others. Her long career in game design and influence on the independent games community was recently acknowledged by the IndieCade Trailblazer Award.
Lucas Peterson is the environment designer and character artist for Walden, A Game. He is a fine artist with an emphasis in drawing and design who has turned his talents to game design. Lucas has contributed to a number of projects at the USC Game Innovation lab including the FutureBound college access games and the Chrono Cards WWI history games. He holds a BFA from the USC Roski School of Fine Arts.