Back to selection
Five Questions for Humanity Creators Kerrin Sheldon and Gaston Blanchet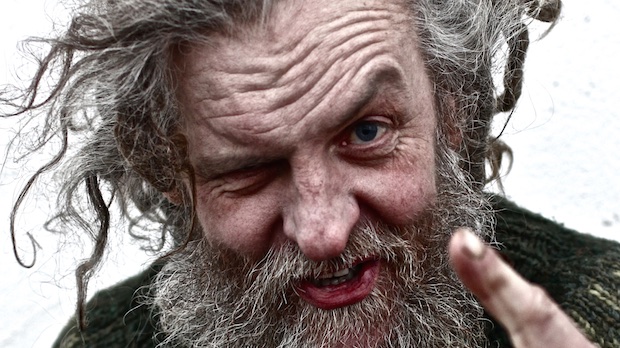 "An iPad app for explorers," the just-launched Humanity dubs itself as a "new kind of travel show that places authenticity and storytelling above all else." Notably, Humanity avoids star ratings, food porn and shopping tips in favor of immersive looks into the landscape and the people of a particular place of interest.
From the press release:
Humanity is an app that allows you to choose your own path. We don't want you to check-off a country, we want you to live and breathe it, to explore its many offerings and expand your horizons. While quality storytelling will always be our main objective, we want the process of exploring a country to be exciting, interactive, and fun – just like real travel.

Harnessing the Power of the iPad

The iPad is made for visual media. It's a tool that supports an experiential approach. It also allows you to touch and feel the content like no other medium. We aim to be the first travel periodical that truly harnesses the beauty of video, photos, and auditory experiences on the iPad – by making them the primary reason to download and experience each issue.

Each Humanity issue features a dozen short documentaries on fascinating locals in each country, up to two-dozen photo essays complete with interviews and soundscapes, and a video collection of awesome travel experiences.
Humanity is now available on the App Store, with a special introductory issue, "Iceland," costing just 99 cents. (Future issues will cost $1.99, with Israel, Albania, and Scotland up next.) Below, founders Kerrin Sheldon and Gaston Blanchet talk wanderlust, why they launched for the iPad, and where to find the best hot dogs in Iceland. After the interview check out the trailer and one short video, a short documentary about Icelandic artist Jón Eiríksson, pictured above.
Filmmaker: Are you travelers? What elements of the app/magazine are influenced by your own wanderlust?
Sheldon: Both Gaston and I are huge travelers, especially since we started the project in 2012. Initially, my goal of the project was centered around the idea of creating inspiring shorts about fascinating individuals, but it was also about the goal of creating a lifestyle for myself that allowed me to see the world and travel extensively. I knew I wanted a life full of adventure and then started to mold the different ideas Gaston and I would come up with in order to fulfill that goal. In a way, it was our love for the lifestyle we created for ourselves when we started the project in 2012 that influenced the type of people we cover and the places we go. And I think that passion for creativity, travel, and cultural understanding really comes through in the content we create.
Blanchet: Indeed, I was practically born a traveler. Both my parents were Argentine diplomats and only months after I was born in Buenos Aires, they were stationed in Austria for five years. I think by age 5 I had already visited close to 20 countries and I haven't stopped exploring since. For me, the app is a natural extension of my desire to share the fascinating stories I encounter abroad.
Filmmaker: Why the iPad? At a time when Apple Newsstand publications are shrinking and fewer apps seem to be produced for the iPad, why launch on this platform? And will all your monetization be from paid subscribers, or do you expect other avenues to be created in the future?
Sheldon: The main reason we chose the iPad was to be able to package the content in a cohesive, interactive way. We wanted to showcase a country not with a video here or there online, but instead through a collection of content ranging from short documentaries and experiential videos to photo essays and soundscapes. I believe that a lot of Newsstand problems come from the fact that not a lot of big production magazines have used the iPad for what its best for — interactive storytelling focused around visual media. Obviously, putting a project on the iPad creates a few more steps for users to access the content, but our goal is to create a strong, core fan base that is hungry for the type of content we create.
Blanchet: Monetization will be from subscribers to start, but we've had some conversations with different media companies about syndication partnerships to create cross-platform content that would benefit both parties. So, we think there are a few different ways content brands could monetize what they do – and we'll be exploring the different avenues available to us to do so.
Filmmaker: Describe your production set-up. How are the pieces shot and cut?
Sheldon: The setup changes pretty frequently as we try to be as mobile as possible without losing quality. I shoot on a Canon C100 and usually have two-to-three lenses with me (currently in love with the Sigma 18-35mm F1.8). But I shot the first issue in Iceland on my original HD camera, the Canon 60D. But up until recently when we brought in some help from a few other areas, we organized, shot, and edited everything ourselves. It's a long process to get the nearly two hours of content per issue on the app, but it's also really rewarding to have such a cohesive, completed product at the end of it all.
Blanchet: Until now, it's been entirely done in-house. We've been particular to Canon cameras and lenses for shooting and Adobe programs for editing, though we're starting to explore BlackMagic and Panasonic cameras. To be honest, it's hard to keep up with how fast cameras are improving. Soon I'm pretty sure the iPhone will shoot 4K. So we tend to focus our production efforts on sourcing interesting stories and places.
Filmmaker: In terms of your editorial direction, what would you say distinguishes Humanity from other travel journals, magazines or apps?
Sheldon: I think there are a few things that really differentiate us from other travel media companies. First, a lot of of travel magazines are still trying to port of what they do best (editorial) onto the iPad and make it work. As a result, I think they're missing a big opportunity to create a more immersive experience, one filled with the sounds, colors, and personalities of a country.
You'll also see that almost every other travel startup is focused on what you can do, where you should eat, and what hotel to book. While you'll get awesome travel ideas from Humanity, that's not our main goal. Our main goal is to tell the story of a country. What does it feel like? What does it sound like? Who will you meet? Through this immersive experience, you can get a holistic feel of what it will be like visiting that country or what it is like living there – instead of reading one hundred user ratings for the best hot dogs in Reykjavik, Iceland (it's Bæjarins beztu pylsur, by the way).
Blanchet: For starters, we were born in the digital space so we consciously think of how our content will fit the viewing experience as we're creating it, unlike magazines that retro-fit their existing content. Also, in regards to style I'd like to think we're more cerebral. Rather than a logistical or surface-level approach to travel, we try to invoke the feeling you get when you experience that sensation during a trip that makes you contemplate your normal life back at home. Also, since our issues are country-based, it's easier to transport yourself exclusively to one country at a time, as opposed to jumping around as a regular magazine does through uncategorized and ungrouped stories. Each country has such a unique vibe and our map-based experience tries to give you an authentic impression of actually being in the country you're exploring.
Filmmaker: Do you have plans to build on new iOS features — or other technologies — in future iterations of the app? What new features do you think we'll see?
Sheldon: We definitely have a lot of big plans for future features and apps. For the iPad version, we're working hard to create more context around each of the characters and featured stories in each issue. We'd also love to figure out a way to get the locals more involved in tell their own story. We're also hoping to build out different versions of our content for different channels – for example, an iPhone app that gives you pieces of content on their own but also directs you back to the main experience on the iPad.
Blanchet: Just as there's an infinite variety to the stories we encounter, there's also infinite possibilities to make our app more interactive. My hope is to push more boldly into this interactive territory by giving users more tactile opportunities to interact with the content. There's so many cool things you can do when you thoughtfully coordinate the capturing and delivery of content, as opposed to shooting everything and then seeing how you'll fit it into an app.