Back to selection
Five Questions for Sex and Broadcasting Director Tim K. Smith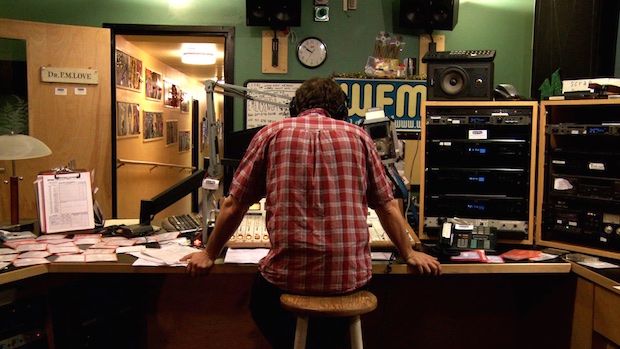 WFMU's Dave the Spazz in Sex and Broadcasting
The title Sex and Broadcasting may be a grabber, but I doubt any listener of WFMU — and, over the years, there have undoubtedly been millions — needs the hint of salaciousness to tune in to a documentary about the country's preeminent long-running free form radio station. Indeed, the URL of the film's website — WFMUtheMovie — might just suffice. In a landscape of Clear Channel-produced corporate playlists, WFMU's rambunctious, highly personal and often deeply weird deejays continue to offer not just a palette for the ears but an inspiring and enduring vision of independent media.
Longtime documentary editor Tim K. Smith's directorial debut, Sex and Broadcasting catches the Jersey City-based station amidst a budget crisis, needing listener support, but with its integrity intact. Below, I ask Smith about being a WFMU listener, learning from editing and the state of radio today.
Sex and Broadcasting premieres tomorrow at DOC:NYC.

Filmmaker: Why direct a film after a long career as an editor?
Smith: My love of filmmaking is driven by two often conflicting desires: the thrill of collaboration and personal expression. As a documentary editor the emphasis has always been on collaboration with room for personal expression. As a director the emphasis is on personal expression, but success is dependent on plenty of collaboration, particularly with a documentary. After many years of helping others bringing their films to life, I became dissatisfied with only doing that. I'm sure I will continue to collaborate as a producer and even editor with the right filmmakers as I did this year with Ricki Stern and Annie Sundberg on their upcoming doc, but as I get older it becomes more important for me to express how I see the world.
Filmmaker: Why make a film about WFMU?
Smith: In an age of rampant commercialism, where it seems nothing can outrun the corrupting and destructive influence of money, WFMU has stridently maintained a kind of freedom and independence that is unheard of in radio or any other American cultural organization of its influence. I wanted to make a film about WFMU because, as a filmmaker who constantly must try to find a balance between art and commerce, the station serves as both a beautiful example that needs to be highlighted and a warning about the sacrifice that is required.
Filmmaker: WFMU is a unique radio station in the era of corporate programming, but what does its story have to say about our radio landscape in general right now?
Smith: Corporate radio is mostly abysmal and the film doesn't bother spending much time convincing anyone of that. But the film also leaves out any real discussion of the rest of the noncommercial dial in favor of intimacy. In many ways if you include the rise of podcasting, internet-only radio stations and highlight a handful of great NPR and community radio station shows, we are living in a new golden age of radio. The big question is how long will it last. The film speaks directly to how hard it is to make great and risky radio and maintain independence, which WFMU Station Manager Ken Freedman has done incredibly for over 30 years.
Filmmaker: What were the challenges of making a visual movie about audio subject matter, and how did you surmount them?
Smith: I was lucky enough to be filming at the beginning of the Great Recession, which severely challenged the station. So, the film is more broadly about a group of outsiders trying to save something that they love. This part of the story gave the film a propulsion. That said, unlike a lot of radio stations, WFMU is a naturally visual place. What other stations are would try broadcasting from a canoe?
Filmmaker: In addition to your first film as a director, this was your first film as a cinematographer. How did you prepare yourself for this? What did you shoot on? And how did your previous work as an editor of other people's footage teach you about shooting documentary?
Smith: I didn't prepare myself. I had shot 16mm back in college, and I always had done little bits of shooting here and there over the years, particularly at the beginning of the DV age. But I mostly learned on the job. From my experience as an editor, I knew how to cover a scene, but it really took time for me get consistent results and to eventually get images that I would consider beautiful.
I shot with the Sony EX-1. It had been originally bought for the documentary Kevorkian that I edited. Director Matthew Galkin was kind enough to lend it to me, and I was lucky enough to have it for the duration. Five years ago, when I started filming, this was a pretty great camera. It's a beast from a weight perspective, particularly since I didn't use a rig of any kind, but I still love it.
As an editor, I've experienced shooting at various stages of production. The best documentary cinematographers I have worked with (Jonathan Furmanski, David Vlasits and Paul Dokuchitz) all capture beautiful images while thinking like an editor. When they shoot a moment in time they are slowly collecting the building blocks of the scene. They have the confidence to float away from what seems like the center of the action to build a bigger picture and know instinctively when to return. The worst shooting comes from insecurity. This typically can be seen with footage where the shooter is obsessively shooting whomever is talking. Spending years looking at both great and poor footage helped me avoid many of the pitfalls, but none of it prepares you for the physical nature of the job. Shooting required that I get in much better shape then I was as an editor. I literally didn't have the physical strength to shoot well for six hours straight handheld. I definitely had an editor's body when I started.
Bonus Sixth Question
Filmmaker: When did you start listening to WFMU, and what are your favorite shows?
Smith: I started listening to WFMU in 1989, when I first got to New York. Ken's show has always been one of my favorite shows, [along with] DJ Trouble, Irwin, Dan Bodah, Sinner's crossroad, Gaylord Field, Pseu Braun, Dave the Spazz and of course Tom Scharpling's The Best Show. I could keep going. Recently I have been a big fan of the show "Hello Children with Faye." Faye is a great DJ, although like a lot of WFMU DJs, her mic breaks are as good if not better than the music she plays. Check her out on the WFMU archives at wfmu.org.