Back to selection
"We Know How a Solar Panel is Made": The Dardennes on Two Days, One Night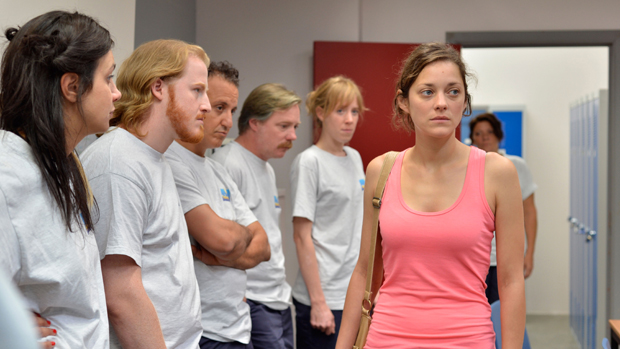 Marion Cotillard in Two Days, One Night
As a parable of solidarity, Two Days is programmatic and predictable in a way that's new to the Dardenne brothers, and not in a good way; as a streamlined narrative, it's impeccably crafted. The straight-up chase scene dropped into 2005's L'enfant — a potential audition for a rote action film should they ever feel so inclined — indicated Jean-Luc and Pierre Dardenne's handheld, ever-impassioned kineticism was reaching new levels of sheer technical proficiency. Two Days, One Night presents the dilemma of Sandra (Marion Cotillard) — fired from her solar panel factory job, ostensibly so the plant can remain competitive on a playing field leveled by Chinese labor. It's clear boss Dumont (Batiste Sornin) really wants more work from less people and globalization is merely an enabling excuse, but Sandra convinces him to have the workers vote on whether she should keep her job, or whether she should lose it so that all who remain can get a thousand-Euro bonus. Hence the title: the amount of time Sandra and husband Manu (Fabrizio Rongione) has to visit 12 coworkers before they vote on her fate. I'm a little nonplussed by how each visit Sandra makes to her coworkers adds or subtracts hope in a stop-start trajectory that unfolds as you might expect. Nonetheless, there's no denying their craft: this is the work of filmmakers increasingly confident at keeping your attention.
When I spoke to the siblings, they were in New York City as part of a promotional tour that included awards season duties. I was their last interview before they were whisked off to a red carpet reception with Academy members (wasted labor: the film didn't make the Best Foreign Film shortlist). At the midtown hotel we spoke at, the Dardennes and Cotillard were to the left on the second floor; to the right was Senator Rand Paul, holding a euphemistically named "Partnership Conference" for businesses who want to get in on the ground floor should he ascend to presidential office and begin cutting corporate tax rates. It was an appropriate juxtaposition: from the hallway, the brothers were literally on the left, the senator to the right.
Filmmaker: What was your research process like? Did you visit factories and interview workers, rely on journalism, or a combination?
Jean-Pierre: A little bit of visiting. For instance, when Dumont talks about competition from Asia and how it's affecting his factory, that's not something we made up. That's something that really exists. In the film, we never go inside the workplace where they're actually putting together the solar panels. We do know how a solar panel is made. At certain moments we have some lines, which are accurate, that make reference to that particular work environment. These people that Sandra goes and meets, that's not an exotic world for us. Those are people we're familiar with, and we knew that these people, for the most part, do two jobs. They have a day shift and a night shift, whether it's work that's under the table or not. We knew that for all of them, there's no question: a thousand Euros is important.
Filmmaker: You've mentioned the concept of solidarity in relation to this film. Obviously many of your films deal with labor and abuses of labor. What kind of argument were you trying to construct with the order of the visits she makes?
Jean-Pierre: That's the film. The fact that there was this act of repetition in going to see these individuals — she knocks on 12 doors, basically — meant we had a concern about it being boring and too repetitious. Once we realized that was the dramatic force of the film, then it was a question of putting it in order to catapult the dramatic action. It really had to do with the rise and fall of her strength and setbacks in terms of when people said "No" or "Yes," that roller coaster ride and how we would construct it each time she meets characters so that they would be as important as she is.
Luc: For the frame. There had to be equal importance and weight for each character in the frame.
Filmmaker: Is the work force supposed to be a microcosm of the Belgian workforce as well an example of the specific kind of workforce you'd find at this kind of factory?
Luc: Yes. It's a small company, there's no union involved. It does show you how the workers are pitted against each other, and how they all have their own particular needs and difficulties in their own lives, but that they're put in competition with and against each other. I think that's an accurate tableau of what's going on Belgium, but I think it goes way beyond Belgium. I think there are similarities here.
Luc: An employee like the ones in this film, we know that they earn around 1400, 1500 Euros a month.
Filmmaker: When you first introduced non-diagetic music in Lorna's Silence, a lot of people I know lost it because that was so unexpected coming from you. In this film you have a full sing-along to "Gloria," along with a discussion about the characters' love of rock. How did you settle on that song in particular?
Luc: It's sort of like a road movie. It was the first time that we had three characters in the car together, and it was a way of showing solidarity. One of the reasons for that song, aside from the fact that we really like it, is that it has a chorus, so it gives an opportunity for the three characters to chime in and sing along, which underscores a moment of solidarity between the three of them.
Filmmaker: All of your films have been shot in Seraing. Do you think by watching them you could make a kind of map of the city? In doing that, do you feel like you're documenting a city that's changing or that hasn't changed much?
Luc: We've been filming there for over 30 years. That includes the documentaries. It's a combination of things, because we have been filming there for so long. There are all kinds of things that show up. For instance, if you're going to demolish a factory or an atelier in the center of town, it leaves a huge gap. Those were vast buildings dealing with heavy work. On the other hand, the town is trying to rebuild, so there are new things that crop up. There's a combination. You can see in some of our early films, they're almost archival footage of what's there, what was there, what may still partially be there. You see terrains with abandoned buildings, so there's that whole sector, and then there are the new things. But it's very slow. The regeneration of the town, or attempts at reconstruction, is extremely slow.
Filmmaker: Do you feel like there are locations that, once you film them, you shouldn't return to?
Luc: No, we go back to them. We go through them a little bit differently. We have fun with it. When we're in the interior of the city — and we're often in the same neighborhoods and the same places we filmed before — the city was established on the river. Then it started to creep up on one side. More recently, it has crept up on the other side. With this film, for the first time, we did some of the shooting on the other side.
Jean-Pierre: Manu and Sandra's house is about 50 meters from where the hairdresser in The Kid with a Bike had her salon. You could've seen the kid with a bike ride right through there.
Luc: We do have fun with it, but we do say sometimes that we'll try to change neighborhoods. Basically all the apartments [in Seraing] are the same, so if we have to do a shoot in an apartment, we go back [to the same building]. It isn't the same apartment, but it's the same apartment in that they're all identical. We go back to that building. We didn't use that building for this particular film. But in The Kid with the Bike, that's where his father lives. Also we used it in The Son and La Promesse. In L'enfant, it's in that building that Bruno comes and drops off the kid.
Filmmaker: Quite a few other filmmakers are also interested in the decimation of industrial bases and how labor is represented on-screen. I'm thinking of films like Alain Guiraudie's That Old Dream That Moves or Wang Bing's West of the Tracks.
Jean-Pierre: I haven't seen the Guiraudie film. It's true what you're saying about industrial films. For me, the last film that we saw of Wang Bing's in Europe was Three Sisters. The human depth and weight that he's able to give to his characters individually — it's true that they sort of serve as beacons for us, and that we say, "It would be great if our characters could have that kind of weight," that kind of human weight that he's able to give them. He films live people, live human beings. They're not abstractions, they're not characters. That interests us. That's also rare in cinema, because often characters are caricatures. They're archetypes, and they have no depth.
Luc Dardenne: When you see West of the Tracks, he films a community of men that are involved in an industry. You have a sense of a common destiny between these men, that's stronger than individuals. That's right on. I think that if you had filmed the coal industry 80 years ago, say in Belgium, you would have found the same thing. The same colors, the same connections, the same relationships with bodies — everything goes together, it would have been the same. And now, the feeling of a group to that extent, in Belgium and Europe, that has disintegrated and disappeared. We have individuals. We do not have that collective experience. These individuals come from France, Russia, Algeria, Morocco, and they keep their individuality despite the fact that they may be working together. They work in the same enterprise, but the individual personalities are much stronger than they were before.