Back to selection
"I'm at a Precarious Age. I Don't Know How Much Longer I'll Get to Have This Life": Cécile Tollu-Polonowski on Multitasking in the Berlin Film Industry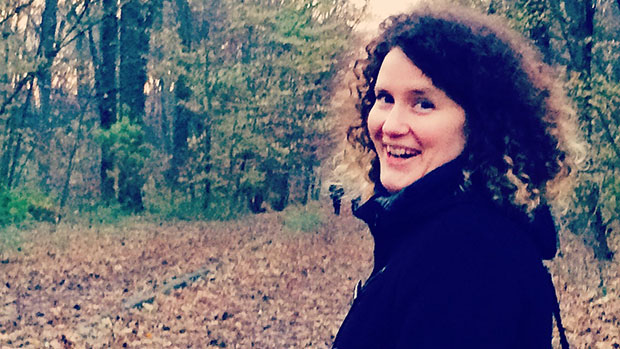 I am at Tempelhofer Park on a cold Saturday morning in Berlin. An airport reconstructed by the Nazi government in the 1930s, Tempelhof today is an epicenter of kite flying, urban farming, summer barbequing, and most impressively, unrestricted dog romping. My mother is a dog-walking regular at several public parks in Ohio and has witnessed a good many leashed vs. unleashed dog controversies over the years. As I take in the expansive landscape of Tempelhof, I'm subliminally considering the transformation from Third Reich austerity. I'm distracted by the notion that these Berlin canines are experiencing a freedom that American pooches chase only in their dreams. And it's not just the dogs in the war-ruined airports. There is an unbridled echo throughout the city — trains, theaters, clubs, parks, people. This is not to say that regulations and policy are absent here (Berliners criminalize jaywalking to a degree that would leave New Yorkers in hysterics). They even number their trees. But such nuances are less about imposition and more about logic, culture and social consciousness. It seems the only form of collective pressure is one that encourages free will and individualism.
In conversations with friends and colleagues, I've observed how many young professionals are constricted in their jobs, molded into the fabric of corporate institutions. Hierarchy and office politics are unavoidable, but when the culture of conformity compromises autonomy, something is lost. Without the impulse to initiate change, what could be creative and provocative becomes stagnant.
Perhaps I'm caught up in the ambiance of Berlin, rogue dogs and all. I know that non-conformity can be interpreted as a form of egoism — that the inability or unwillingness to work within the confines of a system is disrespectful to the older generation who methodically and patiently worked their way up. Obviously, this is a larger conversation about the discrepancies between Generation X and us Millennials.
This column's purpose is to uncover emerging voices in the film business. I'm not recommending pursuit of reckless abandonment akin to Tempelhof's dogs (and it's not like going for a walk on a leash is transgressive). I'm simply pointing out that as many young professionals (particularly young women in the film business) are being bullied or ignored or swept under thick corporate doors, it's important for emerging voices to be independent and unrestrained.
It's refreshing when I first meet Cécile Tollu-Polonowski at an event organized by the German Film Magazine Revolver. Though she's French, she epitomizes this spirit of Berlin freedom and non-conformity. Tollu-Polonowski often answers questions with "why" or "why not?" At first, this habitual line of inquisition seems meaningless or flippant, or perhaps simply signifies a general curiosity. But as I get to know her, I realize this propensity to question actually resonates with a more philosophical pillar of her personality. Untethered to a full-time job at any one particular company, Tollu-Polonowski is intensely passionate about film, seeking out work that excites her. In this way, she is uncompromising, no-nonsense. When I ask whether her resolution is ever problematic, she chuckles and carefully responds that she's learned to keep her impulses relatively under control, but that directness is generally appreciated as long as it's sincere. It's this candor and active participation that Tollu-Polonowski applies in her unrelenting questioning, and it's most likely the reason she's constantly working and always moving forward.
Tollu-Polonowski first moved to Tübingen, Germany on a German Academic Exchange Service (DAAD) grant when she was 18. After working for several film festivals, she worked as a production assistant for Britta Knöller and Hans-Christian Schmid. Tollu-Polonowski has been working with the Berlinale Forum since 2007, most recently as a program consultant. She has written for Berlin Poche since 2011 and currently manages clips and rights clearance for the European Film Awards. She earned her Bachelor in German Studies and an MFA in Cultural Management from Nantes and Saarbrücken Universities. Tollu-Polonowski is currently studying Producing at the German Film and Television Academy.
How did you end up in Berlin?
I come from a small town in France, so I felt too provincial for Paris — it just didn't feel natural for me. After high school I didn't know what to study, so I arbitrarily studied German. I ended up on a grant in the south of Germany and then moved to Berlin for my Masters. I originally hated Berlin when I first came ten years ago. It was too big and overwhelming. But then, in 2006, I got involved with the French-German Youth Office's young jury in the Perspektive Deutsches Kino section of Berlinale. After discovering the Forum at the festival, I applied for an internship and was hired afterwards.
What makes Berlin attractive to artists?
People are here because it's an interesting city. It's true that Berlin is a place for artists. The scene is expansive. It's cliché to say, but Berlin is cheap. I couldn't have this life in Paris.
Also the history — I have to assume that the city's political and cultural past enlivens the film community today?
There are so many filmmakers here and the work is diverse. German cinema isn't only about WWII. But it doesn't have an international presence — except maybe porn.
Why isn't there a bigger market for German cinema?
We are in the capital Berlin, so people go to the cinema. But there isn't the wide audience in Germany. I'm French, so naturally, I compare everything to France where people grow up going to see arthouse cinema. Here, it feels like people view cinema as a product, not a local art form. So, there are many interesting films produced in Germany but no one to see them.
How else is the film scene different than the one in France?
The film industry in France is huge, but in Germany it's centralized by region, and each region has a fund. For example, there's a rather large fund in Cologne. In Berlin, the film community is smaller than it is in Paris so you cycle through the same people much faster.
And how does the scene compare to New York or L.A.?
In general, the way the industry works in America is so different. I have no experience in New York or L.A., but I think I can relate to the New York indie scene. I don't think I'm interested in L.A.
What do you miss most about France?
The France in my mind isn't real anymore. I've been here for so long. But I do miss speaking in my own language. Even being fluent in German I'm limited because it isn't my native language. People say that being bilingual is a form of schizophrenia, and I think it's true. In French I'm a different person than I am in German. I am more spontaneous and impulsive in French than I am in German.
Maybe this French spontaneity helps you change and adapt to different work environments and experiences. Do you think you'll hone in on one specific career path or continue exploring several areas within the industry?
I'm at a precarious age. I don't know how much longer I'll get to have this life. But it's not atypical in Berlin to multitask. I like the fabrication of film, so that includes everything — I like to write, to watch, and to learn how to make films. My producing career is just at the beginning, but eventually, I want to go into German-French co-production. There's a fund for the countries to work together called the German-French Co-Production Fund Mini-Treaty.
Why didn't you want to work in Paris?
I don't think I would have even gone into the industry had I moved to Paris because I'm too shy. Here, as a foreigner, my position in German society is that of an outsider so there's no pressure to belong — I can't belong.
It's freeing in a way, being on the outside. It gives you perspective. You can't totally participate, so you observe.
But also it's cowardly, just observing. Then you are only just looking in.
I see what you mean – it's safer to watch from the sidelines.
Right. Still, I like being an outsider, an exile in Berlin. Film has become my version of stability.
What do you like most about working in film?
That's like asking if I have a favorite filmmaker! I can't answer because there are so many reasons — it's my passion.
What film festival most excites you?
I love the International Film Festival Marseille (FID) because it's a hybrid between fiction and docs with a very large programmatic spectrum. Similar to the Berlinale Forum, it's a daring program.
In your consulting work for the Berlinale, you watch a lot films. Does the critical lens ever eliminate the joy of watching movies? Does your taste ever get stale?
Maybe it's a sickness, but I'm happy — film is a passion, it's my life. And I'll never get bored. For Berlinale, it's important I watch films with particular profiles, but I must say that the Forum covers the majority of my interest. I'm very arthouse in my taste.
What material inspires you most?
I read a lot of scripts, but I also like to read novels and short stories, and I love graphic novels. I work near a French library and am constantly borrowing comics. There's actually one I wanted to have adapted, but I was too late — it's already in pre-production.
And somewhere in the midst of program consulting for the Berlinale, production assisting on sets, optioning material, translating treatments, script consulting, and writing, you've decided to go back to film school. Why?
Why not? I wanted to learn more about film.
I ask because American culture is so fixated on linear trajectories – I think young people are pressured not to veer.
So many people I admire have direct paths, but I don't want to be the same as anyone or follow anyone else's path.
What scares you most about the future?
That maybe I'll have to betray my idealism to work on projects for money, or as we say in French, "sell my soul to the devil." But the uncertainty of the future is actually what makes it so exciting. Hopefully I'll be somewhere between Germany and France working on films. Or I'll be doing something really different and less consuming.