Back to selection
Hits & Misses 2014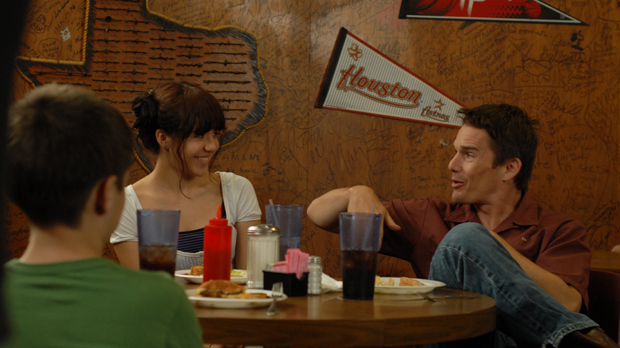 Boyhood (Photo courtesy of IFC Films)
Like the growing income gap in the United States, the indie film world has become increasingly divided between richer and poorer. While Sundance 2014 alumni such as Boyhood and A Most Wanted Man proved there's still a spot for unique and well-crafted non-Hollywood crossovers in the popular culture (the films earned, respectively, more than $24 million and $17 million at the U.S. box office), the vast majority of last year's festival titles had to scrappily pull together alternative distribution strategies in an ever-fragmenting entertainment universe, caught somewhere between the old and the new, ticket sales and downloads.
As Roadside Attractions co-president Howard Cohen says, "We see the gulf growing between films that have a theatrical life and those films that are seen principally on VOD or streaming," he says. And though movies such as Snowpiercer and Fed Up touted the robustness of their digital releases, Cohen offers this sobering reminder: "Most day-and-date films disappear with five-figure box-office and six-figure VOD revenues."
Indeed, Sundance 2014's 16 U.S. dramatic competition films bear this out. Nine of the films earned five figures or less at the box office. The two films released by IFC (Cold in July and God's Pocket) made low- to mid-six figures in theaters. Magnolia release Happy Christmas made a healthy high-six figures on VOD, but less than $50,000 in theaters. Only three of the Sundance Dramatic Competition films could be considered bona fide breakouts (Dear White People, The Skeleton Twins and Whiplash). (The remaining Dramatic Competition title hasn't been released yet.)
Depending on how you look at it, those statistics are either heartening or depressing. Maybe it's about right that 20% of indie movies earn their place in theaters, while the rest must battle it out on other platforms.
Distributors continue to reaffirm this reality. "Every movie is intended to be seen on the big screen, but not every movie can afford to be distributed on the big screen," says Jonathan Sehring, president of IFC Films, which released Boyhood exclusively in theaters, but a half dozen other Sundance films day-and-date.
With the downward trend in theatrical ticket sales and the increasing number of movies (and other entertainment options) available to consumers, A24 distribution executive Heath Shapiro says the sheer volume of options demands flexibility. "I think cutting through the clutter is very hard and speaks to the idea that we need to find the best platform for each movie," he says. This year, A24 tried it both ways: Obvious Child (see below) performed well in traditional release, while Life After Beth, in a partnership with DirecTV, was available exclusively on the platform before its theatrical launch.
Meanwhile, some producers looking to find the boost that theatrical releasing once provided are becoming more frustrated. "In the past, we would have the breathing room to grow, but unfortunately, there's very little patience now," says Land Ho! producer Mynette Louie, referring to the cutthroat world of big-screen exhibition.
Others, however, are all too happy to forgo the old-fashioned dream of movie theater showings now that a new and lucrative home such as Netflix is around. "The power of Netflix is incredible," says Nancy Schafer, executive producer of Sundance '14 selection The Battered Bastards of Baseball. "I'm used to getting a minimum guarantee upfront and betting on theatrical." But when Netflix stepped up with an offer to purchase worldwide rights, in all media, to the title, she adds, "We knew what money we were going to make even before Sundance."
But figure this out: Joe Berlinger's Sundance doc Whitey: United States of America v. James J. Bulger received less favorable reviews than a lot of Sundance docs, and earned just five figures at the box-office, but VOD numbers hit seven figures.
And yet, there are no assurances that VOD-heavy releases can sufficiently serve producers and their investors. So what to do? Roadside's Cohen believes there needs to be ways for films that can't cut it theatrically to survive. "A perfunctory theatrical release coupled with throwing it out on VOD seems a makeshift solution at best," he says. "Better, and more innovative marketing — from both the distributors and the cable and VOD platforms — is needed, as is a better way to curate for the consumer."
If only it were that easy.
Below, find eight case studies of films that premiered at Sundance 2014 and then what became of them in the wilds of the marketplace — for better and for worse.
Boyhood
THE FILM: In 2001, after making Waking Life, Richard Linklater proposes the idea of a film that follows the life of a boy growing up, from first to 12th grade. In May 2002, he begins to shoot the project for a few days every year, completing production in October 2013. A surprise addition to Sundance 2014, the film is rapturously received and considered by many critics the highlight of the festival.
FINANCING: IFC Films is on board from the very beginning. Linklater, attorney John Sloss and IFC's Jonathan Sehring structure a pact in which the company will finance the film on an annual basis, roughly $200,000 each year. Postproduction and music licensing fees are accounted for separately, above and beyond the $2.4 million it cost to get the film in the can over the 12-year shooting period.
DEALS: As producers of the film, IFC Films shops the movie around at first. "We showed it to other companies," Sehring says. "And if someone made an offer we couldn't refuse, we would have listened." But ultimately, Sehring says there were no such incontestable bids, so IFC takes U.S. theatrical, cable and VOD rights. During and after Sundance, the company sells world theatrical rights to Universal, with the exception of France, which goes to Diaphana Films; Benelux, which sells to Lumière; and Canada, which goes to Mongrel Media. Paramount Home Video buys DVD as well as digital and airline rights.
RELEASES: For a movie about a kid growing up, the film's two-hour 45-minute running time might be a liability. But exhibitors, audiences and critics never complain about the film's length, according to Sehring. Boyhood launches exclusively in five theaters in mid-July. Relying on critical praise and word of mouth, IFC ratchets up the number of theaters to 107 by week three. Then they begin taking out TV ads. "It was a very aggressive spend on our part," says Sehring, who admits it was the company's biggest outlay to date. By mid-August, the film reaches a tipping point: 771 theaters and ranking 11th overall for the weekend (one notch above Dawn of the Planet of the Apes, which opened on the same day). "We were out at a time when not a lot was working theatrically," Sehring says. In its 22nd week in release, the film receives a bump in sales after being named the best movie of the year by several critics' organizations.
GROSSES: Theatrical sales exceed $24 million, making the film one of the top indie releases of the year. With an aggressive fall Oscar campaign, the movie stays current and is poised to capitalize on its popularity in ancillary release in January.
UPSHOT: Dare the impossible. Linklater's experimental idea at the turn of the millennium becomes a highly profitable and high-profile film event a dozen years later. A nominee and winner of several year-end awards, Boyhood confirms Linklater's reputation as a unique and masterful American auteur.
Whiplash
THE FILM: Starring Miles Teller as a budding school drummer who must survive the leadership of a ruthless band conductor, played by J.K. Simmons, the film earns raves, accolades and buzz out of Sundance. Variety's review calls the film a "stellar career-starter" for director Damien Chazelle (Guy and Madeline on a Park Bench), and it wins both the Audience Award and the Grand Jury Prize.
FINANCING: In 2012, Couper Samuelson, an executive vice president at Blumhouse, sends the Whiplash script to Helen Estabrook, Jason Reitman's producing partner. After shopping the script around to no avail, they shoot a scene from the film as a stand-alone short and submit to Sundance 2013. "We were using it as a proof of concept," Estabrook says. Concept proven: The short wins the top narrative prize, which triggers support from Bold Films, who become sole funder of the $3 million feature project.
DEAL: The feature version premieres in the competition's prestigious opening night slot. Later that night, at 2 a.m., reps at William Morris Endeavor seal a deal for North American, German and Australian rights with Sony Pictures Classics for a reported $2.5 to $3 million. Prior to Sundance, Sony Pictures Worldwide Acquisitions Group takes much of the international rights to the movie.
RELEASES: Sony Pictures Classics plans a very slow and steady Oscar-season release. After prestigious slots at the Toronto and the New York Film Festivals, the company opens the film in six theaters in mid-October (garnering an impressive $135,388 gross). In week six, as Oscar buzz builds, Sony goes all out, pushing the film into 419 theaters and raking in $719,740 for the weekend. But per-theater averages are mediocre, at best; with TV ad spending and accolades such as four Spirit Award nominations, including one for Best Feature, the company banks on an award campaign to keep it going through January. Estabrook acknowledges the film has no easily discernible marketing must-see hook, "but that's why we wanted to do it," she says. "Hopefully, it's expanding beyond [the potential of] a low-budget drama."
GROSSES: As of this magazine's print deadlines, the U.S. box office tops a healthy five million. International sales are also moving along, particularly in Australia, where the film earns more than $500,000 in theatrical release.
UPSHOT: According to Estabrook, the film's financiers are in the black; Chazelle has established himself as a new commercial-minded auteur, and producer and director have already teamed up again on two new projects.
Obvious Child
FILM: Based on a short film of the same name by Gillian Robespierre, the comedy stars TV veteran Jenny Slate (Saturday Night Live, Parks and Recreation) as a Brooklyn comedienne who accidentally gets pregnant and grapples with getting an abortion. The film premieres on the first Friday of Sundance in the festival's low-budget NEXT section.
FINANCING: Working on a shoestring budget, the filmmakers receive support from a number of nonprofits, including the Independent Feature Project, Rooftop Films, the Tribeca Film Institute and the San Francisco Film Society. The filmmakers shoot the film in 18 days, mostly in friends' apartments and around streets where they live. According to producer Elisabeth Holm, the budget is under $1 million. To help with finishing the film, the production turns to Kickstarter, where Holm was film program director, and they raise $37,000.
DEALS: Shortly after the festival's second screening, A24 buys all North American rights for a "modest number," according to distribution executive Heath Shapiro. (Deadline's Mike Fleming put the deal in the "low seven figures.") "It's rare to find such a gem that plays so well to an audience and features a star-making performance," Shapiro says. The Exchange acquires international sales rights just after the A24 deal closed, making foreign deals at the European Film Market in Berlin. Holm reports via email that "the film has also been released in the U.K. (Koch Media), France (Paradis) and Australia (Buena Vista International). With the exception of India, it is being released through a combination of cable/satellite/VOD/digital platforms worldwide."
RELEASES: In early June, Obvious Child gets a jump on the U.S. summertime glut — "we saw it as an opportunity," Shapiro says — with a slow platform release that begins with a bang: a $25,772 per-theater average in three venues. To combat the hot-button "abortion" issue, A24 screens the movie "like crazy" at festivals and word-of-mouth showings before it opens. Reviews are very good, particularly for a comedy, with critics praising the film's emotional honesty as well as its humor (it earns an 88% rating on Rotten Tomatoes). By week four, the film jumps up to 196 theaters and well surpasses $1 million, buttressed by a "tidal wave of publicity," according to Shapiro, with much of the press touting Slate — selected as one of Filmmaker's 25 New Faces in 2011 — as the next-big-thing.
GROSSES: After 18 weeks in release, domestic ticket sales reach more than $3.1 million, making it one of the top-grossers out of Sundance 2014. The company spent significantly on marketing to hit that number, but Shapiro contends that it was a "good investment." The fall digital launch was also "incredibly successful," according to Shapiro, reaching digital platforms in late September with DVD following shortly after in October. At year's end, Obvious Child is listed as "Best Discovery" on iTunes Best of 2014.
UPSHOT: Obvious Child doesn't garner the level of attention of other abortion-themed movies (Juno, Bella, et al.), but Slate's star gets a boost both during the film's release and award season, while Robespierre gets some of her own year-end nods as well as a high-profile follow-up gig, hired to direct a divorce comedy for OddLot Entertainment. Gigi Pritzker (The Way Way Back) will produce alongside Holm, and Holm will also co-write the script with Robespierre.
Fed Up
THE FILM: Filmmaker Stephanie Soechtig and TV journalist Katie Couric's investigative doc examines the role of America's food industry in aggravating today's obesity epidemic. At Sundance, Variety predicts the film will "become one of the year's highest-profile commercial docs.
FINANCING: The film is backed by several flush supporters, including executive producers Laurie Lennard (formerly David, of An Inconvenient Truth fame) and Heather Reisman (CEO of Canadian retail chain Indigo Books), as well as Regina Scully (The Invisible War) and Candescent Films's Lilly Hartley.
DEALS: Before festival's end, RADiUS-TWC acquires worldwide distribution rights, reportedly beating several other offers. According to Deadline, the price tag was close to $2 million.
RELEASES: On May 9, in a clever Mother's Day weekend counterprogramming move, RADiUS opens the film day-and-date, on VOD and in 18 theaters (for an impressive $7,000 per-theater average). Ticket sales are fairly steady, as the film expands to just over 100 theaters by week four. The film's digital numbers are just as robust.
GROSSES: After 10 weeks in theaters, the movie grosses more than $1.5 million. Months after release, the film remains atop iTunes' all-time doc performers. As of mid-November, VOD grosses had reached more than $1.3 million — and counting. Anchor Bay Entertainment launches the DVD in early September, with plenty of time to cash in on concerned parents before such sugary holidays as Halloween and Thanksgiving.
UPSHOT: The straight-up advocacy doc can be a lucrative thing, especially in the digital universe, where impact media and social networking go hand-in-hand. The film also proves the power of the female audience.
The One I Love
THE FILM: Starring Mark Duplass and Elisabeth Moss as a husband and wife, the film follows the couple as they attempt to salvage their marriage, but then the story veers into stranger sci-fi territory. The One I Love plays in Sundance's Premieres section the Tuesday after the festival's frenetic first weekend, earning solid to mixed reviews from trade critics, who praise the film's performances as well as its novel reinvention of the rom-com genre.
FINANCING: As part of a low-budget production initiative pioneered by successful indie producer-actor Mark Duplass and his brother, Jay, The One I Love gets funding from a group of private investors, including Duplass. "The idea is to create a system whereby I can totally control the capital and make the films for a cheap price," says Duplass, who notes 80% of profits are shared with the actors and crew.
DEALS: Shortly after the film's Sundance premiere, TWC-RADiUS steps up with a world rights deal for just shy of $2 million.
RELEASES: Rather than overspend on a lengthy and costly theatrical release, Duplass advocates for a more modest approach: An Ultra VOD release before the film goes to theaters, and then hit 100 screens with a bang. "Because we've brought all that energy to the movie," he says, "Netflix and TV sales are worth a lot." To market the film, Duplass says, "I promoted my ass off." The film's public relations team also exploits Moss's renown for her role on Mad Men. They also keep the film's Twilight Zone-ish plot a secret. "I think maintaining a little mystery helped draw interest in the movie," Duplass says.
GROSSES: The film continues to garner viewers on VOD well after its launch; at its initial $6.99 price point, The One I Love generates well over $1 million, according to Duplass. Theatrical ticket sales top out at about $513,000. With sales to cable TV and Netflix, Duplass is confident that RADiUS has made its money back. "I'm making sure when Sundance 2015 comes along, we are all going to want to work together again."
UPSHOT: "Nobody got really rich, but people liked it, and we made a little bit of money," Duplass says. "I'm just trying to hit singles."
Life Itself
THE FILM: An overview of the life and death of famous film critic Roger Ebert, veteran documentary filmmaker Steve James (Hoop Dreams) directs this high-profile Sundance nonfiction premiere. While the film provides a moving tribute to the Chicago movie reviewer, it also shows his dark sides, his difficulties and the way he and his family dealt with his terminal cancer. Critical and audience response is strong, with many critics calling it the best documentary at Sundance.
FINANCING: Producers cobble together the film's reported $1 million budget from several sources: approximately 45% comes from CNN Films, which purchases broadcast rights early on; 20% from private financiers; another 20% from The Ferro Family Foundation; and the remaining 15% through an Indiegogo campaign, whose perks include a private digital screening and interactive filmmaker Q&A, via VHX, simultaneous with the film's Sundance premiere, and a $5 gift card to Ebert's favorite restaurant, Steak 'n Shake.
DEALS: Shortly after the festival closes, Magnolia Pictures announces its acquisition of North American rights, reportedly beating out offers from companies such as IFC Films and The Weinstein Co. According to Life Itself producer Zak Piper, Magnolia was attractive because of their day-and-date strategy and their prior partnership with CNN on the release of Blackfish. Prior to Cannes, Magnolia also acquires international rights and sells the film to a number of territories, including the U.K., Australia and Italy, among others. The film makes a good number of TV sales around the world, as well.
RELEASES: On July 4, Magnolia launches the film in theaters and on VOD. The theatrical opening is strong, but not stellar, averaging $5,714 on 23 screens for a $131,411 total. In week three, Magnolia aggressively expands to 100 theaters, but ticket sales drop precipitously in subsequent weeks. The DVD will be released in February 2015.
GROSSES: After 15 weeks in release, the total theatrical gross hits $810,454. While that may be strong for a documentary nowadays, Piper admits it was "a bit less than we'd hoped for considering all the positive reviews and mainstream exposure." Magnolia won't confirm exact VOD earnings, but it doesn't reach seven figures.
UPSHOT: Producers at longstanding nonprofit Kartemquin Films says the company doesn't "measure success in financial terms, but more so in terms of audience reach and engagement." With Life Itself being voted Best Documentary by the National Board of Review and an Oscar nomination in the offing, the film's — and Ebert's — legacy is assured.
Land Ho!
THE FILM: While director Aaron Katz and producer Mynette Louie were developing a larger-budget product, they teamed up with Katz's friend Martha Stephens, who had the idea of shooting a scrappy buddy comedy about two older men on vacation in Iceland. The film premieres in Sundance's NEXT section for low-budget features and is warmly embraced by festival audiences.
FINANCING: The Land Ho! team begins by shooting the Kentucky opening of the film using their own credit cards. Meanwhile, Louie is hired to run Gamechanger Films, whose cofounders hail from nonprofits Chicken and Egg Pictures and Impact Partners. The for-profit company controls an equity fund and is devoted to funding commercially viable films directed by women. Gamechanger decides to sign on as co-financiers, along with Unbound Feet Productions's Emily Ting and a silent investor. Partnering with Icelandic-based Vintage Pictures, the filmmakers make the film for about $300,000, about one-sixth of which are tax credits they will eventually get back from Iceland and New York. Rushing to make the Sundance deadline, they edit the film in six weeks.
DEALS: After a Sunday night premiere at Park City's Library Theater, buzz begins to build. At the film's Tuesday press and industry screening, executives check out the film and screeners are doled out. Offers begin to come in. The filmmakers and their sales agent Andrew Herwitz play the post-midnight negotiation game and close a deal on the film by 4 a.m. with Sony Pictures Classics for a reported $2 million for worldwide rights.
RELEASES: Land Ho! opens the same summer counterprogramming weekend as Boyhood. Sony Classics aggressively promotes the movie to older moviegoers, having sponsored word-of-mouth screenings with the AARP. Solid reviews from the big newspapers help buoy the film — The New York Times's Manohla Dargis offers a great pull quote, calling it "a classic journey of self-discovery generously embellished with laughter, otherworldly beauty and philosophical inquiries." Though the opening weekend on four screens yields a strong per-theater average ($8,580), those numbers drop by week four. It's too soon to gauge DVD and VOD success — Sony Pictures Home Entertainment launched ancillary releases on Nov. 4.
GROSSES: Theatrical sales only reach $727,000. "Obviously, it would have been nice to break a million," admits Louie, who can't say why the film didn't click. But she suggests some cannibalization of the indie marketplace may be to blame. Other adult fare released around the same time, such as Sony's own release of the new Woody Allen movie, Magic in the Moonlight, for instance, may have hampered the film's ability to build.
UPSHOT: Investors and filmmakers recoup based on Sony Classics' minimum guarantee; Gamechanger can tout its first feature a positive investment; and co-director Martha Stephens signs with UTA. Meanwhile, Katz and Louie may finally get to make that bigger film.
The Overnighters
THE FILM: Set in the oil boomtown of Williston, N.D., the nonfiction competition film follows a local pastor who provides shelter for the several homeless men who have traveled there to seek work. Heralded at Sundance as one of the festival's top documentaries, trade reviews are stellar, with The Hollywood Reporter's David Rooney calling the film "sharply observed" and "a penetrating examination of issues pertaining to poverty, class, social stigmatization, religion and even sexuality."
FINANCING: The Catapult Film Fund and the Sundance Institute kick in small grants, totaling about 10% of the budget. Impact Partners and another equity investor contribute another approximately 25%. Moss kicks in the remainder of the budget himself — the "beg, borrow, steal method," he says, primarily through income generated from other projects.
DEALS: A number of distributors make offers on the film. But working with Andrew Herwitz at the Film Sales Co. and CAA, Moss goes with Drafthouse Films for three reasons, he says: "their passion for the film and commitment to giving the film a true theatrical release"; "their track-record with The Act of Killing"; and "their flexibility in structuring the deal, which allowed us to reserve other rights, including TV and SVOD." PBS's POV Series also gets the film for broadcast for its 2015 season, and Netflix acquires the film for a number of international territories. Dogwoof purchases U.K. theatrical rights and Films We Like takes it for Canada.
RELEASES: Drafthouse debuts the film in early October during a particularly crowded fall market. Strong reviews — a whopping 90% on Metacritic — and word-of-mouth keep the film in theaters, but sales are sluggish.
GROSSES: Despite being shortlisted for the Academy Award, the U.S box office amounts to less than $100,000 after nine weeks in release. Moss doesn't blame Drafthouse, but says the ticket sales are "a reflection of more structural issues in the commercial theatrical marketplace and the bracing reality of marketing docs in this space that do not have built-in niche audiences or stars." The VOD release will launch in early February, followed by SVOD shortly thereafter.
UPSHOT: According to Moss, he and his financiers are on a path to make their money back "and even make a modest profit," he says. Meanwhile, Moss has further burnished his nonfiction credentials with a highly praised doc, and is already at work on a new TV-financed feature documentary about the making of a legendary 1970s Hollywood movie.