Back to selection
Sundance 2015: Mistress America and It Follows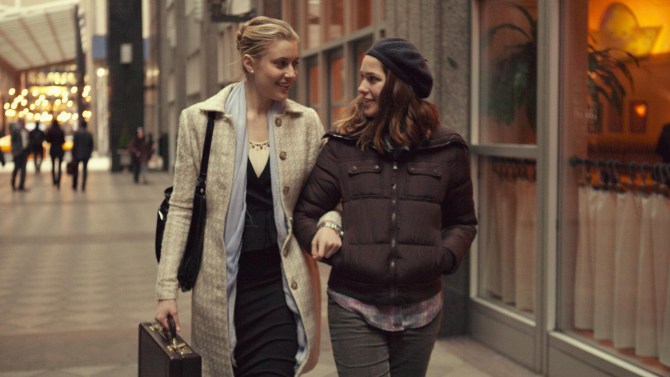 Mistress America
Modern media has a perverse fascination with pinpointing the motivations of the millennial. When not publishing extensive reports on "hookup culture," many publications are transfixed by the generation's ostensible desire to simultaneously better themselves and the world, while still being unable to get it together and move out of their mom's basement. With Mistress America, Noah Baumbach and Greta Gerwig have created a precise portrait of a woman who embodies the ephemeral essence of a do-it-all, self-entitled millennial without dispensing any blanket, generational theses. This character, however, is not the film's purported protagonist — that would be 18-year-old aspiring writer Tracy, played by a nicely understated Lola Kirke — but her careening would-be step-sister Brooke, whom Gerwig relishes as a go-for-broke exercise in deluded megalomania.
With opening edits that stitch together disparate scenes like a near montage, the 84-minute Mistress America begins at a rather quick pace only to whip into a dizzying frenzy the moment Brooke sashays down the TKTS steps in Times Square to welcome Tracy to "The Great White Way." Practically friendless and alienated during her first semester at Barnard (Gerwig's alma mater), Tracy dials up Brooke at her mother's suggestion, first hesitating on account of the fact that this 30-year-old woman surely has a life and friends of her own. In reality, Brooke has a figment of a life. A soul cycle instructor/degree-less tutor/interior designer/branding guru, Brooke has big plans to open a restaurant called Mom's, with the help of her wealthy and entirely absent Greek boyfriend. Magnetized by her charisma, Tracy immediately pens a story on Brooke after their first night together, as the film's narration flirts with The Great Gatsby's mode of literary fascination. Though she is not particularly generous to Brooke's proxy in her writing, Tracy clings to her in actuality, frequently sleeping over in Chinatown — which is somehow supposed to double for Times Square — where Brooke lives illegally in a commercial loft.
Soon enough an investor drops out, and Brooke's restauranteur dreams are dashed. Scrambling, she follows a psychic's advice to Greenwich to claim the necessary money from her ex-best friend who stole a t-shirt business idea and her fiancée (the brilliantly cast Michael Chernus) years prior. With Tracy, Tracy's love interest and his girlfriend in tow, Mistress descends into full-bodied screwball chaos, as the characters and their dialogue are meticulously staged atop one another inside a sleek glass house where metaphorical rocks are thrown left and right. The frequency of cuts (and alternate blocking) amid the motley ensemble runs so high it's slightly unsurprising to learn that this otherwise modest film was afforded 60 shooting days.
If Mistress America warrants criticism, it's that for all of the manic humor in this claustrophobic sequence, Brooke and Tracy's parallel descent makes for a formulaic third act that Baumbach and Gerwig so smartly eschewed with Frances Ha. It would be a mistake, however, to go into Mistress expecting Frances, largely because here the melancholy has been jettisoned in favor of broad entertainment and an entirely different kind of performance from its co-writer and star.
With her knack for physical comedy and behind-the-beat delivery, Gerwig tends to imbue the majority of her performances with a certain authorship that bleeds into the surrounding movie, somehow tonally commandeering it for her own. In Mistress, however, the quintessential open-faced Gerwig clumsiness is replaced by a yuppie, cocky veneer that makes it all the more desperate when she slowly lets her self-awareness seep out. Though accurate and welcome, the Tracy-Brooke bond is not as deeply felt as Frances and Sophie's, but Baumbach and Gerwig still manage to fuse emotion with farce, forging a screwball that is as at times as multivalent as any mentor-protege relationship.
Relationships are not so easily discarded in David Robert Mitchell's deservedly hyped, Cannes breakout, It Follows. An incredibly crafted mood piece, the Detroit suburbs of Mitchell's follow-up to The Myth of the American Sleepover are being stalked by a shape-shifting figure only visible to the infected. Jay (Maika Monroe, a dead ringer for young Chloe Sevigny) spends her summer hanging around her seemingly parentless home with her sister and friends, encased in a sort of surreal time capsule, as Mitchell alternately decorates his sets with retro furnishings and anachronistic technology.
Out one evening with a decent seeming older guy name Hugh (Jake Weary), Jay's quiet foxhole life is violently upended by a casual exchange of bodily fluids. After copulating in his car, Hugh suffocates her with chloroform and Jay awakes strapped to a wheelchair inside an abandoned warehouse. Calmly, Hugh explains that he has passed something along that will follow her, and that all Jay needs to do to get rid of it is sleep with someone else. Mitchell's camera strapped to the foot of her wheelchair, Hugh begins wheeling her around the complex, in search of the follower. It is this kind of visceral precision that gives the film its engrossing sense of terror, which Mitchell corroborates with his equally bewitching sound design. While canned cues are often used as a crutch in the horror genre, Mitchell layers It Follows with deafening tones throughout to create a scape that's as immersive as the well deployed 360 degree pans he uses to tease the presence of the follower.
On paper, the notion of a horror film about a sexual transmitted stalker is vaguely absurd, but the exposition-free characterization allows for the "disease" to take on an amorphous meaning. Is it about sexual anxieties: our fear that you can never completely shed the memory of someone you sleep with? Do we, in fact, sleep with people because we ultimately want to hurt them? Or is it all just an existential punishment for casual adolescent experimentation? Mitchell's choice to give his protagonist the androgynous name of Jay would also seem to play to the trope of the neutered, condemned woman who oversteps her modesty. Still, for all the parsing it invites of its pathological perpetrator, It Follows never feels too portentous or gimmicky in its exploration of a community haunted and increasingly unhinged. The mood is just right.