Back to selection
"We Sold Our Film!" The Director of The 414s: The Original Teenage Hackers Blogs from Sundance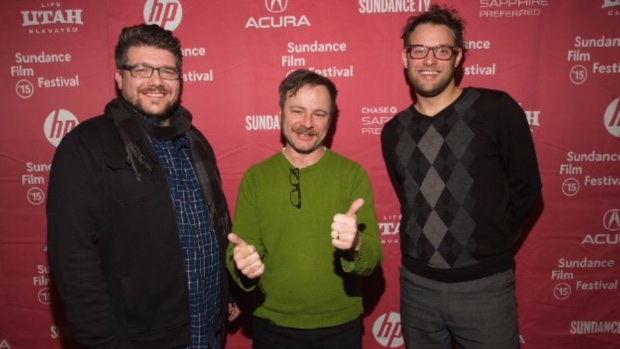 Left to Right: Director Michael T. Vollmann, Sundance Short Film Programmer Mike Plante, and Producer Chris James Thompson. (Photo: Smarthouse Creative)
My filmmaking partner, Chris James Thompson and I are more than halfway through our time here at Sundance and it's been pretty incredible. So far we've had two screenings of our short doc The 414s: The Original Teenage Hackers, and the audience response has been extremely positive. Some of the other highlights include spotting Kristen Wiig hanging out on Main Street, getting a bunch of legit full-sized posters printed courtesy of the pros at the HP center and taking the trek out to the Sundance Mountain Resort for the Directors brunch, where Robert Redford was in attendance. But nothing can trump the single-most exciting event of our trip: we sold our film!
About a week or two before Sundance began we were still finishing our film: working on visual effects with John Roberts, collaborating with Joe Wong and Didier Leplae on the original score and finalizing color with Rob Due from Independent Edit in Milwaukee. It was during this time that we began to get a few emails and phone calls from interested parties who had seen an initial screener version of our film and wanted to talk. One of the interested parties was CNN Films; Vinnie Malhotra and Courtney Sexton reached out for a phone meeting and we were curious how the conversation would go. We were definitely excited, but didn't allow ourselves to get over-hyped. We thought they were probably reaching out to all the short filmmakers to glean information on production strategies and budgets and maybe talk about future work. We had no idea.
We had little to no expectation of selling the film as a short; we thought the marketplace at Sundance pertained specifically to features. We were content knowing the exposure would be good for our careers, we'd get to party with awesome filmmakers, and maybe we could draw up some interest to expand the project into a feature narrative, or an episodic TV or web series focusing on eight similar short stories.
In the past shorts didn't have proper distribution channels and were rarely bought, but according to Sundance Shorts Programmer Mike Plante the opportunities for shorts are growing. We happened to make the right film at the right time – CNN was planning to roll out a new online platform for short non-fiction films to compliment the amazing features they've been releasing over the past couple years (Black Fish, God Loves Uganda).
Sales agents don't seem eager to represent short films because the deals are not large, so we worked out a deal ourselves. It was an exhilarating and stressful experience! Soon after, on the morning that we knew the press release would come out to announce the acquisition, Chris and I were standing in the Sundance Headquarters obsessively searching "414s CNN" on Google news. All of a sudden articles started popping up; we could finally share the exciting news with our friends and family. We each quietly read the entire release on our own phones then turned and gave each other one satisfyingly dorky filmmaker high-five. Very surreal.
The festival is now moving into the middle of the week, and Mike Plante's legendary short film awards bowling party will wrap up our fest. We hope to catch a few more features during our last couple days here in Park City before flying home to Milwaukee. I'm sad it's coming to an end, but I'm also extremely excited to hug my family.