Back to selection
Sundance 2015, Dispatch 5: The Chinese Mayor, Cartel Land and City of Gold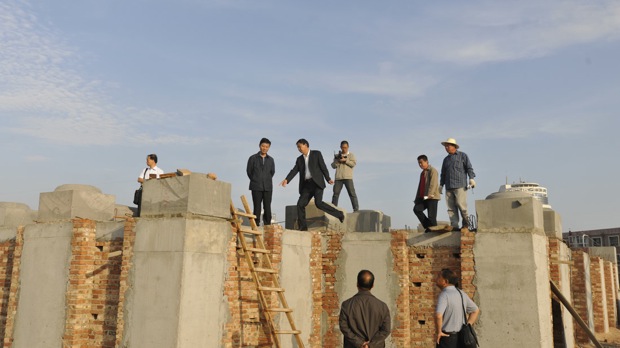 The Chinese Mayor
The vast world of Chinese independent documentaries was finally acknowledged by Sundance with the inclusion of Zhou Hao's The Chinese Mayor. That's not to bag on the festival for an anomalous oversight: this exciting and politically urgent strain of films has been happening for 15 years or so but not often acknowledged by U.S. festivals at large. This is a very good starting point.
The mayor of Datong, Geng Yanbo, confesses that he's happiest with communing with China's past, so it makes sense that he plans to revitalize the country's most polluted city by restoring its ancient wall, part of a plan to drum up tourism. That requires demolishing the homes of, and relocating, 30% of the city. The citizenry's response is, predictably, mixed, with one woman comparing Yanbo's actions to the building of the Great Wall, which isn't a compliment: that emperor, she says, is regarded by history as a tyrant. Like most Chinese mayors, Yanbo lives on a military base for safety's sake (!), and when he emerges every morning he's surrounded by petitioning citizens, many displaced without a new home to relocate to. Radical though his actions are, the mayor is still comparatively preferable to his predecessors: "To be frank, you're the first good mayor in Datong ever," says one impassioned subject as Yanbo takes the time to examine paperwork and promise that appropriate changes will be made.
Yanbo's sincerity is hard to question. Sometimes Hao rests his camera on the mayor's desk and lets him go off, the camera shaking every time Yanbo angrily bangs his desk. When contractors fail to hit deadlines, the mayor lets them have it. "Couldn't you be more gentle?" the director asks, but there's no time for that: in a system where election is a hilarious formality (as shown in a pofaced party ceremony: "Choose one out of one candidates"), a mayor can be pulled from his post without any notice, and Yanbo is determined to complete his project before that happens.
The Chinese Mayor is democratic in capturing Yanbo's tenure, regularly splitting off to register various displaced people's responses, then rejoining the administrative huryburly. In a country where independent documentation isn't quite precisely legal but disseminated in cinema clubs rather than through official distribution, this kind of reflection is still unusual enough to merit comparison to "the Italian journalist Antonioni," whose 1972 Italian TV documentary on the country remained scandalous, suppressed and tantalizing for decades. Regularly self-reflexive about his access (at one point Yanbo admits he stopped noticing when he was being filmed), Hao occasionally acknowledges his past as a news photographer in brief overhead or panoramic shots, but his true function is as a journalist rather than aestheticist. There's so much that hasn't been documented about China's internal and political life, and this is just a start: the filmmaker is regularly kicked out of rooms when "internal discussion" quashes the lightly held myth of a transparent political process. This is urgent and scabrously entertaining material.
Utterly unrelated: I finally saw something I really and truly despised, the one time this happened at Sundance. I question neither director Matthew Heineman's sincerity of intent nor his camera-up, head-down courage in filming Cartel Land, a tremendously dangerous piece of work about the border drug wars. There are gunshots aplenty, and Heineman's embedded right there, ducking and covering as needed. And that's all I can say that's nice, because Cartel Land is an absoute mess of a film that raises the question: what happens when access doesn't equal insight?
It begins with a bang, to be sure: men disguised with bandannas pulling up out of the darkness, getting out their oil drums, and getting their Breaking Bad on. "We are the meth cooks, the number one here in Michoacán," one says, and I see no reason to doubt his veracity. "We know we do harm, but what can we do? We come from poverty." The narrative splits its attention unevenly between Dr. Jose Mireles, leader of a vigilante movement to take back cities from the cartel, and his American counterpart Tim "Nailer" Foley, whose Arizona Border Recon has been named a hate group by the Southern Poverty Law Center. His response? "The name 'vigilante' has been given a bad name by the media."
I do not know why, when there's so much dangerous footage of shootouts, Heineman decided to slather it with not just endless music, but the worst kind of Heavy Action Movie Music, all ominous loud drum rolls and minor chords. That's egregious, manipulative, unnecessary and all kinds of problematic. I'm equally troubled that Heineman has apparently no idea how to tell a linear story. While Foley's situation basically remains static (hence, I suppose, why he gets less screen time), Mireles' position of authority is usurped and undermined by his subordinates. There's more than enough corruption and collusion between the Mexican government and cartels to justify a movie that's just 90 minutes diagramming the tangled relationships on a white board (the way, in fact, Gianfranco Rosi treated a paid assassin's motel room testimony in El Sicario, Room 1664); instead, we have an endless, shapeless mass of violence. It's harrowing — there is a scene that's basically just many people being tortured in a room — and enervating at the same time. This is chaos, but not as a way of simulating chaos itself (as in e.g. Huang Weikei's Disorder); it's the perplexing inability to shape an inherently strong narrative into something with internal momentum, an especially major problem for a film hamhandedly contorting itself into the shape of an overwrought VOD gun melodrama. Now I'm retroactively wondering if I misjudged Miss Bala; I really, really begrudged having to sit through every minute of this.
Laura Gabbert's City of Gold is also shapeless, but I'm a food guy and this just barely meets my threshhold for acceptable viewing. The city is Los Angeles and the subject food writer Jonathan Gold, hence the title. Anyone who's spent too much time on food blogs will be familiar with many of the faces here — L.A. food truck pioneer Roy Kogi, the ubiquitous David Chang, Gold's more-or-less NYC counterpart Robert Sietsema — and topics like sustainable fishing. Inspired by Calvin Trillin and punk rock, Gold has made it his mission to focus on L.A.'s insanely sprawling cornucopia of ethnic food. In past decades, newspaper food writing was generally restricted to Proper Cuisine, defined as French-derived food with appropriately high prices. Gold went against that grain, and though he's certainly not the only one, he's also a terrific writer (the first Pulitzer-winning food writer, for what it's worth).
Gabbert follows Gold in his truck ("I'm an L.A. guy. I drive. I am my truck, my truck is me") as he visits, in no particularly discernable order, a number of different neighborhoods, highlighting some Gold-promoted discoveries punctuated by lots of helicam shots. Too much time is spent with grateful restaraunteurs saying how Gold's coverage took them from locals-only affairs struggling to survive to constantly-packed sensations, too little on highlighting the food itself. Gold himself is affable and unsurprisingly quotable, and the movie does a decent job of exploring his past as a music critic and deeper food roots as an Angeleno, including how, once upon a time, which Jewish deli you ate at indicated your family's social status. When you run out of episodes of Mind of a Chef, this'll do.