Back to selection
Blackmagic Announces New Cameras at NAB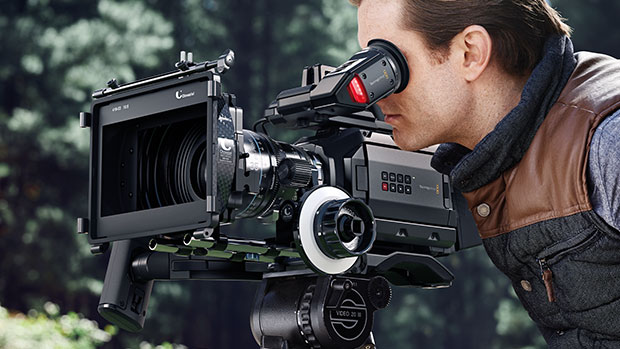 Blackmagic URSA Mini
It's NAB, and Blackmagic have once again announced some exciting new cameras. Blackmagic has developed a bit of a reputation for announcing cameras with amazing specifications at incredibly good prices. They may not be as refined as the cameras from Sony, Canon et al., and they may not always ship on their announced dates, but if you're a shooter on a budget you have to look at Blackmagic's camera offerings.
Blackmagic's first camera was the Cinema Camera. Despite its unusual shape and user interface, this camera was a hit because of its high dynamic range, reasonable price, and its support for Canon EF lenses. It was the ideal step-up for DSLR video shooters on a budget, even if the sensor was smaller than Super 35. Then came the Production camera, a 4K version in the same body with a Super 35-sized sensor and global shutter that sells now for $2,995.
Last year Blackmagic announced the URSA, another 4K camera that attempted to address some of the usability issues of the original camera design. But the URSA is a a large camera with large controls on each side. It might work well if you have a crew, but not for a solo operator. Enter the Blackmagic URSA Mini.
But First, A New Sensor
Before getting to the new cameras, it's important to note that Blackmagic has also announced a new 4.6K sensor, which will be available in the new camera, as well as the existing URSA. The new sensor has 4.6K (4608 x 2592) resolution and 15 stops of dynamic range to the original sensor's 12. A new version of the URSA with this sensor will start shipping in June and cost $6,995 for the EF mount version and $7,495 for the PL mount version.
If you already own the current URSA you can purchase a "4.6K Turret Upgrade" for $1,995 for the EF and $2,495 for the PL mount version. They are expected to start shipping in July.
Blackmagic URSA Mini
The new URSA Mini takes the key features of the URSA and puts them into a package that is more suitable for a single operator. It will offer the same 4K and 4.6K sensors as the URSA, in both EF and PL mounts, and records to dual CFast cards and supports frame rates up to 60fps. With two sensors and two mounts, there are four versions of the camera available starting at $2,995 for the 4K EF, $3,495 4K PL, $4,995 4.6K EF and $5,495 4.6K PL.
The new body shape is constructed from magnesium alloy and has a side handle that should help with handheld operation. They are also offering a shoulder kit that adds a shoulder pad, a top handle and a quick release mount built-in for $395.
The camera includes a 5-inch fold-out monitor on its side, but Blackmagic has also announced an HD viewfinder, the URSA Viewfinder, which has an OLED display and works with all URSA models ($1,495). Other features of the URSA Mini include: SDI out, Timecode In, built-in microphones, and two XLR audio inputs with 48V switchable phantom power.
A feature in this camera found in few current cameras is a global shutter. The camera can shoot with the global shutter at up to 30fps, or with a rolling shutter at up to 60fps (in HD it's 160 fps). The 4.6K model has 15 stops of dynamic range, while the 4K model has 12 stops.
All in all, the URSA Mini looks like a well-spec'd camera, and at $4,995 it might be a good alternative to the Sony PXW-FS7, which is $7,999. In addition to the price difference, the 4.6K option, and the possibly higher dynamic range, the global shutter feature will be of interest to anyone shooting concerts — minimizing the effect of camera flashes — or fast moving objects.
The URSA Mini does have some limitations; no battery system is included, so you have to add an "external" power source using either a 4-pin XLR or 12-pin molex connector, or you can add a VLock Battery Plate ($95) to support third party batteries. The new shape looks more hand-holdable than the original Cinema Camera, but you might need to buy the shoulder pad and the viewfinder to use it on your shoulder. All kitted out you could end up spending almost as much as the PXW-FS7, and the PXW-FS7 has two things the URSA Mini doesn't: ND filters and lots of physical buttons on its side.
Still, I look forward to reviews of the camera and seeing how the image quality holds up and how easy the camera is to operate.
Blackmagic Micro Cinema Camera
Not content with the URSA Mini, Blackmagic also announced a new compact HD camera, the Micro Cinema Camera.
In 2013 they introduced the Pocket Cinema Camera, which has a Super 16mm sized image sensor, Micro Four thirds lens mount, and 13 stops of dynamic range. It sells for $995 and got a lot of attention from people looking for a small camera that could shoot high quality video but would fit in small rigs. But the Pocket Cinema Camera is the size of a small mirrorless camera, not of an action camera.
Enter the Micro Cinema Camera, which has been designed specifically to install in drones and remote locations. This HD camera uses MFT lenses, has a Super 16mm sensor and an expansion port that works with PWM and S.Bus model airplane remote controls. There's HDMI and composite video outs, a 3.5mm jack for audio, and even better, 13 stops of dynamic range and a global shutter. The camera works with LP-E6 batteries or you can power it through a 12V DC jack. It's expected to ship in July.
The Micro Camera is larger than your standard action cameras, and though no weight is given, with battery and lens it's bound to be a lot heavier — and more expensive — than your GoPro. It also doesn't shoot 4K, but I suspect that HD from this camera will look better than 4K from most current action cameras.
Blackmagic Video Assist
This is not a camera, but it's just as useful. The Blackmagic Video Assist is a 5-inch HD resolution external monitor that also records 10-bit 4:2:2 in ProRes and DNxHD format. It looks like a competitor to the Atomos Ninja Blade, but at half the price ($495). Unlike the Ninja, it records to SD cards rather than 2.5" HDDs/SSDs. It could be very useful with a camera like the original Canon C100.
And That's Not All
Blackmagic announced a number of other new pieces of hardware, including the Micro Studio Camera 4K that resembles the Micro Cinema camera but removes the internal recording and adds a 4K-image sensor and SDI connections. Though they say you could use it for field recording, it's not really intended for that. Blackmagic also announced several new I/O boxes, and software updates for DaVinci Resolve 12 and Fusion 8.