Back to selection
Tribeca 2015: MA and Uncertain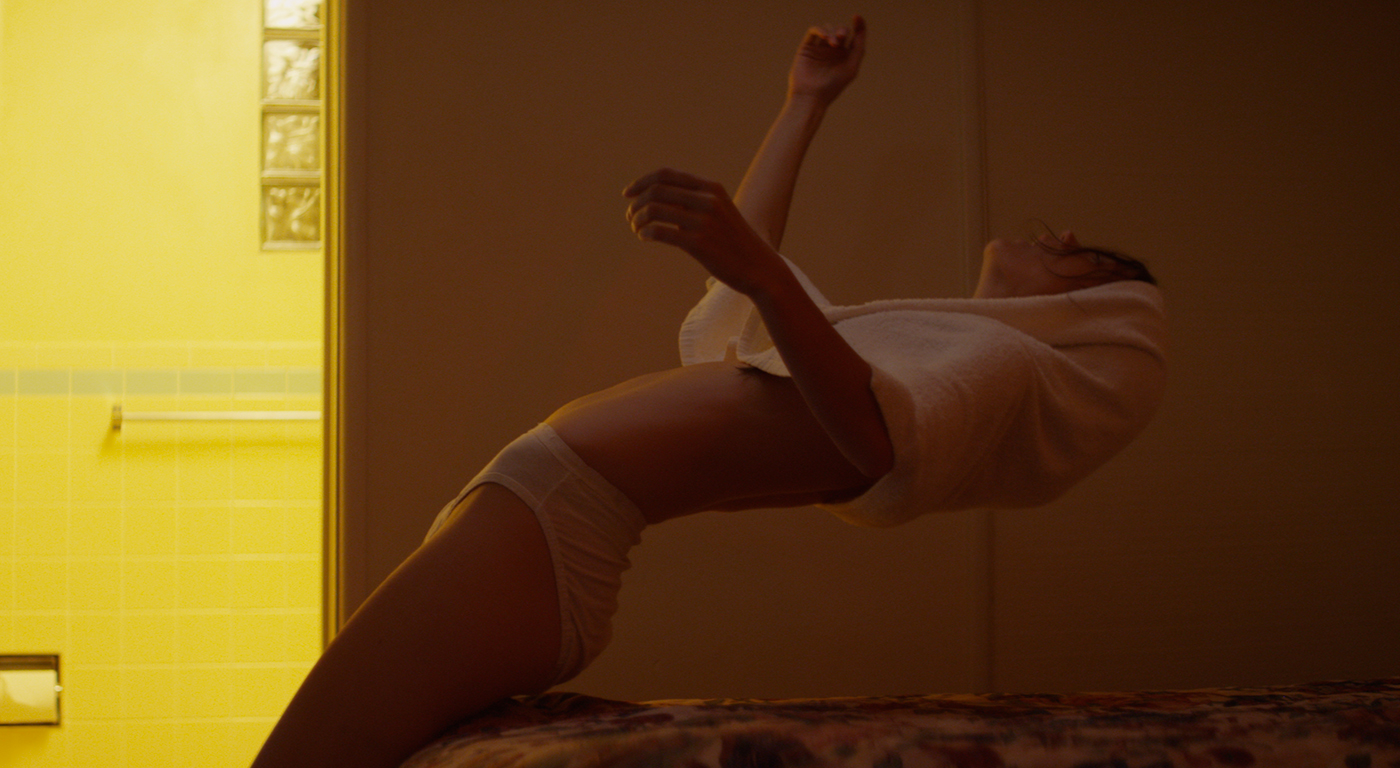 MA
Everyone, even The New York Times, is up in arms about the quality disparity in documentary to narrative programming at the Tribeca Film Festival, and it's with reluctance that I add my voice to the heap. It figures then that the festival's strongest narrative selection thus far was a work-in-progress screened in far flung Long Island City with negligible publicity fanfare. The "progress" modifier appeared to be fulfilled by a truncated end credit sequence, which director Celia Rowlson-Hall accounted for by reading off a list of names in a squat from the stage to prevent her arms from shaking. When the lights went down in the WV dome in MoMA PS 1's front yard, no one quite knew where to tilt their head. Thankfully, the orb was just a red herring.
MA, Rowlson-Hall's never-quite-seen-anything-like-it desert bound Biblical ode is, in its own way, a film of red herrings. Because it's billed as a modern retelling of Mary, Mother of Jesus' journey to becoming Christianity's most noted matriarch, you — or maybe just I — are desperate to learn how Rowlson-Hall will get her pregnant.
The first nod to the immaculate conception is when the titular figure (as played by Rowlson-Hall) starts dry heaving in the tub of a dusty motel room. Your brain slowly recalls the image of MA halting the Canadian tuxedo-sporting Daniel (Andrew Pastides) in the middle of a long stretch of black top, crawling onto the hood of his car and lying facedown for several miles. As you start to get comfortable with Rowlson-Hall's choice of reproductive imagery, MA is back from the bathroom, playing off a static television as she collapses onto the bed and gyrates in the air, pantomiming positions, before stuffing tear soaked tissues into her bra. Got it, you think, at the more literal, Poltergeist nature of the notion.
Then, in a seamless cut, the walls of the room collapse into the desert, and MA is at the mercy of a Village People-looking posse in a rather subversive supposition on the holy strain of paternity. The film never plays like a guessing game — Rowlson-Hall breaths it with enough air and patience to let it float toward its climax — but it's clear from one of its earliest images that this is a very loose retelling of a widely circulated tale. A shot of a woman pouring water into a crack in the chapped desert earth works in near-revisionist contrast to the Biblical image of the woman at the river, scooping up water to bring home to nourish her household. Here, Rowlson-Hall suggests, is a woman sacrificing her needs for the sake of something greater.
It's a bit futile to try and relate the plot of MA, driven as it is by imagery, movement and Rowlson-Hall's rather expressive face; and it's even trickier to unpack the film's most pivotal scenes without spoiling the uninitiated, falling as they do in the last 15 minutes. For all of its explicit New and Old Testament references — a burning bush, a loaf of bread served by Amy Seimetz's waitress — Rowlson-Hall has a distinctive, winking feel for more contemporary tropes, particularly surrounding the male drifter. Daniel, her Joseph stand-in, drags on a cigarette in between push-ups and shadowboxing, carries a suitcase with several versions of the same exact outfit, and broods his way into MA's reluctant graces. A seemingly peripatetic duo that returns to the same motel room each night, MA and Daniel consummate their hesitant affair in matching all white ensembles of wife beaters, tube socks and briefs, with a breath of air into the former's lungs. Later, he puts a ring pop on it.
With its barren Nevada landscapes, lush wide frames, and search for the self amongst the empty embrace of motel rooms, MA would make a cracking double feature with Rick Alverson's Entertainment, and like that film, it is at its best when outwardly addressing the gender roles that loom large within its narrative. In yet another red herring, this time surrounding the delivery, MA gives birth to a baby in the form of the pink shirt she wears over her bruised back, flagellates herself with it, and then wraps it around a self-inflicted wound on her leg before standing in a posture that recalls the crucifixion. She may have shed herself of the burden of pregnancy, but she bares its wounds through the end of this striking sequence, at which point she dons Daniel's drag, cleansing herself in a cloak of masculinity.
Masculinity, or just plain men, is square on the mind of Uncertain, Anna Sandilands and Ewan McNicol's beautifully rendered portrait of a Texas-Louisiana border town and a handful of its 94 inhabitants. The story eventually settles on three men: the burly Wayne, scarred by heroin use and a drunk driving manslaughter, who plays Creationist by obsessively hunting the boar that monopolizes his backyard game; the diabetes inflicted Zach, who faults his desolate hometown for his drinking problem and state of unemployment; and the 73-year-old Henry, a retired fisherman enjoying his recently widower status with a younger woman.
Despite its engrossing enough characters, the film also displays an uncommonly faithful interest in the natural environs of the town. This is literally conveyed through Uncertain's exploration of salvinia, a parasitic plant that is subsuming the nutrients in Caddo Lake, the town's touristic and thereby economic center, and, more subtly, in its juxtaposition to the life cycles of the film's lead trio. Everyone — bodies of water, men and animals, alike — is fighting for survival.
Despite these inauspicious circumstances, the tone of Uncertain is scarcely demoralized, in large part because Sandilands and McNicol let their images do the talking. Catfish gaping for air in the foreground of a black cat; the scraggly Zach on the couch, with his head cocked at the exact same angle as his shaggy dog; and Wayne, hunter among the trees, cloaked in comprehensive camo, all hit upon the film's fascination with biological relations, and the rather tenuous delineation among Uncertain's occupants. It's this sense of specificity that pushes Uncertain past the bounds of a traditional small town documentary, even if the familiar escapist and redemption narratives are firmly in place.